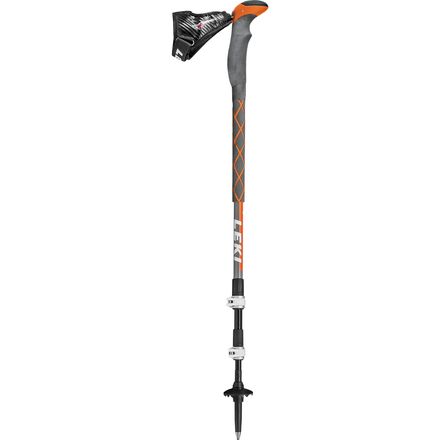 Colors
Call in reinforcements.
Do your knees a solid and back them up on your next trek with the Leki Thermolite XL Vertical Trekking Poles. Anti-shock technology takes some of the strain off your joints, especially when you're negotiating steep downclimbs and technical ascents. Hybrid length adjustment gives you a great range of usable lengths and lets you pack it down to a compact 26 inches, while still being able to support up to 300lbs. Hike higher, longer, and more comfortably with these light, sturdy, and supportive trekking poles.
Strong and supportive poles with hybrid length adjustment
Combo of SpeedLock and Super Lock systems for reliable support
Anti-shock reduces stress on your joints
Aluminum shafts are light, yet sturdy
Aergon grips offer soft, comfortable grip
Breathable straps won't stifle you
Carbide Flextips for traction on wide variety of terrain
Solid work by Leki, as usual!
I choose these poles for their extended grip on the shaft. The hand straps require some time to get used to them. However once used to them they make the poles more useful. Getting off the poles is also quick and easy. The downside is you'll have to wear the handstraps all day. In situations where you scramble over rocks i still have my doubts about the pole handling, but the locking system makes it really easy to store away, so you can use your hands.
Georg W.