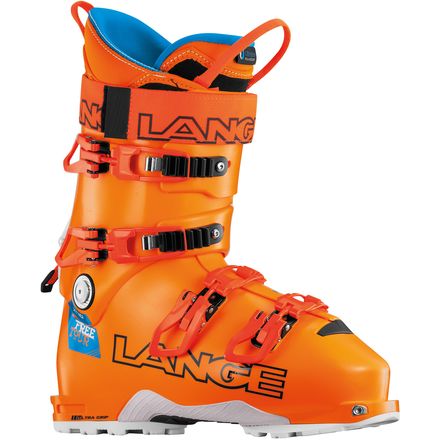 Colors
Charge on the way up and the way down.
When you get ready to drop into a pinner couloir, you'll be glad to be rocking Lange's XT 100 Freetour Ski Boots instead of some dainty skimo slippers. Sure, you can get up the hill faster with a lighter setup, but it's hard to justify all those hours spent sucking wind on the skintrack when the descent is subpar. The XT 110 blends downhill performance without dragging you down on the ascent.
The XT 110 is slightly softer than its stiffer brother, the XT 130, with a single-injected shell that maintains rigidity for crushing descents. Lange's Power V-Lock 2.0 offers a 43-degree range of motion in walk mode, effectively battling quad fatigue. At 1750 grams, they may not be the lightest AT boot on the market, but they're a helluva lot lighter than your average alpine boot.
A light alpine touring boot that tears it up on the descent
110 flex is aggressive but comfortable
100mm last width for average volume feet
Walk mode has a 43° cuff rotation for uphill mobility
Lightweight Grilamid mono-injected shell with consistent flex
Customizable, lightweight liner is comfortable and durable
Dynafit-certified tech fittings