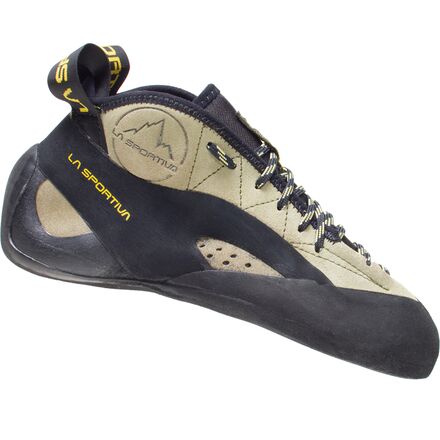 Colors
The world's most innovative trad shoe designed by the world's best trad climber.
Designed by a big-wall legend with the long, technical routes of El Cap in mind, the La Sportiva TC Pro Vibram XS Edge Climbing Shoe combines edging power with crack-climbing prowess. Inexpensive? No. One of the most high-performance trad climbing shoe ever created by humans? Damn right. This mid-height climbing machine features light ankle padding to ease the pain of vicious off-widths, and the vented tongue and rand help ward off sweaty feet during marathon days on the wall.
P3 platform for technical footwork and support on long pitches
Lightly padded flat toe for stuffing into cracks
Vibram XS Edge rubber sole for friction on the thinnest footholds
High-top design adds protection in wide cracks
Synthetic lining eliminates stretch
Padded tongue for more comfort when sending the Stovelegs
Comfy with no up-sizing needed
Familiarity:

I've used it several times
Got these for confidence-inspiring, comfortable all-day multipitch shoes and have not been disappointed. Took them up Standard Route in Whitehorse for ≈6 hours and only took them off once (even then it didn't feel necessary to do so). On the same route, they got me through my first big run-out. Did I really need $180 shoes to climb a 5.2 dike? Probably not, but it sure felt nice having them on as I tried not to think about the fact that I was ≈40 feet above my last piece.

After trying on several sizes, I ended up going with size 36.5, and they're perfect for my purpose. My other shoes are LS Katanas laces in 37 (snug but not aggressively downsized) and 5.10 Anasazi Pinks in 37 (quite tight, generally take 'em off after every pitch). I had initially sized the TC Pros 0.5 up from my Katanas thinking this would be necessary for all day comfort, but they ended up being way too big, especially around the heel. At 0.5 down from my Katanas, the 36.5 TC Pros still feel significantly more comfy than the Katanas.
Etha W.
The best
Familiarity:

I've used it several times
This is the perfect shoe for granite walls. The ankle protection is a huge plus but the slight downturn to these comfy shoes is what really matters when your pushing your limits. I'd definitely recommend these to any climber looking for a solid traditional, multi-pitch shoe. There's a reason Alex Honnold wears them, nuff said.
Samuel Nichols
Classic
Familiarity:

I've put it through the wringer
This has been my go-to shoe since day 1 of climbing. The sizing is on point and the performance is amazing. The only negative with this shoe is that the rubber on the side tends to peel back.
Zach Blessing
The Best
Familiarity:

I've put it through the wringer
A must for granite crack climbers

I wear a 13 street size and the tc pros fit at 12.5
Eamon Villa-Lobos
good ole classics
Familiarity:

I've put it through the wringer
These are my favorite climbing shoe. They are super stiff making them awesome for edging on hard technical climbs, but are comfortable enough to wear all day on long easier routes as well. The high top makes for good protection for your ankles when the cracks get wide.
Zachariah Epperson
Check out La Sportiva's in depth look into the TC Pro. If you have any questions feel free to reach out to me directly at weads@backcountry.com or (801) 523-4052
Wesley Eads
Good shoes, but they don't hold up.
Familiarity:

I've put it through the wringer
I bought mine August 2017, and a meer 8 mos later, they have split in the toes, just like in the photo/review below ("A love that cuts deep..."). They were used 2-3 times a week in the gym, and probably 10-12 days outdoors during that timeframe...so you can expect about 100 days of total climbing out of them before they split and you have to shell out another $185 (which I won't be on this shoe). I really liked them, but super disappointed at how poorly they held up.
Brad S.
Best trad shoe
Familiarity:

I've put it through the wringer
There are too many good things to say about these shoes. They edge incredibly well and are sticky on slab and comfortable in cracks. Above all, they are really comfortable for all day mulitpitch use. I was really impressed by how these shoes molded to my foot. I was not expecting them to have a personalized like they did. I felt like they ran a little small. I am anywhere from a 9.0-9.5 street shoe and I ordered an 8.5 in these and it is perfect. Definitely would recommend trying them on before purchasing.
Elliot
One month in
Familiarity:

I've used it several times
One month in of continuous weekly use in the Wasatch and West Desert has my convinced this is one of the most comfortable climbing shoes on the market. For better support make sure to lace completely to the top, especially before you tackle some slabby stuff and your Achilles will thank you. Haven't given these guys a go on sandstone cracks but they handle granite like nothing I've tried before.
Benjamin August
Best Trad Shoes out there!
Familiarity:

I've put it through the wringer
I love my TC Pros as my performance trad climbing shoe. From the granite slabs of North Carolina to long moderate sandstone routes in Red Rocks, TC Pros have perfectly met my needs. I love that I can climb at my limit in them while still being comfortable enough to wear all day. I honestly have no complaints. It's a great shoe for slab, edging, and crack climbing. One of my absolute essential pieces of climbing equipment!
Peter O.
Doesn't Get Better
Familiarity:

I've put it through the wringer
All day comfort and performance. They surpass the hype. They're incredible in cracks .5 and up and on any edge. They're not the most sensitive shoe, but they're not marketed as one; with that being said, they still perform pretty well on slab once they're broken in properly.
Andrew M.
A love that cut deep...
Familiarity:

I've used it several times
I was such a huge fan of these after ordering them in Dec.2016 and busting them into the rotation starting January 2017.

With said I'm so shocked that these splits happened as I rarely used them in the gym and left them mainly for outdoor use that in 2017 which really came in the fall.



I expected these to hold up longer. My Muira's sure did. Anyway won't be ponying up 185.




a.j100819759
Good shoe
Familiarity:

I've used it several times
I did like these shoes. Comfortable right out of the box, great fit and great performance. Unfortunately, I had to return them because the lining of the shoe tongue dug into my foot too much; it was pretty unbearable. Wish these worked for me! Would definitely recommend them either way, because each shoe is different and you may not experience what I did with these shoes.
Victoria F.
A Timeless Classic
Familiarity:

I gave it as a gift but have feedback to share
I gave these to my dad for Christmas, and since then he has been able to start crushing it again at age 60! Not only are these one of the best trad shoes in the game, they are still comfortable enough for my dad primarily to use them for long days at the gym. I am definitely considering getting a pair for myself...

Update: I did get a pair for myself, and I'm absolutely thrilled. No complaints besides the first couple days breaking them in.
Logan Hastings
Granite Crampons.
Familiarity:

I've put it through the wringer
Weirdest thing happened, I got the TC Pros and sent the Dawn Wall on my first go. You won't hear about it online though because I don't like to spray.
Derek Newman
Versatile shoe
Familiarity:

I've used it several times
Wore these a few times only in the gym, after about the 5th day wearing them they stretched a little and now fit my feet perfectly. Comfiest shoes I own.
Talina Carlon
Great Shoes
Familiarity:

I gave it as a gift but have feedback to share
Gave these as a gift for a friend heading down to Indian Creek
I'm a big fan of hightops for crack climbing and figured I should finally check out everyone's go to hightop. So far I've only crack climbed in these so I cant' really comment on edging and face climbing abilities but I can say they're quite stiff and insensitive. You can stand on McNothings but make sure you can see it because you won't feel it. These have a decently tall toe profile making them difficult to fit into finger cracks compared to the Moccasyms I was used to. Hand cracks and larger were a dream due to the stiffness and strategic padding. Many people have complained about rand durability issues on these shoes. In an attempt to avoid this, I used a seam sealant on all of the location the rand meets the leather upper. After about 20 sandstone pitches the rand/leather connections are all intact but at the locations where rand rubber overlaps, the upper rubber is starting to separate. Not too big of a deal and overall I like the shoe, especially in a dedicated role in cracks.



Hannah Novit
Like walking up a wall
Familiarity:

I've used it several times
The La Sportiva TC Pros are at the pinnacle of trad shoes. They are engineered by trad climbers for trad climbers, with a perfect mix of comfort and utility in mind. The shoe boasts a padded tongue, Vibram edging rubber, pretty stiff sole, high top construction, and a lace up fit to make an incredibly versatile shoe. My favorite part of the shoe is the padded tongue, which makes crack climbing that much more enjoyable.

Id recommend this to any intermediate-expert climber with a hankering for pitches and a deep wallet.
Alex Blackmer