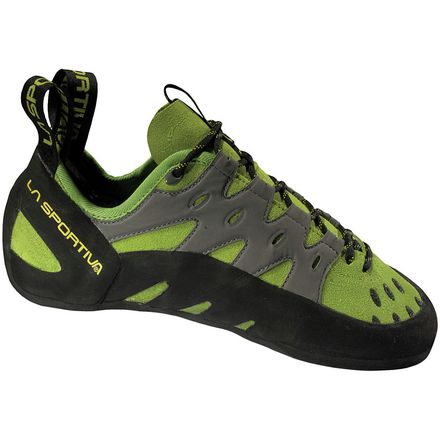 Serious comfort.
The La Sportiva Tarantulace Climbing Shoes use an unlined leather upper to mold to your feet so you can climb longer and suffer less. Of course, all the comfort in the world doesn't mean much without performance, so La Sportiva gave this shoe a super sticky FriXion rubber sole.
Unlined leather upper will stretch about a half size
Synthetic leather lacing overlay adds support for beginner to mid-level climbers
Aggressive rubber heel rand and FriXion rubber keep you glued to small holds
Quick-pull lace harness mixes easy on-and-off with support
Got these shoes after having been borrowing my friends for months and they are great! I love them so much and they feel good in your foot and don't squeeze to tight!
Jesse Knight
Good Value Shoe
Familiarity:

I've put it through the wringer
I originally have a pair of these when I started climbing and only reason I no longer have that pair is I left them at the gym on day. But I picked up another pair to use at the gym since they're economical.

I figured it'd be worth having an inexpensive gym shoe rather than using a $150+ shoe at the gym.

I wear the La Sportiva Boulder X approach shoes in a 43.5 but wear the Tarantulace in a 42. But I wear the Katana's and TC Pro's in a 42.5

Jared Downs
Excellent Beginner Shoe
Familiarity:

I've put it through the wringer
This shoe is the best bang for your buck if you want to get into climbing. I've put many days in at the gym with this shoe and it has held up the past year and a half. Usually I'll do some bouldering then go onto the ropes and this shoe can totally handle both.
My foot is shaped like a V where I have a narrow heel/arch but wider at the toes - this shoe accommodates my foot shape comfortably. I am not a believer of crunching your foot with a size down so I went with my normal shoe size. I do notice that in some spots around the heel is a little lose and will probably upgrade when I can.
Nirvana Ortanez
Best Cheap Shoe I've Found
Familiarity:

I've put it through the wringer
In the 10+ years of climbing I have gone through my fair share of climbing shoes. Got these originally as a back up pair. Would I rate them the same as a high end performance shoe? No. Hence the 4 stars. However, I would put this shoe above any of the other "Intro" shoes. I've climbed the Diamond in these puppies, and I destroyed them after tons of mileage in the gym. I'm about to buy another pair. They have the best fit and feel for an intro shoe that I've found. If you're going to get into climbing and don't want to break the bank, these are the shoes for you.
Andrew R.
I bought this for my brother who wanted to start climbing with me. We decided that we'd get him a good beginner Hsu for bouldering him to learn how to climb. The shoe fits perfectly for his size and he is loved it. It takes a day or two to get used to the tightness in your toes but he has enjoyed climbing in them very much! Would recommend to other people looking to start climbing.
Steve Richardson
Had to size up
Familiarity:

I gave it as a gift but have feedback to share
I gave these as a gift, we finally settled for size 47. His street size is 12.5.
Alexandra T
Great shoes for the gym and a casual boulder or top rope.
Dean Ferrari
First time climbing shoe
Familiarity:

I've used it several times
Like previous comments have said, these shoes are great for a first time climbing shoe. I wear a 10.5 in most shoes and a 44 worked well for me on these.
Austin Beck
Great shoe on a budget
Familiarity:

I've put it through the wringer
To be honest, I bought this show because it was the cheapest climbing shoe I could find at the time. I have been climbing casually for a few years, usually just a handful of times each year. I wanted to get back into sport climbing in the Wasatch front and Moab, but didn't want to spend a ton on new shoes. This shoe hasn't disappointed. It is very comfortable to wear for long climbing sessions, with it's non-aggressive design. It is pretty flexible, and I like the way it looks.
Dave Vance
Great first climbing shoes!
Familiarity:

I've used it several times
My first climbing shoes. They fit great, and really helped me get into climbing. Would recommend to any person interested in climbing, looking for an awesome pair of beginner shoes!!!
Jake Folgert
First Pair of Climbing Shoes
Familiarity:

I've used it several times
These are my first pair of climbing, and I love them! Took a couple of hours to break in, other than that, they're great!
Danner Peter
I mean, why not?
Familiarity:

I've used it several times
Got this shoe while on sale to add a good all around shoe to my collection. I have to say, I've been greatly satisfied. When I go climbing I'll often spend hours out and about belaying, then climbing, then belaying again and repeat. These shoes have yet to give me a blister, tear a toe nail or malfunction in any way. I've taken them to Moab a couple times, spent some time on granite and up big cottonwood as well, and they continue to to hold their own.
What this shoe offers:
comfort, affordability, reliability, good performance, accurate sizing and good times
What this shoe falls short on:
not an aggressive shoe.
Andrew Williams
If the shoe fits
Familiarity:

I've used it several times

Fit:

Runs large

Size Bought:

45
This is my second pair of climbers. On the first, I made the mistake of going TOO small. Now having sized down by just one size to a 45 (I wear US 12 day-to-day), the fit is snug without concern for massive toe curl.

With regard to other features: I'd say the arch is pretty mild, edging hasn't been a problem, and they're fairly easy to put on albeit a little stiff at the tongue near the top of the laces.
Juan Carlos V.
Height:
6'2"
Weight:
185lbs
Awesome first pair of climbing shoes
Familiarity:

I've put it through the wringer

Fit:

Runs large

Size Bought:

10.5
I got a pair of Tarantulaces as a set my first set of climbing shoes when I started out rock climbing a few years ago. like all rock climbing shoes, you want to size them down, I have size 11.5 feet in sneakers, and I sized down to a 10.5 or a 43.5 in European sizes, they fit great. I still wear them to the climbing gym a few times a week, as they are more comfortable than most technical shoes and are perfectly fine for everything in my local rock gym. They have held up really well to moderate use over the last few years, and I would recommend them as a first rock climbing shoe.
Charles Zachau
Height:
6'1"
Weight:
165lbs
Great Beginner's shoe
Familiarity:

I've used it several times

Fit:

Runs large

Size Bought:

9.5 US
I'm a novice, about 2 months so far. Chose to come into this sport because it presented a different challenge. On to the shoe review, I was looking for something a little more affordable and something that wouldn't fall apart on me. I have these in the orange color in a size 10US but they became a little looser than I liked but will still use them for those casual indoor bouldering days for more comfort. I decided to get them in the green in a 9.5US for something a little more aggressive and it fit perfect, toes are curled but not painful and overall the comfort is great on foot for many hours / all day fit.

I am happy with them overall.

I am normally the 10-10.5 US for street shoes. These I would suggest going down half a size. My foot is a little more wide on top and my heel is thinner if this helps. Like all climbing shoes or shoes in general, go try them on first or order multiple pairs to figure the best fit. This product runs Large for me in terms of my street shoe size.

P.S. - I decided to give it more of a personal feel so I colored parts of the shoe.
David Q.
Height:
5'8"
Weight:
180lbs
great price for a first shoe and it saves me from using the good stuff indoors. Great edges!
John Martin
Height:
6'1"
Weight:
180lbs
Solid Beginner Shoe
Familiarity:

I've put it through the wringer

Fit:

True to size

Size Bought:

37.5
Been using these shoes since I got into climbing a little less than a year ago. The rubber is nothing special performance-wise but it's definitely a durable rubber, I haven't had any serious issues with wearing yet. The shoes did stretch a fair amount from when I got them out of the box which is to be expected with an unlined leather shoe. I wear a size 7 US street shoe and these shoes(37.5) are a snug fit but comfortable enough to wear all day with their neutral profile. This is definitely a 'gets the job done' shoe for beginners.
Isaac Anderson
Great Beginner Shoe!
Familiarity:

I've put it through the wringer

Fit:

Runs large

Size Bought:

39EU
This was my first shoe which I used mostly in the gym (5.10ds, V4-V5), and a little outdoors. My street shoes are size 8W, I got these in 7.5+W/ 39.0 EU. When they first came they were quite snug, but now they've stretched out quite a bit (I can fit a finger in with a little extra space) to the point where I need to wear socks. Currently, after a year of climbing pretty frequently in them, I'm getting a tiny hole in the toe area of both shoes. Going back in time, I would have probably ordered a half size smaller to a 38.5EU.

Overall, GREAT shoe, and would recommend to any beginner to early-intermediate climber.
Amme Eel
I bought these as a gift for a friend. He says he likes them and would recommend buying them
Mikayla Bambrick
Sizing
Familiarity:

I've used it once or twice and have initial impressions

Fit:

Runs large

Size Bought:

43
Haven't used these much yet, but wanted to review the fit. I'm a 10- 10 1/2 on street shoes, a perfect 44 in Sidi MTB shoes and motocross boots. In these, a 43 fits me perfectly, tight but tolerable. Go down about one full euro size is my advice.
Reginald J.
Height:
6'0"
Weight:
195lbs