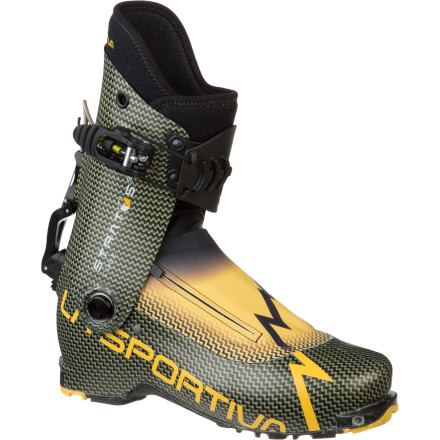 Colors

Detail Images
The world's lightest, most technologically advanced randonée racing boot. Questions?
If you've ever wondered what it would feel like to wear a championship-winning race car on your feet, you can stop—it feels like wearing the La Sportiva Stratos Cube Alpine Touring Boot, the world's lightest AT/randonée racing boot. The Cube is made from the same material as the world's best race cars, an ultra-light, strong, and slightly elastic KarbonKevlar composite that combines unmatched performance with incredible durability and stiffness, creating what is unquestionably the lightest, fastest rando boot ever made.
Not only is the Cube the lightest boot available, but it has a simply unbelievable 76-degree range of motion, in which the cuff moves from a 23-degree rearward to a 53-degree forward lean, giving you about as much ankle and leg flexion as flip-flops. With such a dynamic range of cuff movement, you'd expect some friction between shell and cuff, but the Cube is designed so the two never actually contact each other, increasing durability and boot life, while a bushing system in the hinge ensures friction-free rotation so you feel like you're racing uphill wearing buttered slippers.
To free the cuff, simply open the 3-setting CavoBike buckle (it isn't confusing, there's only one), and the rear lever disengages from the latch, letting the Cube bend like a Romanian gymnast. When locked, the lever has 5 separate lean angles from 5-19 degrees, giving you unprecedented control over your stance.
Don't think for a second that this performance comes at the cost of comfort. The Cube comes equipped with a two-piece Bikini Cube liner, which provides warmth, comfort, and a snug fit around the lower shin and foot, without unnecessary padding around the lower shin and upper ankle. And (surprise!) the Bikini checks in at a staggeringly-light 2.8oz. There's also a removable Warm Sole sock liner, which can be replaced to adjust the volume of the Cube for a better fit, and a waterproof lower foot gaiter to keep your foot comfortable during hard races and long days. When you're not wearing skis, the Vibram sole is grippy and has a regulation ring to ensure compatibility with crampons.
100% KarbonKevlar shell
Frictionless pivot system with 76 degrees of movement
CavoBike buckle with 3 macro adjustments
5 lean angles from 5-19 degrees
2-piece Bikini Cube liner
Removable/replaceable Warm Sole sock liner
Vibram sole with IceTrek
Compatible with all tech bindings