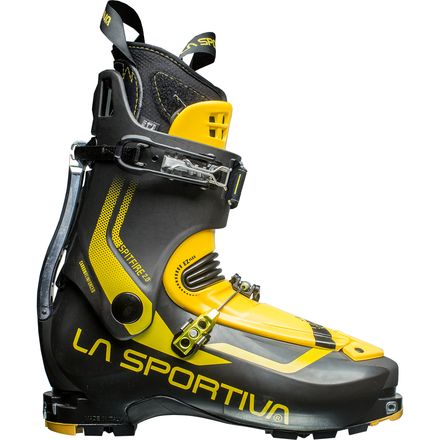 Colors
For the high vert days.
Look to La Sportiva's Spitfire Alpine Touring Ski Boot for your all-around ski mountaineering and speed touring pursuits. The Spitfire is surprisingly stiff on the downhill, considering how flexible and light it feels on the uphill. The shell consists of a low-profile Grilamid outer for ultralight durability, and features Vertebra Technology, which employs a carbon-reinforced polymer cuff to keep the boot stiff for the descent. The cuff also gives the Spitfire a killer 68 degree range of motion, resulting in plenty of agility while climbing on ice and rock or skinning up steep switchbacks.
La Sportiva also equipped the Spitfire with a Speedfire closure system that works with the Cam Closure System's walk mode for a quick release when you switch from walk to ski mode. The QuickBuckle and EZ Cable ensure a secure fit while skiing that doesn't inhibit the boot's flexibility on the hike up. Inside the boot, you have a removable SkiMo thermo-moldable liner and WarmSole insert, which make the Spitfire one of the warmest two-buckle boots on the market. Despite a relatively wide last, a 2BT Tech Heel minimizes the volume around your heel for a precise fit, too, because nothing's worse than slopping around inside your boot when you're trying to lay down aggressive turns in mixed snow.

100 flex
3-piece shell with Pebax tongue
Carbon reinforced polymer cuff
SkiMo thermo-moldable liner
Speedfire closure system
Optional power strap
Lazergrip sole
Amazing boot, esp. for low-volume feet
Familiarity:

I've used it several times
First: This boot skis great and are nearly as light as rando race boots.



If you have a skinny, low-volume foot and have problems with getting enough pressure over the top of your foot and heel retention problems, then this is the boot for you.



Background I've been skiing the very light Dynafit PDGs for the last 3 seasons for all my skiing. They wore out, and I got bigger skis than they could drive, so I needed a real touring boot.



Weight: When picking up the Spitfire I could hardly detect the weight difference from the PDG.



Fit: My feet are essentially size 11 toes on a size 9 foot, so it balances out to a size 10---27.5 mondo. I have spindly ankles, and I've always had trouble cranking down boot levers tight enough to get good heel retention and keep my foot from sliding around inside. I've resorted to putting an piece of an plastic tongue of an old ski boot inside my boots and wear ultra thick socks in order to fill some of the volume. Not so with the Spitfire! I set them on the intermediate setting with thin ski socks and they feel firm. So, if you have heel retention or volume issues from small ankles, get these boots.



The PDG has extreme ankle mobility limits with no resistance. The Spitfire has the same ankle mobility, which is much more than other boots in its same "light touring" class, but because it has a full tongue, more plastic-on-plastic rubbing, and a slightly thicker liner, it has a bit more resistance than the PDG. But it surely is the best within its class.



Due to the higher ankle mobility, they allow your stride to be more like regular fluid walking, no bobbing of the torso up and down with every step that make bigger boots inefficient---this was the biggest revelation I had when going to PDG-type boots compared to standard three-buckle big touring boots: its not about the weight on your feet as much as how big boots affect your stride.



Ski Performance: I've put about 25k vertical into these boots in the last month in a variety of conditions, from blower powder, frozen mank, mashed potatoes, etc.. I've summited and skied peaks involving some booting, etc. The TLT and PDG cuff is known for being super stiff in terms of forward and backward lean. The Spitfire is a bit softer, more progressive flex in the fore-aft axis relative to the PDG, but is stiffer on every other axis (The PDG/TLT also wears out its cuff rivets quickly because of this). left-right lean allows you my to put much more power into the edges, and the good twisting stiffness enables high ability to get skis pointed where you want, even in really challenging crust/mashed potatoes snow. Relative to some boots, the forward lean is not as aggressive and I ended up adjusting it all the way forward, and I would like to move it more, but its fine where it is. I also ended putting on the power strap (never used one before) and I like how it increases the forward stiffness of the cuff.



Booting/alpinism: The top-of-foot buckle is actually positioned on top of the foot, so it does not become unbuckled when kicking steps and scrambling up cliffy rocks. The cuff is small diameter so I can use light and skinny(er) soft-shell pants made for climbing rather than baggy ski pants.



The fiddle factor: This is not a fast transition boot. It takes some fiddling every time. I have to make sure the metal spine's groove slots into the cuff bar on the back carefully. You can't just throw the lever and presto. You have to set the velcro straps just right every time. I'm getting used to it. Its no big deal.



Durability: I have not used the boots long enough yet, but one thing broke on the first day. There's a little metal clip/spring that keeps the top buckle inside the "teeth" that set the tightness of the cuff. The clip/spring is intended to keep the buckle attached around your ankle even when its loose in tour mode. On the very first time throwing the lever, my glove snagged on it and bent it open. I took it off the boot and there's been no problems.
willin
Awesome does it all AT Rando Skimo Boot
Familiarity:

I've used it several times
These boots are probably the only ones that have instantly adjustable flex. And they are super light and feel like slippers in tour mode.

They are complex, so take some time to get to know them. Size them just like your ice/mountaineering boots. I am La Sportiva 41.5, so 26.5 for me.

Wear full length well fitting dedicated ski socks. I installed the optional cuff velcro power straps. Tack them back in tour mode. Adjust the lacing of the inner boot and tie a knot. (Comfortable - not tight). And most importantly, the cuff is a very stiff carbon material. It acts as a spring and does not wrap tightly like typical ski boot cuffs. When you switch to downhill mode, do not crank the top carbon cuff too tight. The downhill control is excellent! I am skiing La Sportiva Sveltes 178 with ATK Raider 14 bindings and La Sportiva Skins.

I have been out a few times in Rocky Mountain National Park and love this setup.

Kris Woyna
kwoyna
no mention of TR2 compatibility?
Dane H.
Kate Z.