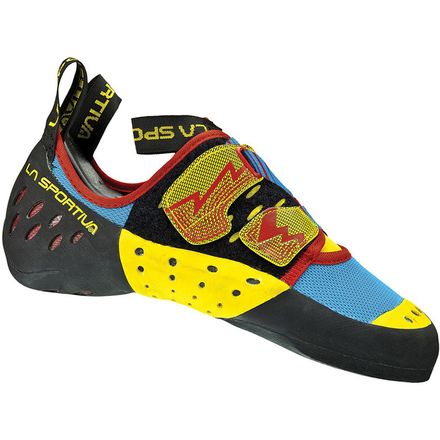 Colors

Detail Images
Reach new heights.
Ever since your climbing gym ran a locals-only special, that's your life: you climb, climb, and then climb some more, ruing your mammal status and wishing you were an arachnid. Whether you're a sport climbing newbie or on a first-name basis with the crew at your gym, the La Sportiva Oxygym Climbing Shoe gives you all-day comfort and the confidence necessary to experience some highs off the ground.
Synthetic material tends to stretch less than leather, so the fit you feel from the first time is not too different from the fit you'll get after several weeks of wear. Minimal asymmetry and a neutral profile make it easy to wear this grippy shoe for hours on end whether you're working on slabby under-vert or slightly over-vert problems. The round toe accommodates a variety of surfaces, be it a top-rope line at the gym or rock outside. The patented hook-and-loop closure system gives you two points of adjustment for a highly personal fit as well as the ability for rapid outfit changes. Slip-lasted construction takes away a bit of the stiffness so your wait for the wall isn't a foot-wrenching experience.
FriXion RS rubber on the bottom is the stickiest sole La Sportiva offers. AirTex Silver lining manages foot moisture and minimizes shoe stink by creating an environment hostile to odor-causing bugs. The 1.8mm LaspoFlex midsole gives this shoe a thin shot of torsional rigidity while offering some cushion from below, and an anti-shock EVA heel insert means walking on flat land isn't total torture. Triple-layer WashTex fabric lets you throw this shoe in the machine when it starts to walk towards the car on its own.
Get 'em while you can—this style was discontinued
3-layer WashTex upper
Hook and loop closure
Round toe
Slip lasted, softer sole
FriXion RS sole, 5mm
AirTex Silver lining, anti-odor
Low profile
Low asymmetry
1.8mm LaspFlex midsole, anti-shock EVA heel insert
Great Gym Shoe
Familiarity:

I've used it several times
These shoes work so well in the gym. A great shoe to start getting into gym climbing. So nice that you can wash them!
Allison Parrish
Good as long as you stick to gym
Familiarity:

I've put it through the wringer
I bought these shoes around a year ago awhile after i started climbing and i was mostly in the gym so these shoes worked pretty well, I've done a couple 5.11s and 12s in these and they're not terrible shoes. however, i cannot recommend taking these outside because they're uncomfortable and have pretty much no grip. so i can recommend these as long as you stay inside but take caution going out with them.
Jack
Ok for the gym
Familiarity:

I've used it several times
I was looking for a more comfortable shoe for the gym and these certainly met that need. Not very aggressive or sticky, but they will do the job. Great value as these are a lower price point.
Richard D.
Good Beginner Shoes
Familiarity:

I've used it several times
I am a big fan of these shoes. They are washable, versatile, and are a steal when discounted. The fit is good, but can be a little loose in the heel. I've been climbing for a while in them, and they seem to be fairly durable.
If you want a good pair of starter shoes, get these.
Andrew K.
New to climbing, so I can't speak to the shoe's quality in regards to climbing. They did not turn me in to Spider-Man, but they are better than the rentals I was using. Definitely a tight fit. I have a wide size 12 foot and I ordered a 13.5. Could have gone up to a 14 comfortably (US size). They scrunch at the tongue. The heel also feels a little lose. For the price, I will live.
Michael Popovich
cheap beginner shoes
Familiarity:

I've used it once or twice and have initial impressions

Fit:

True to size

Size Bought:

40
I choose size 7.5 which is smaller than my normal size 8, it's tight and give me
confidence, fit my feet very well although somewhere inside uneven.
I strongly recommend you to choose a smaller size, it will stick to your feet like skin, make it easier to control your body.
shipment arrived on time.
Zhi Huang
Height:
5'8"
Weight:
132lbs
These are great beginner shoes. They are comfortable enough so that your feet can easily go all day at the gym in them. They are perfect shoes to use while learning new technique and spending countless hours in the gym. I would definitely suggest these to anyone. They make a great first pair of shoes and an unbeatable back up pair.
James F.
Awesome shoe for narrow feet
Familiarity:

I gave it as a gift but have feedback to share

Fit:

Runs small
I bought this shoe for my girlfriend after trying some other pairs without success. She has quite narrow, flat feet and this shoe seems to support her well and her climbing has started to improve a lot over the rentals we were using before. Runs a bit small though, we went with 1 shoe size bigger than her running shoes which gave a snug but comfortable fit.
Ryan Burrow
Great Shoes for the newbies
Familiarity:

I've put it through the wringer

Fit:

True to size
I like these shoes for a first timer or a spare set for a comfy day at the crag. I got these as a spare set to let friends of mine to use.
They are washable as well. So that is another awesome feature! No more stinky shoes. I am loving the new colors as well. The old vibrant yellow shoes were fun, but were definitely supposed to be used as a gym shoe.
Travis Flitton
Good Gym Show
Familiarity:

I've used it several times

Fit:

True to size

Size Bought:

9
Son needed new climbing shoes for the gym. He loves these, says they have a great fit and are aggressive.
paola monje
Gym shoes
Familiarity:

I've used it several times
These shoes would be great shoes for beginners looking for something that's comfortable and functional. I have been using these in the gym to try and preserve my outdoor shoes life. They edge great and smear really well too. They have a nice flex to them and not really aggressive at all making them great all around shoe to get started with.
Dean Raynes
Great beginner shoe
Familiarity:

I've used it once or twice and have initial impressions

Fit:

Runs small
Fit was small as expected so I bought the right size in anticipation of that. My boy was stoked on the style and performance, just getting him into climbing and this definitely helped him have positive first experiences.
Jason Page
Solid all-around gym shoe.
Familiarity:

I've used it several times

Fit:

Runs small
I mostly boulder and am at the gym 2-3 times a week, so I had been looking for an inexpensive gym shoe that I could relatively comfortably keep on my feet for a long session, and the oxygym does a respectable job.

The good
- The shoe fits well, I had to size down from my street size, but I have to do that for all Sportiva shoes
- The strapping system may be the best on any shoe I've used; it hugs my foot nicely. They really need to put these straps on the solutions and futura
- Breathes well, which is huge plus for a gym shoe
- All synthetic makes it simple and easy to wash
- Colourful. Yeah, they look pretty spiffy :)

The mixed
- FriXion rubber. A harder rubber than Vibram. Will last longer, but also doesn't stick like Vibram.
- Rigid, these are not soft shoes, if that's what you're after. Performance on little chips is good and distributes more of the weight, but sensitivity and feel is lessened. Granted, I haven't had these shoes for too long, so I don't know how much they'll soften up.
- Not aggressive. Fine if you're into a more relaxed shoe, and makes it more comfortable to generally leave on, but I was expecting a little better performance for bouldering.

The bad
- loose heal. Maybe it's just the shape of my foot, but I can pull my heel out of the shoe while it's strapped in without too much difficulty.
- No toe rand: toe hooks are kinda useless. I struggle with toe hooks and bat hangs that would be trivial in solutions or sharks.

Overall a good shoe for gym climbing. If you're trying not to blow a lot of money going through nice shoes at the gym, then the OxyGym is an attractive option.

I believe they'd make an excellent beginner shoe. They're inexpensive, good all-around, and built to take a beating while refining climbing technique.
Jason
I'm new to climbing and with these being my first climbing shoes I've bought, I have to say I'm very pleased with my purchase. I was looking for more in the comfy area and these climbing shoes do the trick. Also, the bottom of these shoes give you great traction and give you the confidence you need.
Mark Walter
New to climbing...
Familiarity:

I've used it several times

Fit:

True to size

Size Bought:

9
new to climbing. started about 6 months ago. i bought these shoes after hand-me-down la sportiva nagos that were 9.5. i've worn the oxy's to the climbing gym for months now and they're great. they are definitely better than the nagos but after having them and getting more aggressive with my climbing, leading and bouldering, i'm happy with them but will definitely need a more aggressive shoe.

size wise, these fit snug at 9 (42). that're perfect though. i'd recommend a half size smaller just to make sure you can really feel small chips, etc.

i started to just walk from route to route in these and then it finally dawned on me why so many climbers are barefoot or in flops and only put them on to climb. my feet got so fatigued being crunched up that it now makes sense. these are just the things you learn from experience!

good stuff.
Mario R. Martin
Height:
5'9"
Weight:
175lbs
No more stinky shoes.
Familiarity:

I've used it several times
These are awesome for the gym. The AirTex lining keep the moisture away, which helps with stink, But if they get super stinky the inside of the shoe is washable. wouldn't recommend them for outside climbing though.
Adam Wagner
Height:
6'1"
Weight:
160lbs
Rubber Soul Separating from Shoe
Familiarity:

I've put it through the wringer

Fit:

True to size
Thought this shoe was great being my first climbing shoe until after 1 month of gym climbing 4 times a week(bouldering at momentum in Lehi) when the rubber started separating from the shoes.. Love La Sportiva but this was disappointing.. Lucky they should be covered under warranty.
Colter R.
Height:
5'11"
Weight:
156lbs
Awesome Shoes
Familiarity:

I've used it several times

Fit:

True to size
Took these babies out of the box and put them straight to work. they are by far the best climbing shoes i have ever owned. I was concerned about the velcro at first, but quickly began to change my mind. the grip on these shoes are a 10 out of 10.
Hayden F.
Height:
5'10"
Weight:
185lbs
Sizing opinion
Familiarity:

I returned this product before using it

Fit:

True to size

Size Bought:

40
Contrary to Eric's review, I sized down a whole size and it was very snug! Probably best to stick to your normal size or a half size down. I had to return them but I plan on going for another size once I find the time to climb.
Davis Anderson