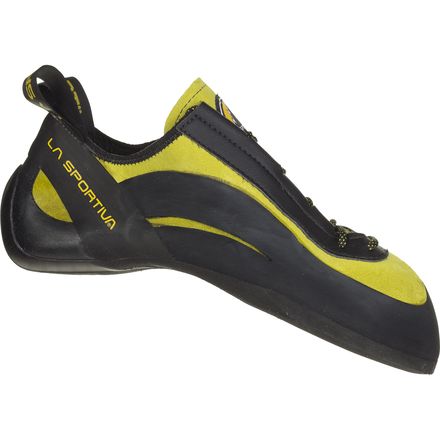 Colors

Detail Images
Get a climbing shoe that's as aggressive as you are.
Climbers everywhere have come to trust the La Sportiva Miura Vibram XS Edge Climbing Shoe for the hardest, most technical pitches out there. The super-aggressive shape ensures precision footwork when the beta demands it, and a synthetic lining keeps this shoe from stretching and outgrowing your feet.
Vibram XS Edge rubber provides crazy grip for technical edging, is resistant to deformation on razor-sharp edges, and won't creep when you're smearing
Full-length lances for a precision fit
Synthetic lining eliminates stretch
Aggressive shape for hard sport pitches or slotting stoppers
1.1mm LaspoFlex at the forefoot uses a super-lightweight, super-thin synthetic laminate for torsional rigidity
Takes a while to break in
I wear US size 9 and bought these shoes in size 8.5 and it was a very tight fight, and the first few climbs were very painful. The shoe still feels rather tight and causes my toes to squeeze and curl up, but maybe that's just the nature of climbing shoes. The rubber on the bottom seems to be rubbing off rather quickly, so I'm not sure if the quality is worse ordering off Backcountry because in addition, the color was a lot paler than in the photos and the shoe came very creased, which made wearing them in the beginning even harder
Michael C.
Not a great shoe for wide feet
Familiarity:

I've put it through the wringer
I wear sportiva solutions normally, which fit well, and if solutions fit well these will not fit well. They just aren't for wide feet. Otherwise they are great all around shoes, tried them for a season but ended up giving them away because they just dont fit my feet.
Graham H.
The size show is woman size.
gab108149207
My shoe for life
Familiarity:

I've put it through the wringer
Either this shoe is designed to fit my foot perfectly or, over time, my foot has molded to fit the inside of this shoe. Either way it's been comfortable, sticky, and reliable. I highly recommend it to anyone seriously interested in climbing
Elliot Layda
Sticky and rad.
Familiarity:

I've used it several times
Sticky when sport climbing especially, these have also proven wonderful when bouldering. I can't complain at all about these dudes. Tight at the beginning for sure, and had some red hot spots on my toes (ouch), but I went down a size and a half, so -- to be expected. Trust these! Also, not made just for the boys, obviously. I liked this color more and in a moment of vanity, decided I wanted these instead of the white women's. So great, highly recommend.
Julia Rubano
The go-to-all-around-shoe
Familiarity:

I've put it through the wringer
Want to crack climb?
Want to boulder?
How about that project?
These shoes are my go-to for hard days down at the crag. Absolutely love them.
Samuel McNamee
Grippy and edgy
Familiarity:

I've put it through the wringer
This is my second pair of climbing shoes after starting to climb with a friends worn out tarantulaces that were gifted to me. Going to the Miura's made a huge difference in my climbing ability and trust in footholds. I can stand on little nubs and heel/toe hook on stuff without worrying about slipping. Iv'e learned more about how to position and weigh my feet and legs on sketchy stuff. I went down 1 1/2 sizes from my street shoes for a perfect fit.
Eric Johansen
Not only for dudes
Familiarity:

I've put it through the wringer
These are my favorite go to shoes for climbing. They are perfect for indoor and outdoor climbing. They are aggressive enough for bouldering and comfortable enough for any sport climbing. They have helped me send some tough slabs and cracks in Japan as well as keeping me confident in the gym. I prefer the men's shoe to the women's version, but that is a personal choice. The vibram rubber makes heel and toe hooks a cinch, I don't leave home without them!!!
Alethia Paredes
Well rounded
Familiarity:

I've put it through the wringer

Fit:

True to size

Size Bought:

43.5
Compared to any other climbing shoe this miura can handle anything you throw at it, from crack to slab to overhanging sport routes. I have gone through a few pairs of these over the years and have never been disappointed. Yes there are shoes that handle cracks better, yes there are shoes that are better for overhanging sport routes, but the miura just relentlessly handles everything you throw its way. I have had two different sizes in these shoes, I wear an 11 in my street shoes, 43 for a snug fit for sport and bouldering as well as 43.5 for multi pitch and grad climbing.
Andrew Butterworth
Height:
6'1"
Weight:
174lbs
These shoes are amazing, fit like a glove and perform well on the smallest pieces indoor and out. Really like these for longer multipitch climbs where I don't want to sacrifice performance for comfort. What a great shoe!
Mark A.
Legendary
Familiarity:

I've put it through the wringer

Fit:

True to size

Size Bought:

41
What more can be said about this shoe??? This is probably the very best shoe on the market if you're looking for something that can do everything well. Just getting started? Projecting a steep sport route or boulder problem? Climbing some splitter cracks? Putting in some mileage at the gym? The Miura can do all of that, and excel at it too! The lined leather construction will stretch to fit all but the widest of feet, and the Vibram XS Edge rubber is sticky enough to keep your toes on the wall without sacrificing durability. I've had mine for two years and had them resoled once (I recommend Rock & Resole, based out of Boulder, CO), and they're still holding up great, despite me wearing them more than any of my 4 other climbing shoes combined! You cannot go wrong with this shoe!

If you ever have any questions about climbing shoes, feel free to hit me up at rlindsen@backcountry.com or at 801-204-4691. I have bit of a problem/addiction when it comes to shoes, and I love to talk about it!
Robert Lindsen
Height:
5'6"
Weight:
175lbs
The one and only
Familiarity:

I've put it through the wringer

Fit:

True to size

Size Bought:

43
These are by far some of the best shoes on the market ever. I was given my first pair by my uncle and had worn them for a few years (after about 2-3 resoles). I finally got them resoled myself by The Rubber Room in Bishop and wow they have really come back to life!! Edging on millimeters is easy picking for these babies. Would highly recommend for any type of climber. I wear a street shoe 11 and wear the 43's after heavy breaking in, if I were to buy another I may buy the 43.5
Robert Kellett
Best shoe I have ever owned
Familiarity:

I've put it through the wringer

Fit:

True to size

Size Bought:

42
These shoes give me the confidence that other shoes do not. The rubber grips so well. Edging feels so solid and the support is great! I think I'll be using miuras as my go-to shoe the rest of my life. Furthermore, the lace up allows me to wear socks when it's cold and to go barefoot when it's not.
cameron C.
Height:
6'1"
Weight:
175lbs
Favorite shoe yet!
Familiarity:

I've put it through the wringer

Fit:

True to size
I was super impressed when I fist bought this shoe its the only aggressive shoe I had that is actually comfortable. In my opinion its the best all around shoe you can get. I mainly use it for sport climbing but it has a good edge if you want to do some bouldering.
Ethan Hale
Only Shoe I Use
Familiarity:

I've put it through the wringer

Size Bought:

42
The Miura lace up is a great shoe. It smears and edges exceptionally and even handles well on overhangs. Even though it doesn't have Sportiva's P3 platform, it still is fairly aggressive and doesn't kill your feet. I've had these for about 7 months and use them regularly and they show little signs of wear. Unlike some other users, I haven't had issues with the laces but I also don't crack climb much at all. If sized right, these are great for all day wear. Awesome shoe.
Andrew M.
Height:
5'9"
Weight:
165lbs
The last shoe I'll ever buy
Familiarity:

I've put it through the wringer

Fit:

True to size
I bought these shoes for the first time a year and a half ago and in no time they became my favorite pair. They're comfortable enough to wear on an all day climb and aggressive enough to catch those tiny footholds. I've also used these shoes on crack climbs and had no issues with them.
Torian Latiolais
Excellent shoe!
Familiarity:

I've used it several times

Fit:

True to size

Size Bought:

42
Edging in these shoes is so good you feel as if you could do jumping jacks on the smallest of edges. These shoes have also been very good in small pockets due to the design of the toe box. I recently went on a bouldering trip and was pleasantly surprised at how well the toe/heel hooked. Overall these shoes are awesome. If you are considering buying these shoes... what are you waiting for?!
marshking
Height:
5'8"
Weight:
135lbs
If you don't know this shoe, you should.
Familiarity:

I've put it through the wringer
Edging, check. Smearing, check. Toeing, check. These are good for wider feet, that don't need a wide specific shoe. These are also good for sending. They aren't meant for long trad routine, though some do it. You've gotta have conditioned feet, though.

Sizing is just like all climbing shoes. TRICKY! This is La Sportiva Leather, so it will stretch, but it has a synthetic lining, that will keep it from stretching too much. If you're aggressive with conditioned feet, go about 3-3.5 sizes down, from your street shoe size, e.g., size 9 street ----->38.5 in this shoe. Otherwise, go down 2 sizes.

This is a total classic. Check them out, for sure!

Emily Jenson
Height:
5'8"
Weight:
135lbs
If your foot fits well in Sportiva shoes - this is a solid standard. It's pretty much the only shoe I use now. I've had an occasional pair delaminate but, typically, I'm able to get a TON of milage out of my Miuras! I highly recommend.
Elliot Layda