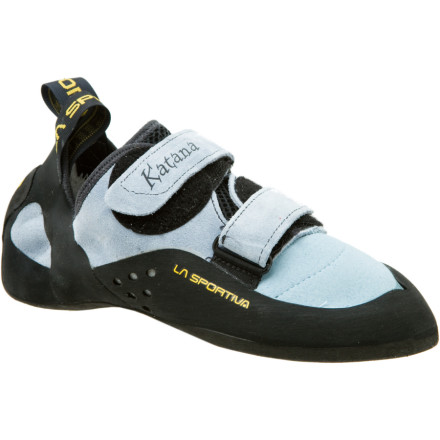 Colors

Detail Images
Slice through your next project or problem wearing the women's Katana.
Strap on the opposing hook-and-loop closure of the La Sportiva Women's Katana Rock Climbing Shoe and name your next vertical rock victim. This synthetic-lined shoe keeps its shape and wicks sweat as you use the 4mm Vibram XS Grip2 outsole to stick to the wall like a lady-ninja poised for your next attack up the rock. A slingshot rand directs power to the Katana's forefoot for controlled edging, smearing, and camming, while the water-resistant leather and Lorica upper keeps its original shape and holds up to your anything goes climbing style.
Get 'em while you can—this style was discontinued
I bought these as birthday gift for a friend, and they really helped improve her climbing. Until then, she was using a pair of no-name beater kicks. These are more aggressive , allowing he to really toe in on overhanding problems. PLUS, now she can actually edge on small foot-holds, which has made all the difference. I highly recommend them for anyone looking to take their climbing to the next level.
Elliot Layda
Great shoe but wore out fast!
Familiarity:

I've put it through the wringer

Fit:

True to size

Size Bought:

38
After 2 months of moderate use the soles delaminated in the front. Otherwise, a good shoe.
More info: These are my 18yo daughter's shoes. She used them about 2x/week at the gym and on a 4 day trip to RRG. She said the delamination started fairly early on.
Kurt Z.
Height:
5'4"
Weight:
125lbs
Good first aggressive shoe
Familiarity:

I've used it once or twice and have initial impressions

Fit:

Runs small

Size Bought:

41
I bought these as my second pair of climbing shoes after I wore through the toes of a sportiva lace-up starter shoe. I've been climbing for about a year now and was looking for something more aggressive than my first pair, but not too hard-core. I've worn these shoes only three times now (indoor only), and they're already starting to conform to my feet. I'd say these shoes run small, but that's probably the case with most climbing shoes like these. I like how they're so easy to take on and off. The front rubber feels really sturdy and sharp—I'm already feeling like my footwork has improved from wearing them. If you're concerned about the shoes getting dirty easily, the cream-colored top may disappoint you in how quickly it got dirty for me. But it's not about how they look, it's how they feel. The early nineties-looking patterns on the straps are pretty fun though :)
Eleni Chappen
Height:
5'8"
Weight:
145lbs
Still Comfortable after 2hrs
Familiarity:

I've used it several times

Fit:

True to size

Size Bought:

33
These are my first serious rock climbing shoes after climbing for a year in very comfortable lace ups that got 2 sizes too big. So comfort was a big factor in choosing my next pair, especially since many seem to fall into the trap of buying too small and not being able to commit to them. My street size is a 35 and I bought two sizes down, they're the older version in blue which I found to be more comfortable than the pink in 34 as the heel strap dug in quite quickly even though there was space in the heel pocket, so it's a deep heel even in the size33 I still have space. I mostly do sports climbing and indoor bouldering so they suited my needs and I don't feel the need to take them off 2hrs in. My only gripe is that while lead climbing the velcro will sometimes stick to the rope

If you have narrow feet these are a good choice and the difference in performance is immediately noticeable when you're able to trust your feet. Didn't experience a breaking in period, good from the start!
Mai
Height:
4'11"
Weight:
95lbs
Unanswered Question
I currently own the La Sportiva Mythos and Miuras. The Mythos are super comfy, but aren't as aggressive as I'd like for harder routes (too flexible, and don't stick tiny edges). The Miuras are super sticky and awesome for edging. but I can only wear them for one route at a time as they really hurt my feet, and only about 3 routes max in a day if I want to be able to walk the next day.
I am looking for an in-between shoe - something more agressive than the Mythos, but that I can wear for a few routes without wanting to cry. Would this be a good shoe for that?
Lindsay S.
Old Blue >> New Pink
Familiarity:

I've put it through the wringer

Fit:

True to size

Size Bought:

33.5
Everyone raves about La Sportiva so when I first started climbing years ago I got the soft Mythos, then the Blue Katanas, which became my favorite Sportiva shoe till the Miuras. Their Velcro was speedy to take on and off quickly between pitches or routes, and very precise. When I want to climb something moderately tough for me I wear these tools. I have 4 pairs in Light Blue in 33 and 33.5 before they got discontinued.
Then I got the pink one, and they are not as good as the light blue one. They run 1/2 size bigger, have synthetic straps and slightly baggier heel cup. The stitching is also scratchy. Lastly, they started delaminating after wearing 3-4x.
I wear street size 4.5-5 women's shoe and can fit 33 and 33.5 is perfect. I wear 33-34 in Muira. I find the shoe may stretch a bit, but my feet also swell a bit when climbing so the fit should be spot on when I first buy it.
The blue is one of my favorite climbing shoes but won't buy the pink one again.
sherbert
Awesome shoes!
Familiarity:

I've used it once or twice and have initial impressions

Fit:

True to size

Size Bought:

37.5
Ok, the shoes are awesome. Great fit, I usually wear a 7.5 shoe, and I got the 37.5 and the fit was great, just tight enough (I only went down a number because I have wide feet). Now, they do feel funny around the toe, but I don't mind, climbing shoes aren't supposed to be comfortable anyway, because if they were, thy would be slippers. Anyhow, my last shoes were the evolv elektra, and they were nice shoes, now that I invested in the katana, the difference is amazing, I even felt that my climbing level increased a lot just by changing the shoes (note: I'm no professional climber, I just began leading, and I don't lead anything above a 5.10). They hold on to the rock beautifully, I haven't used them yet on the gym, so, I'll update my review when I do.
Ondina
Height:
5'3"
Weight:
125lbs
Great indoor shoe
Familiarity:

I gave it as a gift but have feedback to share

Fit:

True to size
I purchased these for my cousin for Christmas. They are meant to be her new indoor winter climbing shoe. These are great shoes for the every day indoor climber. They arent super aggressive but work great and have an awesome foot shape. Great shoe for anyone looking to transition out of beginner shoes and get into something slightly more aggressive. I wouldnt trust the rubber on this shoe for anyone that climbs outdoors a ton but it can definitely be used outside a few times though.
Chandler P
Great Gym Trainer
Familiarity:

I've put it through the wringer

Fit:

True to size
Got these for a friend for the winter indoor gym climbing season (I have the guy's version). These are the best gym training shoes because of the fit not the rubber; they are an all day shoe you won't need to take on and off (foot profile is even and narrow so not for those who need a wider toebox). Not aggressive enough for serious bouldering but great for route after route training
Scott Traver
Peel-away sole
Familiarity:

I've used it several times

Fit:

True to size

Size Bought:

38.5
I've always been a fan of the blue Katana. I have about 4 pairs which I continually get resoled. When I saw the pink version for sale, I thought I would give it a go, thinking it would be nice to have a new pair of shoes after so many resoles. Never again. At least never this particular shoe again. These are much more cheaply made than the earlier version. A week or two after starting to use my new shoes, one of the soles began peeling away from the shoe. Thinking this was an individual shoe problem, I called Backcountry to get them replaced and had them send me another pair. A few weeks later, both shoes had the exact same problem. The rubber was peeling away from the shoes. I have never in all my time of owning climbing shoes have had this happen. I have polled other climbers about this, too. They all agree; this is a manufacturing issue. I contacted Backcountry and was referred to their warranty email. I emailed them in September and still have heard nothing back. In the meantime, these are the only non-blown out shoe I have to climb in. They are sticky like the blue ones were, but not well-made! Overall, disappointed with these shoes and my so-called warranty!
Corax harness
Height:
5'3"
Weight:
125lbs
Great All-Around Shoe
Familiarity:

I've put it through the wringer

Fit:

Runs large
I originally started climbing in the Tarantulace by La Sportiva. However, after about a year, it was time for a more aggressive shoe. I went with the Katana because it was aggressive enough to climb 5.10/5/11 in and would also work for bouldering. I love the shoe overall, and I sized down a fair amount in it - I wear a size 8 to 8.5 street shoe and I wear the 37.5 in this Katana. Great buy, especially if you're transitioning from a beginner's shoe.
Mackenzie Martin
Rubber on toe could be better
Familiarity:

I've used it several times

Fit:

Runs small

Size Bought:

35.5
I love my Katanas, but I know I'm going to be resoling them very soon. The rubber has already started to peel back at the seam near the toes after only a few months of climbing in them, both indoors and outdoors. This seems to be an issue with La Sportiva shoes lately, so hopefully they start to improve the design. The size on these run small, unless you love an aggressive fit. I ordered a second pair in a full size larger and they fit perfect. I'm a size 6.5 in a street shoe and I have size 36.5 for my Katanas which fit comfortably. The size 35.5 were too tight for my liking.
Amanda K.
Height:
5'1"
Weight:
140lbs
Liking the new rubber
Familiarity:

I've put it through the wringer

Fit:

Runs large

Size Bought:

34
I have been wearing women's Katanas for almost 10 years. I think they are a good in between shoe- aggressive enough for most sport routes but comfortable enough to wear all day. I have been resoling my old pairs, and recently got a new pair of the blue leather strap Katanas when they went on sale. I noticed they changed the rubber on them. It is stickier than the old Vibram rubber, and has good sensitivity. I'm docking these shoes one star because of sizing. I wear a size 5 or 5.5 street shoe, and in the past I got a size 34 for outdoor climbing and 34.5 for gym climbing. However, I guess when they switched to the new rubber, the sizing changed. The shoes are now about a half to 3/4 of a size larger than they used to be. I should mention that I do like a tighter fitting shoe. In the new shoe, the size 34 is snug, but not tight. My concern is once it is broken in, it will be too loose, especially in the heel for more aggressive climbs.
btb
Height:
5'4"
Weight:
123lbs
Great moderately aggressive shoe
My wife and I both have Katanas (I'm on my 3rd pair, this is her first), and we both love them. She previously had the Mythos and although these aren't quite as comfortable, she is psyched at what she can climb now that she couldn't before. Highly recommended!
Will S.
I wear a size 37 in the La Sportiva Mythos, and they fit comfortably, but snug enough to edge well, even after stretching/breaking in from a few years of use. What size should I go for in these? I was thinking either the same size or a half-size smaller.

Some background: I'm looking for more a more performance-oriented shoe, and am willing to go through the supposedly awful break-in period, and a bit of send-related suffering - but I don't subscribe to the "your toes should be all curled up and so painful you have to rip your shoes off as soon as you clip the chains" school of thought.
cho
Best Answer
Hi Cho,



I am typically the same size in all of La Sportiva's shoes. I would start with the 37's, before down-sizing.



I recommend this shoe, as it will be a comfortable next step. However, if you want to get a little more down-turned and aggressive, I recommend the Lace-Up Miura, or the Testarossa. They are the least painful, but can really up your game on sport routes and boulder problems.



You can contact me directly with any further questions or to help with an exchange, if that is necessary.



Emily Jenson

Expert Gearhead

801.746.7587

ejenson@backcountry.com


Emily Jenson
I've been using this shoe as my all around for several years and they are great for vertical, technical routes.
jennifer.watt2393870
Odd Fit
Familiarity:

I've used it once or twice and have initial impressions

Fit:

Runs large
I wanted a less aggressive shoe than my Miura's, one that was a bit more comfortable for longer periods of time but still high performance. I am a 40.5 in streets shoes and my Miura's are 37.5, so I followed suit and ordered the Katana's in a 37.5. Unfortunately they are a bit loose in the toes. This could simply be because they aren't as curved or they just feel loose because I'm so used to my tight-fitting Miura's. I would suggest sizing down at least a half size if you still want an aggressive shoe. I love them colors and durability is up to par.
heydane
Wicked Awesome
Familiarity:

I've used it several times
Bought these as a step up from my 5 year old Evolv Elektras. I needed something stiffer and more aggressive. I LOVE them. The break in period has been tough so far(about 5 days of climbing), but I can feel it was worth sizing down. My regular shoe size is a 10, my Elektras are a 9, and I went down to a 39 in these (the size chart calls it about an 8). I have a very narrow foot and an abnormally long second to last toe and these shoes still work for me! I'm looking forward to really pushing myself to become a stronger, more confident climber and I know this shoe will help. I'm already feeling the difference. These edge and smear excellently.
altaisfordreamers
Solid Choice
Familiarity:

I've put it through the wringer

Fit:

True to size
I love my blue Katanas. I am a street size 8 and have a 38.5. They are fairly tight and I take them off to belay, but I think they would be perfect if I had a half size bigger. The shape is great for narrow feet and toes/soles are good for smearing. I am excited to get the new pink ones next!
Katherine M.
Strikes a good balance
Familiarity:

I've used it several times

Fit:

True to size
For my foot, the Katana strikes a great balance between being comfortable enough that I am not distracted by the pain in my feet when climbing in them and yet, feeling confident in my feet that they will edge on a dime and smear & stick when it counts.



I bought a size 37 (Women's 6) and my street shoe size is 6/5-7. There's a little bit of space in the back of the heel, but I'm not doing any heel hooking, so it doesn't seem to be a problem . Also, I find that playing with the angle of the strap on the velco helps with this problem a bit.



I am in love with the hot pink color and will probably continue to buy these as long as Sportiva keeps making them in hot pink!
ClimbingBetty