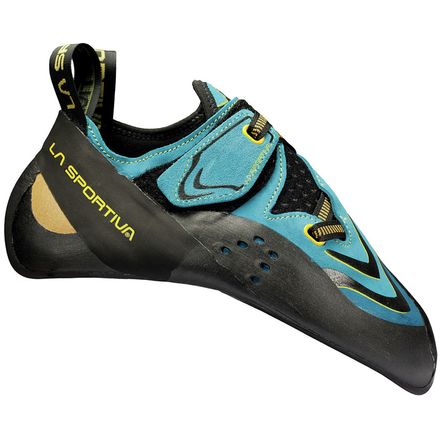 Colors

Detail Images
A shoe for the modern climber.
Attack cutting-edge sport routes with confidence born of experience and quality gear like the La Sportiva Futura Climbing Shoe. Built for technical, modern, acrobatic sequences on anything from overhangs to slippery slabs, the Futura helps you navigate even the most elusive projects. Your feet become formidable when combined with the right tech, but the Futura proves that doesn't mean you have to break your toes or cram them into an uncomfortable shoe to get your feet there.
Revolutionary No-Edge concept eliminates traditional sole edges for closer contact to rock and enhanced sensitivity
Hook-and-loop closure allows for a snug fit and easy-on, easy-off access during boulder sessions
Permanent Power Platform technology helps preserve down-turned shape to maintain overhang-climbing abilities and sole power throughout shoe life
Combination leather and synthetic leather upper encourages comfort and ventilation so your skin breathes during challenging sequences
Not a Unisex Shoe
Familiarity:

I've used it several times
I have been climbing in these shoes for a week (4 climbing sessions including top rope, bouldering, and moonboard), and unfortunately I am disappointed. The fit is great while standing and climbing, toe sensitivity is good and my confidence with small foot holds is higher than with my Miura edged shoes. However, the heel is too big and wide for a women's foot and I have failed heel hooks that I found easy in my other shoes. The heel fits fine at the top, though the depth of the heel and width near the bottom are too large and cause my heel to slip around on heel hooks and causing total failure on simple routes. I should have waited for the women's style to come out in May and paid a higher price, I suggest other women skip on this shoe as it is not a unisex design.
Donielle
Best climbing shoes I ever had
Familiarity:

I've used it several times
This is my 3rd pair of climbing shoes and is the most aggressive one I own.
Overall it feels great, my feet doesn't seem to get sweaty in them like it does in some other shoes. And the gripping is great. Very comfortable (if you get the right size)

For me, I highly recommend not sizing up or down. I personally brought half size smaller (than my street shoes); in hopes of it stretching. Wore it for 1 month, climbed 3 times a week, and it still really hurts my toe. I'm probably just going to buy another pair that's exactly the same size as my street shoes.
Yan
Same old shoe out of the box
These were my first aggressive shoe when they first came out and I tried on all the sizes to make sure I had the right size. I wore the same pair for 3 years, getting them resoled as necessary. The old pair is my confidence inspiring trusty shoe but the new pair I just bought feels amazing straight out of the box. The sole/upper are so soft; I'm going to make sure to keep sand and pebs off my feet when putting them on. I don't see a reason to ever need to try a new pair of sport shoes because the Futuras do it all.
Adam S.
Comfortable Performance
Familiarity:

I've put it through the wringer

Fit:

True to size
These are, bar none, the most comfortable pair of climbing shoes I've ever owned. The softness of the upper combined with the thin rubber leads to a shoe that molds to fit your foot like a sock. The increased sensitivity is immediately apparent, especially under your toes. You can almost grab footholds with your toes the way you would with your hands! That being said, I have a very wide forefoot and the shoe has stretched a little wider than it seems to be designed for. However, it did stretch, and still performs wonderfully. As awesome as these shoes are, they weren't built for hard vertical edging. The rubber will deform around small, sharp footholds, so bring another pair of shoes for the thin & crimpy stuff.
These stretched about a half size.
Sizing comparison:
Miura VS: 39.5
Futura: 39
Python: 39
Brian W.
Soft as a baby's bottom
Familiarity:

I've used it several times

Fit:

Runs large
I looooove these shoes! They're super soft so you really feel the footholds. My breakin period was really only 2 days and now they're pretty comfortable. I would say they run slightly large. Here are my sizes in other shoes:

Testarossa: 37.5
Katana: 37.5
Futuras: 37
Sean F.
Versatile and Aggresive
Familiarity:

I've used it several times

Fit:

True to size

Size Bought:

39.5
Been wearing these shoes for both gym and outdoor sessions. No edge technology has really allowed for me to grip those smaller foot nubs and cracks where you just need a little extra. Have put them to the test on Joes valley boulders and some walls along the wasatch. Have stretched just slightly but still killing it. Great shoe and I will definitely buy again!
Steven Goemaat
Height:
5'10"
Weight:
170lbs
skeptical about no edge concept?
Familiarity:

I've put it through the wringer

Fit:

True to size

Size Bought:

41.5
I've always used solutions for bouldering but when my last pair wore out i decided to snag a pair of futuras and see what they were like.

The shape of these shoes and lacing system heavily resembles the Solution but the heel of the Futuras is a little different, kind of like the heel of the katana. So I thought they could be hybrid of the two.

The no edge concept is something to be worried about since there is no edge and that's what you rely on when toeing in on tiny jibs and cracks right. Well when you have a pair of shoes and you've broken them in the edge is usually rounded in a short period of time but you're usually marginally close to the rand of the shoe and once you puncture that rand it's more difficult to get the resoled. With the no edge concept the shoe rubber wraps around the toe completely and give you two layers of rubber to puncture be needing to be resoled or replaced.

The fit of these is similar to the Solution but the larger leather upper with a less restrictive toe box not only feels much better on your toes right out of the box, but the shoe is more flexible and allow you to smear and climb slab much easier as well.

I may have found a new favorite shoe!! La Sportiva is the best!
D Trent Childs
Height:
6'1"
Weight:
155lbs
getting used to new shoes
Familiarity:

I've used it once or twice and have initial impressions
Look, I'm still in the new-to-painful-climbing-shoes camp, which is the main reason I give these four stars.

I second what many other reviewers have said that these shoes are great for teaching you a new way of climbing. They're unforgiving if you revert back to your old methods. But if you give in and climb the way they want you to, you will receive the benefits.

The velcro on these shoes works great, makes transition faster, and bonus, doesn't look like bowling shoes. All-in-all I'm sure I'll become a bigger fan of these once I embrace the pain.
Losaunne
One of the best out there
Familiarity:

I've put it through the wringer

Fit:

Runs large

Size Bought:

38.5
I love this shoe. This is my first real pair of La Sportivas and I must say that the interior is way more comfortable against the foot compared with the Five Ten shoes I have worn. I was curious about the no edge technology and I'm now a converted believer. Outside these shoes are second to none. They are extremely sensitive, sticky and precise and I trust my feet completely with them. That being said I don't think they are the best on plastic. I have used them in the gym and I typically find myself switching back to my FiveTen Blackwings. I also love the heel on these shoes. The Solutions heel cup is huge but these ones aren't as bad so I am super comfy throwing a heel hook without any fear of slippage.

For sizing I recommend sizing down significantly. I wear a 9 on the street and my Blackwings are an 8.5, but these boys are a 38.5 (6.5 us) and after some breaking in they fit perfectly. They are leather (they don't smell terrible like synthetic shoes) so they stretch maybe a half size, so keep that in mind when purchasing.



Jordan
Height:
5'9"
Weight:
145lbs
sensitive
Familiarity:

I've put it through the wringer

Fit:

True to size

Size Bought:

39.5
I order these in a 39.5 and they are fantastic. they really allow you to feel the smallest of holds. I expected a little bit of stretch and they did pack out a little. I wear a 39.5 in the Genius and a 40 in the testarossa. I got these because of the velcro closer which would be faster for bouldering and gym climbing. With the no edge tech, this shoe really locks in on small little nubbins and edges. great shoe!
Jaime Sirchio
Height:
5'8"
Weight:
154lbs
Unanswered Question
Does anyone know how much these shoes will stretch?
Hocnugget
On my 3rd Pair
Familiarity:

I've put it through the wringer

Fit:

True to size
I originally got these shoes for overhung sport climbing in Maple and Big Cottonwood Canyon. What I didn't realize was that such an aggressive shoe would be versatile enough to climb big multipitch sport and trad days in. While it may not be ideal for those types of climbs, it does work surprisingly well as the rubber is softer than the similarly shaped Solution.

I was hesitant originally about the No-Edge technology, but even with it, edging in these is no problem and the many layers of rubber used allow for the durability of these shoes to be unlike anything I've ever seen before. I have blown holes in both shoes now and they have enough rubber underneath the first layer to continue climbing on them with no issue.
Daniel Goodman
These are my first pair of exceptionally high cambered shoes. I've been climbing with madrock sharks and before that I climbed with 5.10 stonemasters. I got to try on in store and mess around with my weight distribution in them. I wear 42.5 in La Sportiva basic shoes (finale, tarantulaces, nago) but had to size up .5 because of the length of my foot vs the futura. Ensure that your foot is of proper volume before purchasing. Though my foot is long it is quite low volume therefore the heel is a touch baggy and there is just a bit of dead space above the toes when on hold (no matter what size I tried, down to downright painful). The shoes perform stunningly right out of the box regardless of these "drawbacks".
Joe
Its ok...
Familiarity:

I gave it as a gift but have feedback to share

Fit:

Runs small

Size Bought:

9
Just because it's more expensive climbing shoe, doesn't mean it will be better than a shoe that runs a lot less $. I have wide feet and this thing kills me! I cannot keep it on longer than a few climbs. I liked the color, aggressive arch and style though...that's pretty much it.
Jeanine Ly
Great climbing shoes
Familiarity:

I gave it as a gift but have feedback to share

Fit:

True to size
Fit: I know it's incredibly cheesy, but when I put on my new pair of La Sportiva Futuras, it really feels like the future. I was surprised by how smoothly my feet slid in, and more so that it still felt like a secure and close, but not tight, fit. (My other shoes are Testarossas, and at the same size, 39.5, the Futuras fit just a little looser, so if you want that really snug fit, go down a bit). Part of that is also probably due to the design of the velcro straps, versus having to adjust the fit of my shoes with laces. My only personal qualm was that the outer ankle of my right foot occasionally pinches when I put it on. Granted, I've only been wearing these for a week. All in all, it felt incredibly natural to have these shoes on... well, at least for climbing shoes.

Climbing: I will sadly admit that all I really do is indoor bouldering (although I go about four days a week), so my experience is limited to that type of climbing. What I like about the Futuras are the same thing I like about the Testarossas: the sheer aggressiveness of the shoe. The emphasis on bringing power to your toe is something that I took a little getting used to when I first started wearing more aggressive shoes, but it's been helpful in forcing me to rely less on maximizing the surface area contact between my shoes and a hold and building confidence for making big, dynamic moves using smaller footholds and pockets. One definite plus over lace shoes, of course, is the increased ability I have to stabilize myself using the top of my foot, and combined with the extended rubber on the front-top portion of the shoe, I feel like I have more options when working on climbs where I'm really stretched out or run the risk of barn-dooring all over the place. The obvious downside is that, by being so aggressive, you can definitely feel the need to take off the shoe and readjust after a few climbs, and it's clearly overpowered or unnecessary for regular or more auto-pilot climbing. But, I think the fact that it's been pushing me to try more challenging climbs that require a lot of explosive power really outweighs those disadvantages.
Andy M.
Love this shoe!
Familiarity:

I've used it several times

Fit:

True to size
I bought this shoe for overhung sport and boulder problems, and damn do these shoes perform. Some people have mentioned that their feet slip on holds, but so far I have not experienced this issue, even on greasy indoor foot jibs. I find that my feet always feel secure. The heel feels great in this shoe as well, making heel hooks feel very secure. This is probably the most comfortableclimbing shoe I have worn, even though I sized them tight. The stitching is of very high quality with no hot spots or stitching pricks (something I experienced with the Solutions). Overall, I would def. recommend this shoe if you want something that excels at overhung and technical climbing. For slabby stuff, look elsewhere (I prefer Miuras for slab). BTW, size these down, def smaller than whatever your Solution size is. Whenever I have fully stretched these out, I will update with an account of how much they wore in.
Charles F.
Game changer, but not everyone's game
Familiarity:

I've used it several times

Fit:

Runs large
First, sizing:

I'm a girl with a relatively wide forefoot and small heel, but with very tapered toes.

I saw in several places to size them 1/2 size down from the Solutions. I did so and found that at first the Futura was insanely painful due to being narrow---but that it was just the length I needed to snug my heel all the way into the cup while just lightly curling my big toe. I then took a hot shower with the shoes on to stretch them horizontally, which got me about 1/3 size stretch. Now they are quite comfortable without being sloppy, and I think they will stretch a little more yet.

If you don't size them tight enough, as other reviewers have said, you'll lose a lot of performance. You need to pick the size that has NO extra space along the line from big toe to heel. Unless you have very very wide feet, the shoe will stretch in width (seriously, try the hot shower) to accommodate you.

Second, climbing in them:

I read a lot of conflicting reports about these shoes before I bought them, which is one reason why I wanted to share my experience.

If you like barefoot-like sensitive shoes and feeling the holds under your feet (I do), and you maybe tend to use your foot/calf muscles to grip your shoe onto a hold, the Futuras are a game changer. You have to focus on the corner of your big toe instead of your forefoot, and you have to be somewhat precise in placing your feet; but your reward will be feeling incredibly secure and connected to the rock, since you'll be able to feel that you're putting your weight directly on the hold and even on which feature of the hold, instead of on a rubber edge cantilevered on the hold. Plus the midsole does you one better than barefoot and connects the power of your whole foot to the toe (rather than relying on your toe muscle alone). For me, the No Edge definitely worked as advertised right out of the box, and I'm completely sold.

If you prefer an edging shoe with a lot more support and/or your style is more to press a sharp edge or a stiff toe harder onto a hold to gain more security, the Futuras will probably not suit you. (But that doesn't mean you can't benefit from learning to climb Futura-style.)

The shoes excel at vertical and overhanging climbing especially on weird footholds that edging shoes roll off of. I would find them suboptimal for climbs with a lot of narrow cracks or tiny pockets that you want to shove a sharp edge or pointy toe into. They are also too aggressively downturned to be good slab shoes. I also would never use these for crack climbing shoes.... I found that they toe and heel hooked well, though not as well as the Solutions, but that I enjoyed the increased sensitivity.

Overall, I think the biggest issue I have with the Futuras is that they might cost me a lot of money: they're so amazing I just want to climb everything in them and wear them out faster while letting all the other expensive shoes I own gather dust...
Maia B.
Heel cup and toe box.
Familiarity:

I've used it several times

Fit:

True to size
I have always been a Five ten guy for all the years I have been climbing but this is my first pair of Sportiva. As soon as I tried them on I feel in love! The feel cup fits a thousand times better then I ever expected and the toe box fills in nicely. After climbing in them for awhile I realize there is very minimal stretch if any. The no edge tech is very nice so that you can edge better then a traditional sole. The soles are still very stiff but still gives you the durability of a hard sole with the benefit of a down turn! BEST SHOE IVE HAD IN A LONG TIME!!!
Joel Durden