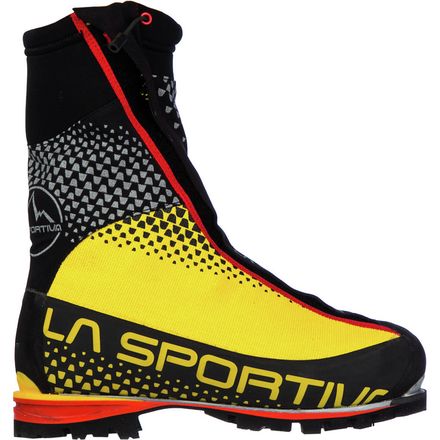 Colors

Detail Images

Videos

Community Images
Take the next step toward total gear nirvana.
The exposure may be mind-bending, and the winds may be howling, but you can take comfort in the fact that your La Sportiva Men's Batura 2.0 GTX Mountaineering Boot has your feet covered as you methodically make your way to the summit. La Sportiva designed this boot to tackle everything from mid-winter mountaineering routes to more technical ice and mixed routes. The Batura is built with an integrated Cordura gaiter with a 2-layer stretch Gore-Tex membrane in the insert and a high-tenacity nylon upper below with another Gore-Tex layer in the inner boot—this not only prevents moisture from entering the boot, but offers excellent breathability, creating the ideal climate for your feet to climb in. The boot is insulated with both an anti-dragging felt material, an aluminum layer, and an insulated polyethylene layer. A stiff TPU midsole with polyurethane inserts keep the boot stiff for a secure feel, with or without crampons, while an SBR Aircushion material provides some shock absorption and works with the honeycomb heel grid to save your feet extra wear and tear when weather conditions and acclimatization force you down and back up the mountain in your attempt to reach the summit as safely as possible.
2-layer Gore-Tex membrane
Cordura gaiter
High-tenacity nylon upper with rubber rand
Lace closure with asymmetric zippered lace cover
Insulated anti-dragging felt
Insulated PE
Insulating aluminum layer
8-9mm TPU midsole with PU inserts and SBR Aircushioning
Honeycomb Tech insulating carbon insole
Vibram sole with Impact Brake System
Step-in crampon compatible
Sizing
Familiarity:

I've put it through the wringer

Fit:

Runs small

Size Bought:

10.5 us
This review is all about helping people size their boot. I am going to skip all the talk about quality and warmth and climbability.

I fit a 10.5 shoe in the following brands:
Arcterex
Merrell
Keen
Asolo
Bedrock
Scarpa
Solomon

These boots felt slightly cramped. Slightly too short and too narrow. Ended up selling them for this reason. Wanted to like them very badly, and went a whole season with them.
Joshua K.
Height:
6'0"
Weight:
175lbs
Stiff, warm and light.
Familiarity:

I've used it several times

Size Bought:

44.5
I wasn't planning on wearing these on our June climb of Rainier. The temps were dropping and the forecast wasn't looking good. I decided at the last minute to throw them on instead of the Trango Cube GTX's I was planning on wearing.

It was a good choice.

They did really well, from the slushy parking lot, up to Muir, then, the sub zero temps high on the mountain. Holy hell, it was cold, but my feet were fine. I have had people ask me how I like them, because you don't really see them around much. I kinda feel like they aren't a boot you want to be bashing through rocks, or someone learning how to use crampons.

I am excited to use them this summer in Europe. For hauling a boot that can handle such a variety of conditions. They really are a great choice.

I just noticed a few months ago that La Sportiva is coming out with a new boot, the G5. Basically the Batura with a Boa lacing system. I have the G2 SM's and the Boa system is pretty awesome.


greg
Height:
5'7"
Weight:
190lbs
Very happy with these boots
Familiarity:

I've used it several times

Fit:

True to size

Size Bought:

44.5
I decided to get some insulated boots for the higher elevation winter hikes in the White Mountains of NH, something for those sub-zero days that I've been avoiding. My first attempt was the baruntse boot. But those did not fit me well and were too heavy. I returned those and tried the Batura's. At first I thought they'd be too small as they were a little tight with heavy socks. But after a couple of hikes, they've broken in a bit. They're comfortable to hike in and also worked well for a day of ice climbing.

The gaitor's have a pull string to snug the tops. One of mine was pulled through on arrival, but not an issue that I'd return them over. The Gaitors, don't stand-up to crampons, so I already have one small cut in them. So I'll be wearing gaitors over them when I climb in them. The laces do tend to loosen up and the zipper on the gaitor tends to slide down an inch or two after a few hours of use. My last comment is that I'll also be trying some custom insoles to address some end-of-the day pain. I use them in my other boots, but haven't tried putting a pair in these. I'm a little concerned about them taking up more space in the boot. I expect to work out these little issues as I use them this season.

I really appreciate that they don't feel heavy and they have a reasonably comfortable stride for hiking while being stiff enough for ice climbing.
Randy H.
Height:
5'9"
Weight:
190lbs
Blew out after three climbs.
Familiarity:

I've used it once or twice and have initial impressions

Fit:

True to size

Size Bought:

42
I had these boots for less than a month. Put less than 40 miles on them and nothing over WI3. In the middle of my These are super light and pretty warm. HOWEVER, the third day out, I noticed that the ankle lace loop had completely blown out making it impossible to secure my foot. I think this is what lead to the excruciating heel pain that I felt by the end of that day.
Jon Payne
Height:
5'9"
Weight:
165lbs
La Sportiva Batura
Familiarity:

I've put it through the wringer

Fit:

True to size
These are extraordinary boots that are excellent for high trail miles with heavy loads, long mixed alpine climbs, and technical ice climbs.

Not only do they perform well, but they are very light and well insulated. I have sized the same as La Sportiva running shoes.

Kristian Woyna
kwoyna@gmail.com
Unanswered Question
How is the warmth compared to the Neval Cube GTX? I've heard conflicting points : manufacturer says they're about the same, other agree; while yet others say the Batura 2.0 is warmer, but less comfortable to approach in due to the stiffer sole....
pjc
6000m peaks to rainy days in the Cascade
Familiarity:

I've used it several times

Fit:

True to size
This is the first pair of mountaineering boots that I have owned so I may not have much to base this on, but I am very pleased with these boots. Took them to climb a couple of 6000 M volcanoes in Ecuador and they held up great. Warm, didn't need an over boot, but we were moving quickly and it's wasn't the coldest weather I've been in. Love the inclosed lace system for a tight package. Stiff soles and very comfortable. Have used on many other adventures since and have been very happy with their performance. Walked for hours on steep downhill dirt trails descending from climbs and never got sore feet.
Michelle Parker
Height:
5'2"
Weight:
115lbs
Warm
Familiarity:

I've put it through the wringer

Fit:

True to size
I've used these everywhere from Chamonix to the Tetons as my go-to technical boot. They are quite warm, I've never had cold feet in these boots. They fit like all other Sportiva boots, I use the exact same size in the Trangos. Long approaches in these guys are killer as they are so stiff, but once the terrain gets steeper, they really come into their own.
Andrew Wike
Worth every cent
Familiarity:

I've put it through the wringer

Fit:

True to size
Ive spent the better part of this season thrashing these boots ice/mixed climbing and could not be more pleased. They've held up extremely well, SUPER light, and very warm (Ive had them down to about -10). At first i was questioning their durability due to them being so light but the still look nearly brand new and not a single defect
Steve L
Does anybody know if this boot fit a narrow foot best like some other La Sportiva boots? I've got rather wide feet and i'm afraid it could be too tight for me (or too long if i take an upsized pair). Thanks.
Vladimir
Best Answer
I asked a friend about this http://www.backcountry.com/profile/Wayne-Christoffersen/3954476 . I know La Sportiva has a narrow fit but, I have a fat foot and own the Vertical K. Wayne confirms that if you use a good orthotic with arch support even a wider foot might be able to comfortable in a boot manufacturer such as La Sportiva and keep the correct length. This is what I did with the Vertical K's. I have found with this particular company or any low volume boot that I am a size 10 where other boots or higher volume shoes I am a 9-9.5.
Bill Porreca
Hi, i'm going to Shishapangma this season,...
Hi, i'm going to Shishapangma this season, bit after that i will be going to south America and the Mckinley looking to do more technical climbing I would like to know if this are the correct boots for such work? Or which ones would you recommend me for that variety of mountains? Salutations
Israel S
Best Answer
This boot does not have a removable liner so drying in your sleeping bag is going to incomplete and after a few days you will have a wet boot. Not suitable for expedition climbs with long approach, IMHO. You'll also need an overboot for the the 8000m and Denali.
Sean C.
I know this is meant to be predominantly...
I know this is meant to be predominantly a mountaineering boot with an ice-climbing focus, however I'm wondering how well it would be suited for general mountaineering in the lower 48 when compared with the much heavier (in my size, a full 1/2 lb. per boot!) Nepal EVO's? I'm not doing any ice climbing (yet), so it's typically just rock & snow. Obviously the Nepal's are more durable due to materials, but I'm not out there everyday so wondering if the lighter/warmer Batura would be a good choice.
c2summit
The nepal and the batura are going to perform very similarly. They both have still soles meant for steep terrain and snow.



As you noticed the pros and cons are weight vs durability. The nepal is a pretty full proof boot that will last a long time.
Mato
Nepals are more confortable for walking as the sole is a little less stiff than the Baturas. I would say durability would be an issue, the Baturas are much less rugged than the Nepals.
Fernando Abdalla
La Sportiva Batura 2.0 GTX
Backcountry Video
Where are these boots made?
Where are these boots made?
dm1p653703
La Sportiva splits their manufacturing between facilities in Italy, China, and Vietnam. In the case of the La Sportiva Batura 2.0 GTX Mountaineering Boot, they are still made in Italy
Mike D Hilverda
Yes, still hand made in Italy. It takes nearly 40 days to construct a pair of Batura 2.0 GTX Boots. They take great care in allowing the adhesives to dry properly; especially important when assembling the 2-layer Gore-Tex liner.


Sean C.
Warm comfortable mountaineering boots!
Right out of the box, I wore my new pair of Baturas on a seven-mile backpacking trip in the Gore range, and they were very comfortable and warm! I have since worn them on 14er hikes in winter conditions, and they performed well on several recent ice climbing trips.



These boots are very adjustable: I especially like the lace clamps so that you can adjust the lower and upper boots as you prefer.



The velcro strap and zipper work well, and the built-in gaiters add warmth and do a good job keeping out snow and water (as I learned when stepping through the ice on a partially frozen lake). Not as warm as double boots, of course, but they are at least a "one-and-a-quarter boot" -- definitely warmer than Nepal EVOs or Trango Primes, for example. And they are amazing light, to boot!



The laces are a bit too long, but that is my only criticism and easily fixed. If you like to hike and climb all day in cold conditions, these are the best ever all-around mountaineering boots.
John M.
Are these boots more suitable for technical...
Are these boots more suitable for technical terrain only, or can be used for general summer mountaineering as well? I'm planning to use it for ice and mixed climbing, but would also like to use it for general mountaineering. Thx
Francisco B.
Best Answer
The Baturas excel in cold weather technical climbing, but can also be used for general mountaineering, for sure. As a summer boot in most lower elevations they will likely be too warm and overkill though. I've used the Baturas for guiding on Rainier and in the North Cascades during the summer months and they do a great job of keeping me warm on the summits but the durability is lacking for summer approaches and you may be better off with a workhorse boot such as the La Sportiva Nepal EVO GTX for all-around use.
Micah Lewkowitz
Thanks. I thought they were overkill for summer trips. I'm thinking I will go with the La Sportiva Nepal EVO GTX. Thx!
Francisco B.
Bottom line up front: I love this boot for alpine and waterfall ice climbing. It's an excellent boot for standing ad nauseum while my leader waits out a pump at the first screw... Perhaps if my leader were as well engineered as the boot, I'd be on cloud nine.

The nylon outer shell is a great addition, keeps laces in place and out of the way, keeps my foot warm, and snow out. excellent addition. It's also super water resistant. I broke through a snow bridge over a creek on a crossing and had only a slight immersion, but it was expected to end my day in the next few minutes as my foot felt the sensation of water creeping in. Nothing!

I gave this boot a 4 star rating for one reason: the right boot's zipper separates at the base on occasion. I noticed this right out of the box, but did not have the luxury of time to send them back for a replacement. I am pretty sure it is a minor defect and I may do something about it this offseason, but I've discovered that if i just back the zipper down 1/2 inch shy of the bottom, I can still keep the teeth in contact, and I have full access to the laces to don/remove the boots. I am currently just keeping my fingers crossed that the zipper problem doesn't exacerbate. And doesn't break down on me mid climb. For that, there's always duct tape...
Courtney Dean
Hello. I have had a neurema in the right...
Hello. I have had a neurema in the right foot, the pain of which has resolved after a steroid injection and orthotics. I love Sportiva boots, and am considering the Nepal EVO or Batura, but am concerned about fit and return of pain. I normally wear size 10 street shoes, and will place orthotics and wear thick socks. Which size do you recommend. Also, will they work with Petzl Vasak Flexwire crampons?
Dennis H.
The forefoot is plenty wide on this shoe. I used a superfeet blue for all of last season. I switched to a winter version after the season, but haven't gotten to use it yet. With the blue, I had no problems with fit. I did buy up 1/2 size. I size up perfectly to a 46.5, but bought a 47 for the extra space to keep my toes from smashing on downclimbs. I never had a problem once i got them laced up. No blisters going up and down a lot of sketchy approaches. I only wore one sock and the fit was still pretty great.

They should fit the Petzl Vasek just fine, though any non-automatic crampon will fit only as well as the strapping security you provide. The toe bail on the Vasek should be plenty large enough to accomodate the boot's toe volume. Just get the lenght of the crampon sole right and secure the strap.
Courtney Dean