L Space

Ridin' High Ribbed Veronica Bikini Bottom - Women's
Item #LSS00DY
L Space
Women's Swimwear
Swim Tops
XS
S
M
L
D Cup
Bra Cup
32A-B, 34A
32B-C, 34A-B
32D, 34B-C, 36A
34D, 36B-D
36D
Swim Bottoms
XS
S
M
L
Waist

23.5 - 24.5in

(59.7 - 62.2cm)

25.5 - 26.5in

(64.8 - 67.3cm)

27.5 - 28.5in

(69.8 - 72.4cm)

29.5 - 30.5in

(74.9 - 77.5cm)

Hip

34 - 35in

(86.4 - 88.9cm)

36 - 37in

(91.4 - 94cm)

38 - 39in

(96.5 - 99.1cm)

40 - 41in

(101.6 - 104.1cm)

One-Pieces
4
6
8
10
12
Bra Cup
32A
34B
34C - 36B
36C-D
36C - 38D
Waist

24 - 26in

(61 - 66cm)

26 - 28in

(66 - 71.1cm)

28 - 30in

(71.1 - 76.2cm)

30 - 32in

(76.2 - 81.3cm)

32 - 34in

(81.3 - 86.4cm)

Hip

33 - 35in

(83.8 - 88.9cm)

35 - 37in

(88.9 - 94cm)

37 - 39in

(94 - 99.1cm)

39 - 41in

(99.1 - 104.1cm)

41 - 43in

(104.1 - 109.2cm)
How to Measure:

For best results, take measurements over your underwear.

Natural Waist:

Measure around your natural waistline, keeping the tape a bit loose.

Hip:

Measure around the fullest part of your body at the top of your legs.
Select style & size:
Select options
Cancel

Select options

Spearmint, S

Sale:$33.60

Spearmint, M

Sale:$33.60

Spearmint, L

Sale:$33.60

Tropical Peach, XS

Sale:$46.20
Ridin' high at low tide.
Low tide doesn't stop you from going to the beach in your Ridin' High Ribbed Veronica Bikini Bottom by L Space. Enjoy playing in the shallow waves with the support of the thicker-cut waistband and the confident coverage of the modest, yet cheeky rear
Simple yet stylish bikini bottom
Thick waistband gives you comfortable support
Moderately cheeky backside covers just perfectly
Tech Specs
Material:
97% nylon, 3% spandex
Recommended Use:
beachwear, surfing, swimming
Manufacturer Warranty:
lifetime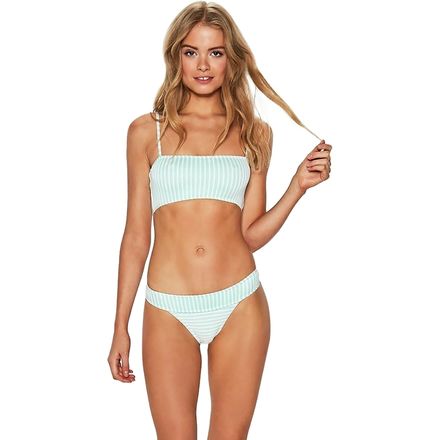 Colors

Detail Images
Ridin' high at low tide.
Low tide doesn't stop you from going to the beach in your Ridin' High Ribbed Veronica Bikini Bottom by L Space. Enjoy playing in the shallow waves with the support of the thicker-cut waistband and the confident coverage of the modest, yet cheeky rear
Simple yet stylish bikini bottom
Thick waistband gives you comfortable support
Moderately cheeky backside covers just perfectly
Frequently purchased together
☃label_view_more_products☃