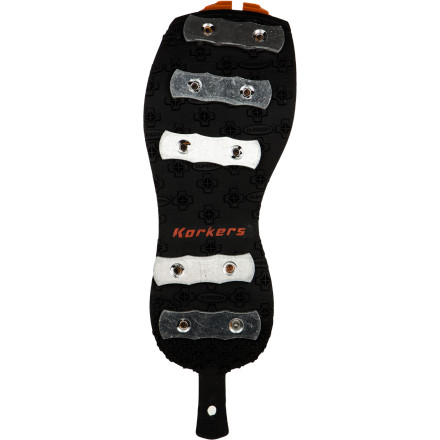 Colors

Detail Images
When the current is fast and the rocks are slick, pair your Korkers wading boot with the Aluma Trax Outsole for secure traction you can trust. The aluminum bars cut through slick algae and slime to provide a secure footing in the most challenging wading situations.
Compatible with Korkers wading boots with OmniTrax Interchangeable Sole System 3.0
Aluminum bars cut through algae and slime for maximum traction on rocky river bottoms
Be very careful - know when to use these
Familiarity:

I've put it through the wringer
You need to know when to use these types of Aluminum bar soles. On small, rounded or any angular river stones/bottoms they pretty much give 5 star grip (as long as it's above freezing). If there are flat rocks underwater (like in sections of the Salmon River, NY) you will have no grip. What is worse is when you're wading in current and you have grip and then you step on a flat rock and your foot suddenly slides out - extremely dangerous. It isn't just the Korkers brand, the Patagonia Tractorz my brother-in-law has have the same issue. This type of sole traction needs to have irregular or distinctly rounded edges on the wet rocks to bite into the soft aluminum bars. Otherwise you have a flat piece of metal sliding on a flat rock (usually covered in a thin film of moss or muck). And like i mentioned before, I wouldn't use these when there is any ice on the ground since that layer of ice often prevents the edges of the rocks from easily biting into the aluminum (forget icy, flat rocks).

The solution: Buy the Korkers studded soles (NOT the undersized studs on the Studded Kling-On Sticky Rubber Soles). These soles have aggressive studs just like the Korkers Rock-Trax over shoes have. There is a night and day difference with grip on flat rocks (plus regular rocks) and you can use these Studded soles in the winter or even on a jetty (although I still use my Rock-Trax for jetty fishing since they have more studs).

For the people that fish in areas with flat rock and already bought the AlumaTrax like I did, you can take a carbide screw, something like the Kold Kutter 3/8" carbide screws, and drill 3 of them in each AlumaTrax bar. I staggered them some and drilled a small pilot hole first. I mistakenly bought 5/8" long Kold Kutter screws but I easily ground the protruding tips off with a grinding wheel (you may or may not have to do that with 3/8"). I first screwed these onto the AlumaTrax bars in Nov '16 and over 10 months later (about 25 days on the river) the carbide screws are worn but I haven't loss one screw - and they still grip a 100x better than the AlumaTrax does on flat rocks. Soon I will simply unscrew all of the carbide screws and replace them with new carbide screws and instantly have new traction again. You can see in my photo I also put some screws directly into the rubber sole (you will definitely have to grind the tips down on the other side). But I wouldn't bother - you can see in my pic that most didn't stay, especially on the one sole. When I replace the screws I will update this review if the screws don't stay or there are other, unforeseen issues.
Keith
Didn't last 5 months
Familiarity:

I've used it several times
Don't get me wrong, these are great and 10x better than felt. They stick to everything here in Utah and are great to hike in. Just don't plan on using them on ice. Only negative has been they broke after 5 months. One of the rivets holding the bar on broke and now the bar rotates, making it not only unusable but dangerous. 4 stars only because they broke. 5 stars for traction!
mKasner
Won't wade in anything else
Familiarity:

I've used it several times
Easy on and off, feel much more confident when these are on, tried a slip on version last year and loved them so much that I decided to make this my first choice for wading.
Nancy S.
Goat is good
Familiarity:

I've used it several times
Really liked these outer-soles so far. Comfortable and really easy and quick to put on and off. Living in Utah the rocks get slick these saved me from falling in the river more than enough times. Best sole for wading.
Josh R
Best sole for wading
Familiarity:

I've put it through the wringer
These are the best soles I have used for wading in Utah. They grip to dry boulders and wet snotty boulders as well as big cobble and gravel. I have tried all the other soles - felt, felt with studs, studded rubber and the big tread rubber that comes with the KGB boot. The alumatrax are the BEST upgrade to any wading boot and it beats having to strap on clunky aluminum cramp-ons . There is much more traction that just screw in aluminum studs which wear out quickly.

I typically hike 2-3 miles as I fish and these soles have performed perfectly in and out of the water.


an_p719455
Is the Alumatrax outsole compatible with...
Is the Alumatrax outsole compatible with my Omnitrax "Redside" FB 3310 US 13 UK 12 Mo1/Y2011? If so, what size should I order?
Dwayne Ramsey
Best Answer
These soles should still be compatible with your Redside boots even if you got them in 2011. Thing is you do need to keep your boots and your soles the same size and if you since we are currently out of size 13 you might need to hold off until we get them back in stock.
Wayne Christoffersen
Great traction addes safety on the river
Now in my 60's I have found it necessary to seek gear that makes me feel safer on the river. Prior to purchasing the AlumaTrax I found myself slipping and slides while wading and feeling very insecure about staying upright. The AlumaTrax made a significant difference in my balance and comfort while making difficult movements while wading. I'm sure there are other products out there that might work as well, but these babies are really special!
Glenn Roesler