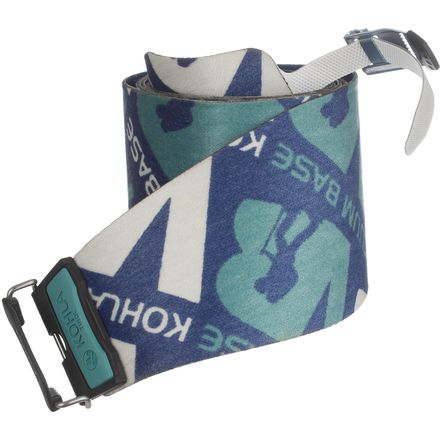 Colors
Lose the glue.
Glue is extremely effective at keeping your skins attached to your skis, but it's not without its own set of problems. If you're tired of your skins getting stuck together, leaving a sticky residue on your bases, and collecting every bit of dirt and grime they come in contact with, then give the Kohla Vacuum Base 2.0 Climbing Skins a try. They're made with a glue-free adhesive side that won't get stuck together, won't leave your bases sticky, and will overall make transitions a whole lot faster. Their vaccum side is composed of a mohair, nylon blend that glides well and provides the necessary traction to get up steep, switch-backed skintracks.
Mohair, nylon blend
Tip loop and tail clip
Glue-free adhesive side
Includes microfleece case
Trim to fit
Easy Touring
Familiarity:

I've used it several times
This is my first pair of skins ever owned, I got out on them about 5 times last year on some 3 hour tours, some 3 hour tours. Easy to trim, easy to use, they stuck to my skis and never slipped. Drying and storage is a breeze with the vacuum base.
Nick F
Go Glueless
Familiarity:

I've put it through the wringer
Nothing is worse than getting to the top of peak just to realize your skins have left a nasty glue residue on your expensive ski bases, hindering your downhill performance. These vacuum skins do not rely on traditional glue, being the perfect solution for a user friendly skin.
Fritz Hanseler
Big Improvement
Familiarity:

I've used it several times
I bought these several years ago in Germany for my BMT109s when they were still unavailable in the States. Since then I have used them in warm and cold conditions. They always stuck well to the base in warm conditions when snow or water was wiped off as instructed. That's easily done with the skin bag, in particular since the skins are not sticking to the bag (neither to dirt, your clothes, etc). On cold days I had initially some adhesion problems after frequent skin changes. Definitely, all snow has to be carefully wiped off but the main trick is to stretch them onto the skis with the tail fastener and then press them onto the base from tip to tail as if removing air bubbles. Always worked. As another reviewer mentioned, the tail clip tends to come lose. That's because it slides back on the strap over time (reason I gave them only 4 stars). I put a rivet in the strap to prevent that. It still happens that the clip is kicked lose on occasion by the tail of the other ski since - unlike the BD clip - it points upwards. Still have to find a fix for that, otherwise those are great skins.
Thomas H.
ok for very short tours
Familiarity:

I've put it through the wringer
Pros: light, good traction, good glide, very easy to separate

Cons: adhesion fails way to easily in real world use.

I've used these on about 10 tours, mostly in the 20's F. I usually attach skins at home where it's warm, when I pull them off after the first climb I'll see some snow has crept in. Second lap, wipe as much snow off glue as possible using bag, dry bases, I usually get some adhesion but it's weak. By the third lap the adhesion is failing, the "glue" just isn't tacky when it's cold even if everything is dry.
A friend I tour with has the Volkl vacuum skins which seem much stickier under identical conditions. (I thought Kohla made the skins for Volkl...)

float
Not on par with traditional skins
Familiarity:

I've used it several times
I got these for my Volkl BMT 109's. On the first skin from the parking lot in the morning they climb very well and you won't notice anything different about them compared to a traditional skin. Super easy to take off and pack at the top of the climb. These skins win hands down for ease of use and manageability. Where I have run into problems with them is that I typically will do multiple 'laps' or tours needing to take the skins on and off multiple times. The conditions I have had them in so far have been cold ~ 10 degrees with light, dry, Colorado powder. No matter how careful I am to not get any snow on these at all, it seems that after two laps when you get a little bit of snow on the adhesive side they just simply won't stick to the ski base anymore. Combined with the cold temps them seem to lose tackiness and I simply can't get them to grip to the ski. As much as I wanted to like them I think I have to go back to traditional glue skins.
yourDisplayName
Not Tacky Enough but Works
Familiarity:

I've used it several times
Despite pressing onto my skis I ended up with snow under my skins after a short hike. Everything stayed in place and I made it up just fine but on days with multiple hikes I question how well they will work. They are SUPER easy to separate and remove from skis which helped keep my hands warm.
Matthew Kiel
Flawed
Familiarity:

I've put it through the wringer
Bought these for my wife based on positive reviews and have toured with her a couple dozen times using them. At first the concept is great. No glue, easy on and off. 2 MAJOR flaws with these. 1) As another reviewer posted they do not hold up under all conditions. In wet/warm conditions these skins simply do not stay on. Your ski base has to be kept relatively dry and free of snow for the vacuum base to work. Bad choice on warm days or spring skiing or even mid-winter if they get a little too much snow on them. It happens. 2) The tail clip is terrible. It simply does not stay put on the tail strap so you have to tighten them all the time during tours. The downside is not worth the upside with these.
Puckles
Don't waste your money
Familiarity:

I've used it several times
At first glance I was really happy with these. The vacuum base seemed sticky and the skin was really light. After two uses I'm stuck ordering new skins. When used in any challenging conditions these skins are worthless at best, dangerous at worst. The tail clips stretch and loosen as you ski. Every time I've used them I've need to tighten the tail clips every 20 - 30 minutes on flat to 10 degree terrain, and more often in rolling, steep, or uneven terrain. After multiple days this was still a problem. I tried taping the tail straps to prevent slipping but this didn't help significantly. In combination with this, the adherence of the skin to the ski is not that strong in anything but ideal conditions (when wet or cold they tend to be full on slippery). Together this means that in steep terrain, sidehilling, wet snow, cold snow, rolling up and down, or really anything besides a nice flat trail, the skins tend to come off at the tail. On my second trip out in some challenging terrain, on a mild day with dry snow, over the course of a few hours there were multiple occasions when the skins suddenly and fully released from the ski in circumstances where suddenly sliding downhill or falling could have lead to injurious consequences. Ultimately a multiple day trip had to be cut short in part because of these skins. I would not trust these skins for any serious backcountry skiing where getting stranded or sudden sliding due to skin failure could have significant negative impacts on your day or affect your safety. I suppose if you were doing off resort backcountry where you can easily get back in-bounds without them, or are racing in a controlled setting they might be just right, but otherwise they are pretty worthless, and something I will need to replace before I can use those skis again. I know vacuum type skins need a dry base to work on, and I did ensure this was the case every time I tried to use them, clearing them of snow and using the provided fleece chamois built into the bag to make sure they were bone dry to begin with.
Ryan F.
Borrowed a pair and had to buy them. Easy to remove, but tried only in ~30 degree, sunny conditions. Grip was amazing in these conditions. Look forward to more days on them
Brian Dobias
Kohla Skins and BC servi e
Familiarity:

I've used it several times
These skins are amazing. Removal and attachment has never been so easy. I no longer remove my skies from my boots to install or remove my skins. These rip off with zero effort but have 100% security when installed. I highly recommend this skin. Backcountry customer service is the best. I needed these overnighted before I left town for a hut trip. I dug out my old skins to find that when I unpeeled them, they were delaminated and ruined. Backcountry completely saved my trip. Thanks gear heads!
sjo105944635-0
Equipment that enable us to get out into the backcountry is so much more than junk sitting in the closet when not in use. It is our life link when we need it most, it is our gateway to exploration and freedom, it is a tool that ties us to this world we try to connect with. Thanks Backcountry and Kohla for connecting me so securely to this world.
sjo105944635-0
Tested in Telluride
Familiarity:

I've used it several times
I have used the Kohla Vacuum 2.0 climbing skins for about a month here in Telluride and the Northern San Juans. As a previous non-glue climbing skin user, I am both familiar and at times frustrated with non-glue adhesives. The Kohla's immediately felt "stickier" than other non-glue skins, and combined with a bit of tension at the tail clip have worked flawlessly. The Mohair/Nylon blend has provided plenty of grip on especially steep skin tracks, has excellent glide, and packs down nice and compact when stored. They can easily be fit into jacket pockets. The tip and tail connectors are simple and solid, with no slipping after initial adjustment. The ease of use provided by the non-glue adhesive is certainly something to welcome, ripping skins off skis or apart from each other has never been easier.
Erik Dalton
Awesome Skins!
Familiarity:

I've used it once or twice and have initial impressions
I just got my first pair of Kohla Vacuum Base skins. I have owned every iteration of skins from the first generation of Ascension made in Ridgeway, through Voile Snakeskins to G3 and everything in between. I just cut my Kohla skins for a Goode Carbon BC95. I was totally drawn to the light weight, ease of care and packability.
First off, I was a ski tech for 20 years so I have cut dozens of skins for people. This was by FAR the easiest trim I have ever done. I busted out my trusty G3 trim tool and guess what? The simple Kohla box cutter works better! With no messy glue to gum up the blade, these things cut like a dream. This was the nicest trim job I have ever done!
The tip is super clean. I had to grind my Goode plastic ski tip to get a flush fit but that's the 1100g ski's problem, not the skin. I was warned that the metal tail kit might scratch the carbon ski but there is ZERO evidence of that on my ski.
I have only used the skins once on a cold moonlight tour and they worked flawlessly. I have been warned that these work slightly better in warmer conditions. But I live in Taos, NM so it just doesn't get that cold here. Our full moon tour was probably 5F by midnight and I had great adhesion.
At first use, the knap of the skins seem to provide the perfect balance between grip and glide. They definitely seem to hookup just like BD Glidelite skins. My advice is to run the tail adjuster a little tighter than you'd expect.
Here's the best part: It was late and dark when I finished my moonlight tour. I was tired when I got back to the car and I had just jammed my skins in my ski pack. I forgot about them for a couple days. When I cleaned out my ski pack, I took out my still wet skins, shook off the water, picked out a few stray clumps of doghair (I have a husky, whoops) with ease, hung them up to dry for a few hours and they were ready to go!
I think I am in love so far. I was warned by another tester that the first Volkl version of this technology didn't have as much side hill adhesion as he wanted in icy conditions. But I know these are called "2.0" for a reason.
Can't wait for my next adventure!
Taos Jonah
Unanswered Question
How wide are the tip clips on the 130mm skins?
burrito
Big leap forward for climbing skins!
The Vacuum Base 2.0 climbing skins from Kohla (Innsbruck Austria) are truly a huge improvement over traditional glue type skins. It seems they have really perfected their innovative technology over the last years (they were a bit to the heavy side) and the "stickiness" of technology needed some refinement. However, the 2015 Vacuum base 2.0 is plenty light, super easy to use, clean and seems to perform well in all temps and snow conditions encountered so far. Kohla also manufactures skins for other well established brands such as Volkl and Fischer. I would definitely recommend these skins - they will quickly be the only ones you throw in the gear bag!

Gary Sukovaty