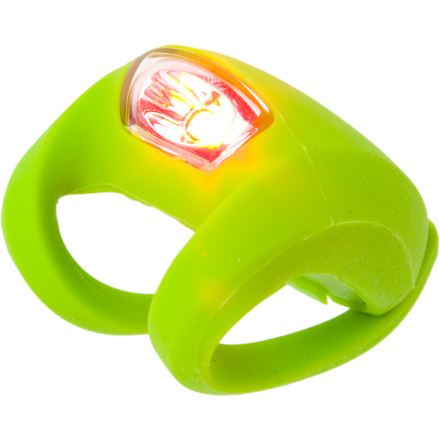 Colors

Detail Images
Riding in the city at night yields a special kind of excitement. When most people are settling down in their favorite chair or god forbid, sleeping, you have the streets to yourself -- swooping in and out of parking lots, over curbs, claiming the pavement for your own, if only until the sun comes back up. Needless to say, part of being safe is being seen. If you like to ride in town at night, maybe a small tail light would be a wise addition to your bike. The Knog Frog Strobe Red LED Light is super lightweight, weighing less than a GU packet, and is unobtrusive in the way that its flexible silicone body clings securely to a seatpost, a pack strap, or through the vents in a helmet. With its undisputable convenience and power to make you visible to inattentive drivers up to 600 meters away, wouldn't it be silly to not have one?
The Knog Frog Strobe Red LED Light features a super bright LED strobe system with a built-in lens. It has a burn time of 50 hours on steady beam and 80 hours when flashing. It can be used as a constant light and there are three flash modes -- fast, faster, and random. The Frog Strobe is available in five body colors -- Black, Red, Transparent, White, and Lime. 19 grams.
Perfect!
Familiarity:

I've used it several times
I needed a quick, easy to remove rear light for my bike, and this little froggy fits the bill perfectly!
Robert Lindsen
I use this to commute to and from the office, or anywhere else and cars can see me and know not to run me down. Small & lightweight fits on the top of my rear triangle.
keith f
Bad boy no more
Familiarity:

I've put it through the wringer
Get in gear with the law son, pick yourself up a clean non -intrusive knog frog light. I've been rocking these guys for years and love them. They get you the visibility needed to feel safe and are pretty cool looking compared to some of the more clumsy larger lights out there.
Chris Purkey