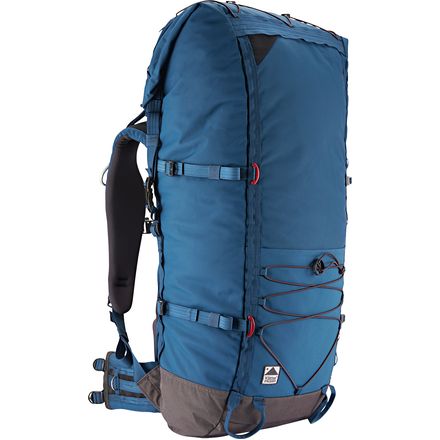 A firm grip on your next adventure.
Hiking the long, sandy miles of the Lost Coast can be tough, but Klattermusen's Grip Backpack takes your mind of the weight on your back so you can enjoy the salty air smells. Most packs put too much weight on the muscles, often producing blistered hot spots on the hips and neckline, but Klattermusen's Carry on Bone system puts the load on your skeletal structure, allowing you to stay fresh for beach yoga and pre-hike disc tossing. But don't get too distracted and let that pesky otter family sneak into the Grip and steal your gear you've been collecting all day.
A mid-sized pack for hiking and backpacking
Carry on Bone system disperses weight to stop hot spots
Roll-top closure for water resistant storage
KEVLAR bottom stands up to rough trail wear
External loops for trekking poles and ice axes
White internal fabric makes your gear more visible
Unanswered Question
Is this pack hydration/camelbak compatible?
Alexander Maybarduk
Expecting to last 20 years
Familiarity:

I've put it through the wringer
I used this pack hiking through Peru for a week and it was the perfect size that I needed. The outside has multiple loops for high customization, and other Klättermusen products (like the stretch pocket) easily equip on and off. It is super comfortable to wear, and the hip belt adjusts to my exact hips with its 4 points of adjustment. The belt buckle itself is a nice metal lock that is smooth to lock and unlock, never realized that there were other options to fumbling with plastic buckles. The rolltop also means that if I really wanted to, this pack could easily become a 70-80L. I don't know how truly effective the carry-on bone system is, but there is definitely a different, more comfortable feel with this pack at full weight than other 60L's that I have used.

The one downside is that in order to access the bottom of the pack, you had to go through the top of the pack. However, this was not really a problem because I never really needed to get to the bottom of the pack unless I had already set up camp for the day.

If you are going mountaineering or backpacking, I highly recommend this for its comfort, durability, and high technicality. Plus, I'm expecting to pass this pack down to my children when I'm finished with it. From their website, it looks like they made this pack from recycled fishing nets too.
George Park