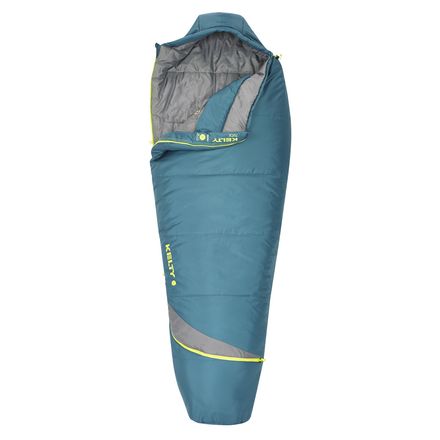 3-season camping for people who like comfort.
Bust out your Kelty Tuck 35 Degree Synthetic Sleeping Bag and enjoy 3-season camping bliss. ThermaPro synthetic insulation helps to keep you warm, even if your friend happens to spill a glass of wine on the outside of the polyester taffeta fabric. A thermal-comfort hood and zipper draft tube keep cold air away from you and help you retain your heat. When it's time to start sawing logs, it'll be that much easier to fall asleep thanks to your own tunes coming from the media-integrated storage pocket.
EN lower limit 30-degrees Fahrenheit
ThermaPro synthetic insulation
Mummy shape
Polyester taffeta outer fabric
Polyester taffeta lining
Thermal-comfort hood
Comfort-Tuck zipper
Zipper draft tube
Media-integrated storage pocket
Stuff sack included
Comes with a "stuff sack" as a opposed to a compression sack. Now I'm either going to have to return in and start over, or go buy a compression sack that will get it down small enough for my son's pack..
Steve S.
Here's a great review of the Kelty Tuck sleeping bag. The Best value in its class!
Adrian Person
Solid Bag
Familiarity:

I've used it several times
I have been sleeping wonderfully in this bag. I have used it several times but admittedly, only once at or around freezing and it was still pretty cold (though that could be due to other factors as well such as too large of a tent and not having a pad) Most of my experience with this bag has been around 40-50 degrees and it has been awesome. I love the fact that you can zip it open from the bottom, roll it up and fasten it so that you can walk around camp in the early morning hours without leaving your warm cocoon!:)
Carly Stark
Great 2.5 season bag.
Familiarity:

I've used it several times
Full disclosure, my name is Adrian and I work for Kelty.

When we launched this line of bags in 2015, our goal was to make the most comfortable, best value, synthetic mummy bag in its class. We specifically size our mummy bags with a comfort fit throughout the torso and legs. No one likes to sleep in a straight jacket! Our new ThermaPro insulation is the most compressible and efficient insulation we could find for the value.

I'd like to give a particular call-out to the Comfort Tuck zipper. Our zipper design allows you to completely seal the bag for maximum efficiency, but when the temperature warms, you can open the bag across the legs and give you feet a nice place to vent on the outside of the bag. If it's particularly nice, you can even unzip the entire bag and open it up like a blanket. For the temperature rating, I would definitely consider this a warm weather bag. Perfect down to temps in the mid to high 30's depending on how warm you sleep. Keep in mind, all of our temperature ratings are taken assuming you're wearing long underwear, clean socks, a stocking cap, and that you're using an insulated sleeping pad.

I've personally used this bag on several nights, primarily in desert between May and September. I love it's roominess (I can cross my legs comfortably) and soft hand of the insulation. The footbox gives plenty of space and hood has a great fit, and the draw strings are even two different shapes so they're easy to distinguish in the dark, just by feel. I did get a bit cold with temps close to freezing, and if you're going to be in that range consistently, I would recommend checking out our Tuck 22 instead.

To sum it up, I feel this one of the best value, warm weather synthetic bags you can buy. It's roomy, compressible, has great features with the Comfort Tuck zipper, and is an awesome price. Just consider the temps you'll regularly use the bag with to make sure it's the perfect fit for you.
Adrian Person
Tuck Sleeping bags Overview
Here's a great overview of the Tuck line of sleeping bags from Kelty.
Adrian Person
Not bad...
Familiarity:

I've used it once or twice and have initial impressions
I bought this bag for a recent trip out to the Southwest to see Zion, Bryce and the Grand Canyon. The bag is comfortable and easy to store/carry. I have to agree with the review below that when you approach around 30 degrees the bag gets a little cold. We were in the 30-40s at night and even when layered I would get a little cold, which does concerns me with winter approaching. I liked the media pocket in the bag that allowed me to store my phone to protect from the cold. Overall, it is a good quality sleeping bag but temperature rating is more like 50 degrees rather than the proclaimed 35 degree.
Jason B.
Good, but...
Familiarity:

I've put it through the wringer
Bought this at the beginning of the season because it fit the bill; lightweight, packed small, rated to freezing, and inexpensive. I've been out with it on 10 trips this summer and will say in warm weather it is a great choice... but as you approach its 30 degree rating you probably won't be terribly satisfied. Got into the 40's on one trip and was chilly with a couple layers and wool socks...but I was in a hammock. Two nights ago I found myself at 30 degrees in a well sealed tent with 4 layers on top, 3 on bottom and 2 on my feet. Still a little cold with this bag. In all other aspects it is great and I'd definitely recommend it if you won't be going out below 40 degrees or hammocking below 50. Otherwise, its a safety concern.
Andrew J.