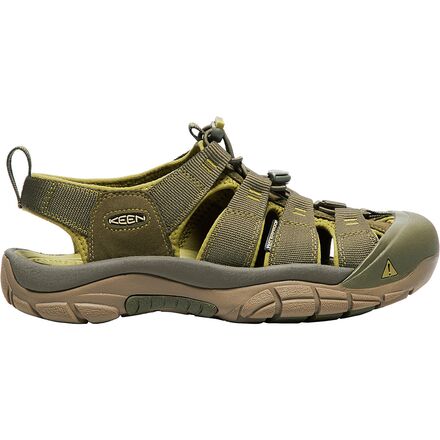 Colors

Detail Images
The sea is a harsh mistress, so you need good shoes. Wear Keen's Newport H2 Sandals.
Even in a well-maintained boat sans holes, your chances of getting your feet wet are extremely good. Enter the Keen Newport H2 Sandal with a design that protects your toes and a non-marking sole to keep the deck clean. A fully synthetic upper puts hydrophobic material against your skin and keeps it dry. The Newport H2's hybrid shoe/sandal design is more comfortable than a full shoe and protects your foot better than a sandal. The unique anatomical outsole gives superb traction and support on sea and land, and an antibacterial footbed controls moisture and keeps the stank under control.
Great sandals, but beware sizing issues
Familiarity:

I returned this product before using it

Fit:

Runs small
I bought these to replace an older pair of H2s that are starting to wear out after a year and a half of hard use. The old pair was a 9, which is a half-size larger than my normal 8-1/2. The fit was PERFECT. I bought a size 9 to replace them, and they're not even close to the same size. I don't know if a 9-1/2 will even be large enough. Keen has always had goofy (and somewhat random) sizing. I'd advise trying the shoe at a local store first if you're planning to order them online. You may end up saving yourself $7 for the return shipping.
Mark T.
Great!
Familiarity:

I've used it several times
Bought these for my Dad. Sturdy little pair of sandals, keep your feet cool and are robust enough for some moderate trail walking.
Emily Winn
Nice!
Familiarity:

I gave it as a gift but have feedback to share

Fit:

True to size
I got these for my dad and he loves them. This is his second pair and wears them daily in the warmer months.
danielle kirk
Height:
5'4"
Weight:
125lbs
I picked up this sandal to use for work (whitewater raft guide) and found it mediocre for water use. Within two months one of the heel pull tabs ripped off, the rubber does not grip well on wet rocks, and the open nature allowed a cut in my heel and a serious one requiring stitches on the inside of the arch of my foot. Of course the cuts would've occurred with any other sandal. I personally would recommend a water based shoe such as the Five Ten Eddy/Pro or an Astral for water based pursuits. I have since moved the Keen to light hiking duties where it performs adequately.
Devin P.
Avoid at all costs
Familiarity:

I've used it several times

Fit:

True to size
First pair failed after about 5 days. Keen warrantied the first pair. The warranty pair failed in the exact same way again after about 5 days. The stitching for both heel straps has come undone. The 2nd time around Keen refuses to stand behind their product. Other people have seemed to have good luck with these. Maybe something changed recently in manufacturing? I don't think I got unlucky 2 times in a row.
Dan Finn
Great looking and true to size
Mariano Arrieta
Keens
Familiarity:

I've used it several times

Fit:

True to size

Size Bought:

6
I think Keen shoes are the best structured shoe out there. Great arch support, H2o proof (for the most part) soles don't wear out fast, so you will enjoy these for quite a while. I have several pair, styles both leather "dress/ casual" and nylon for boating/ hiking that are years old, the leather is H2o proof, looks the same as the day I bought them...not scratched stretched, or stained. The nylon ones I soak to clean them, great product, money well spent!
Joyce H.
Height:
5'3"
Weight:
120lbs
Almost there, defect?
Familiarity:

I've used it several times

Fit:

True to size

Size Bought:

10.5
True to size, surprising support, tough, but the right shoe has a bump in the middle of the sole that kills my foot. Left shoe no problem. I have put in ample time and activities for break in with no change. Still wearing them in hopes the bump wears out.
Warren D
Height:
6'1"
Weight:
225lbs
The sandals are true to size and they don't to be worn out quickly
Noel Lopez
Haven't had a chance to really test it out, but I like it from the few times I've used it. Sandals are comfortable and has good support.
Michael Tu
Keen H2 Sandals could be improved
Familiarity:

I've put it through the wringer

Fit:

True to size

Size Bought:

9
I am a bit disappointed with how a pair of my first blue sandals that have a two piece sole held up. They're advertised as being usable in the water, but after using them for 1-2 years or so, the two parts of the sole fell apart because the glue broke down. The rest of the sandal was fine and I'd still have them if the sole didn't fall apart. Keen could easily correct this problem by making a one piece sole.
Also, I tried using Plumbers Goop and Shoe Goo to repair them. It held for a while and then they fell apart again, so I tossed them. The most recent pair of Keens that I bought will be my last try with this brand.
Thomas W.
Height:
5'6"
Weight:
178lbs
Great Shoe
Familiarity:

I gave it as a gift but have feedback to share

Fit:

True to size

Size Bought:

12.0
I purchased this item as a gift for a family member heading out on a rafting trip to celebrate their big day. The shoes were a total hit. They were not only very comfortable for day wear, but offered the breathability, traction, and drainage they were seeking. In addition they offered extra protection on the toe for hiking and rafting where it can be too easy to stub your toes. Overall they were a great purchase. I would highly recommend these after receiving this feedback.
Rachael Van Dolah
Good so far
Familiarity:

I've used it once or twice and have initial impressions

Fit:

True to size
I've bought these for a trip to havasupai- I have had them in the past, when I was a river raft guide- they are pretty great!
Braydn Tanner
Great and Versatile Shoe
Familiarity:

I've put it through the wringer

Fit:

True to size
Shoe is built very well and lasts a very long time. This is my second pair, my first one I still have and use. They have lasted me more than any other sandle by far.
Carmen C.
Although the shoes are pretty good, the sizes run really small
Louis J R.
KEENS NEWPORTS ROCK!
Familiarity:

I gave it as a gift but have feedback to share

Fit:

True to size

Size Bought:

13
I purchased the Keens Newports for a friend for his birthday. He absolutely loves them - wears nothing else to go on fishing trips to Canada, and as his run around summer shoes. Thank you! and now I see they are reduced another $20 dollars - sigh I should have waited!!!
KATHY H.
Unanswered Question
Where is the thirty percent discount taken?
Robert Gagliardo
I had a pair of cheap sandals for six years they had not really worn out I weear them every day in summer. Then I bought a pair of Keens they lasted four weeks. The heel strap unrevelled the stitching holding it to the strap at the back of the shoe. When I analysed how the shoe was put together I realised that there had been no thought at all put into where the highest stresses would be and how to resist them, an extra 40 mm of strap on each side and maybe 80 mm of extra stitching in the right direction to resist the applied tension loads would have made them 10-times as strong. i am suprised that Keens would put so little thought into how to make the shoes strong prehaps they are only interested in the look
Doug McConaughy
Height:
6'
Weight:
165lbs
These are great shoes
Familiarity:

I've put it through the wringer

Fit:

True to size

Size Bought:

Size 11
I use my keens for many different instances. They have been awesome when using them at a summer camp. There was many opportunities to go on hikes, walk through water, climb on boulders, climb through caves, and these shoes did it all! It was awesome to have a nice hiking shoe with toe protection, and then be able to do some creek walking without having to worry about stubbing my toes, and then being able to leave the water and having the shoe dry fairly quickly. All around good deal.

I have also used them for different hikes in the Utah area, and they keep my feet feeling good.

One con I have with them is that some of the stitching around the heel has come undone. I would just blame this on my continually use to them, no products are going to last forever if you use them as much as you can.

Other people have complained about rocks getting in the sandal, and they are difficult to get off. Well I think you are just fine if you try a little hookey pokey foot dance, or just simply take off the shoe quickly. It is really not too much of a hassle.

Overall, I would always recommend these sandals over chacos as I love the toe protection.

I would definitely give these shoes a try, or basically any other keen product, you will be pleasantly surprised.
Chase H
Height:
6'0"
Weight:
175lbs