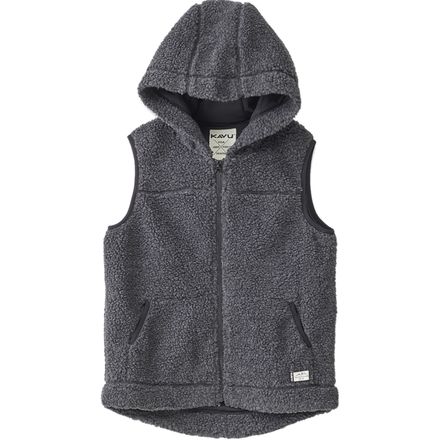 A win-win.
Your young lady wants to adventure with her friends, even though it's starting to be cold outside. The Kavu Girls' Mini Squatch Vest gives you the peace of mind of knowing Sherpa fleece is keeping her torso warm, while she enjoys the freedom of movement enabling her to run and play in the woods. Additional coziness is provided by the attached fuzzy hood and hand pockets should she need them, and she'll love the soft feel of the fleece against her skin.
Comfy vest for shoulder season adventures
High-pile Sherpa fleece traps heat around her torso
Hood and pockets add coziness
A fun lifestyle collection for men, women, and kids! Our fall 2017 line is full of deep tones, forest vibes, and fun prints that stitch their way into your life and style. It's pretty much magical! Whether your chasing your kids down trails, camping next to alpine lakes, or taking that Land Cruiser down the highway. There is always one common thread every day you wear KAVU...you know you are making the most of it!
Keith Reis