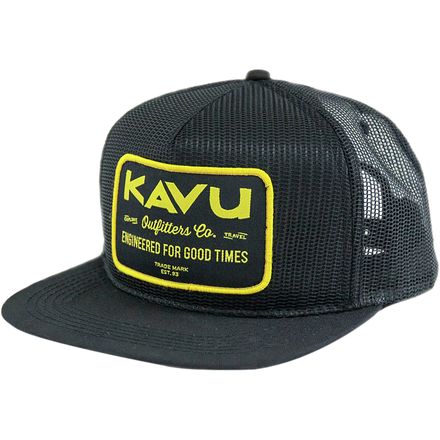 Colors
Engineered For Good Times.
The Kavu Air Mail Hat is the perfect cranial companion for your next day baking in the sun. With a mesh upper, the Air Mail knows your head wants to breathe. The snap closure is durable and can withstand water fights and sandcastle-pummelings. And when you find yourself sweating in the sunshine, the flat brim will shield your eyes while the built-in sweatband controls the sweat situation.
A meshy snapback for hot, sunny days
Flat brim can be shaped if desired
Snapback closure for easy fitting
Mesh upper for ventilation
A fun lifestyle collection for men, women, and kids! Our fall 2017 line is full of deep tones, forest vibes, and fun prints that stitch their way into your life and style. It's pretty much magical! Whether your chasing your kids down trails, camping next to alpine lakes, or taking that Land Cruiser down the highway. There is always one common thread every day you wear KAVU...you know you are making the most of it!
Keith Reis