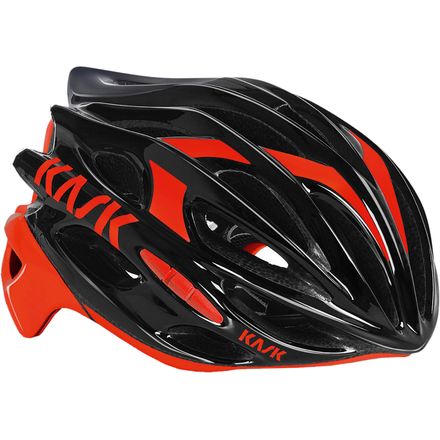 Colors

Detail Images
A highball for your head.
Offering all of the trickle-down technology of their top-shelf Sky Pro Team Vertigo at a fraction of the cost, the minty-fresh Kask Mojito Helmet is anything but just another fruity libation. The Mojito features Kask's superlative, Up-N-Down double-pivot fitting system for a supremely dialed fit—not just over your head, but on the back of your neck as well. And, thanks to the reinforced in-mold construction, the Mojito is every bit as crash-proof as it is comfortable.
A recreational road helmet for long-mile comfort
In-mold construction dissipates more impact forces
Vents channel cooling airflow on hot summer days
Removable padding resists odor accumulation
Fit adjusts across multiple axes to ensure comfort
100% made in Italy—Mama mia!
Light and comfortable
Familiarity:

I've used it several times

Fit:

True to size
I've been using this helmet for almost a year. I love it. The form and venting is great and comfort reigns supreme with the Mojito. I ride in a lot of hot and humid conditions the padding is super absorbent, drys nicely, and cleans easily. The sizing dial is a godsend when you need add a layer for warmth or maybe an additional headband - because you sweat a LOT.

Would recommend to anyone and have already talked it up with my friends
Chris W.
Big heads unite!
Familiarity:

I've used it several times

Fit:

True to size
I have a huge brain bucket and finding helmets has always been a challenge to say the least. But the XL in the Kask Mojito has me rejoicing.
Fits nice and snug with room for adjustment for when I want to wear a cap under my helmet. And on hot days here in Southern California, the vents are keeping my noggin quite cool.
I also sweat quite copiously and have not had any drip into my eyes so I think the padding is working perfectly on all fronts.
And yes, I realize those last two comments kind of contradict each other but they are true. Nothing stops me from sweating. The vents stop the hot spots on my head that I got with other helmets.

Seth M.
Very lite weight... Superb airflow which all make you forget that you are wearing it... great product
Travis B.
Great looking helmet...
Familiarity:

I've used it several times
....great fit and stream lined appearance unlike some helmets that have a huge looking fit. Light weight and durable. Strap and buckle made of solid materials and the dial-in fitting mechanism is spot on. Great fit and protection!
Mark McEwin
Well design and a great choice of material, It's very easy not to remember that you are wearing it at all..
Travis B.
Great helmet at a better price
Familiarity:

I've put it through the wringer

Fit:

True to size
Eagerly sought out a replacement for my aging team helmet... which was pink. My spouse was also looking for a new lid. Along came a Black Friday (or was it Cyber Monday?) deal at CC for the Kask Mojito...which was praised by a trusted friend..and available in pink. It's light, comfortable and allegedly well ventilated (not tested in the heat of summer, but it seems to have plenty of airflow...in the cold of winter.
Tom R.
Waste of money
Familiarity:

I've put it through the wringer
Poor quality construction. Cracked severely and I don't even know when it had an impact. The rear apex is a vulnerable point in construction and not very sturdy. Also the fit and finish of the one I received was very poor with excess foam in the seams needing to be trimmed off. The only thing I liked was the fit system, and strap, but during hot rides, sweat would pour into my eyes. Also I did not like the way it bulges on your head, seems a little fat. For this money, there is way better.
Pax
Most comfortable helmet I have ever used. Locking mechanism works a feel perfect. Sweat ban also better than any other helmet I have used
Eli L.
Wanted to like it
Familiarity:

I've used it once or twice and have initial impressions

Fit:

True to size
Very smart looking but the retention system in the back is REALLY bulky (why...?). As others said, it totally interferes with sunglasses fitting appropriately and it distracted me almost the entire ride. If they redesigned the retention system it would be a great helmet and probably 40g lighter.
Ryan
As advertised
Familiarity:

I've put it through the wringer

Fit:

True to size

Size Bought:

Large
Love this helmet. The materials are great and enhance comfort when you ride and the adjustability makes for a comfortable fit while maximizing safety. I hope I never have to test out how it performs in a crash but if I do I'm confident the Mojito by Kask is up for the task.
Chris W.
Height:
6'0"
Weight:
215lbs
Good Helmet
Familiarity:

I've put it through the wringer

Fit:

True to size

Size Bought:

Medium
I've been wearing a Mojito for quite a while now and have really enjoyed it thus far. Great ventilation and light weight, plus it breathes well. Today I tested it's protection ability with a 20mph+ road crash. Smacked my head pretty hard on the concrete and the helmet did great. Just ordered a replacement Mojito today.
stevemugridge
Height:
6'3"
Weight:
180lbs
Best Helmet Ever
Familiarity:

I've put it through the wringer

Fit:

True to size

Size Bought:

Large
Put this helmet on and immediately felt the most comfortable helmet I've ever had. Removable liner is great and easy to clean. Well ventilated. I'm a Kask owner for life
Erl Egestad
Doesn't work with Oakley Racing Jackets
Like others have mentioned, the rear of the retention system hits the arms of my sunglasses (Oakley Racing Jackets) forcing them down on my nose. I tried tucking the ends under the retention system, but this is neither comfortable nor safe as it compromises the fit of the retention system. Honestly, I can't see how any sunglasses would work because mine have relatively short arms.This is a serious design flaw imho. Returned.
SLADE
Good looking, not good fitting.
Familiarity:

I returned this product before using it

Fit:

True to size
I purchased the helmet because of the on-line reviews that I read as well as features written about it on various websites. Most gave the helmet great reviews and I need something to replace my 13 year old Bell Ghisallo. I also love the look of the helmet and the color options. When I got the helmet and tried it on I knew almost immediately that it wasn't going to work. It didn't really fit the shape of my head and the worst part was that as soon as I pulled the straps down tight to fasten it on it rolled back on my head about 2 inches which left me looking like a 5 year old with an ill fitting helmet sitting on the back of my head. I like my helmets to fit just above my brows and this thing left a couple of inches of my forehead showing. Not a good look or fit. I wanted to like it and tried for an hour to adjust it so it would fit but nothing worked. Shame.
Matthew C.
Great helmet
Familiarity:

I've used it once or twice and have initial impressions

Fit:

True to size

Size Bought:

Medium
I had a laser helmet and needed to replace due to a crash. This Kask caught my eye and I decided to purchase. I do like laser, but this one fits and looks great as well. All helmets protect in a crash so it is all personal preference. For the fit, ease of use, and overall looks (subjective) you can't go wrong with this one.
Don K.
Height:
5'9"
Weight:
150lbs
Great Service and Fit
Familiarity:

I've used it several times

Fit:

True to size
I ordered my helmet, it arrived and our dog chewed through the package and destroyed the helmet. Jason from Competitive Cyclist followed up on my purchase experience and took great care of me. My new helmet arrived two days later. As for the Kask Mojito Helmet, it's an awesome fit. The weight and ventilation is excellent for So Cal summer rides. Best feature is the adjustable knob that gives a custom fit every time I mount my bike. Finally, the florescent orange keeps me highly visible on the road. Competitive Cyclist is my go to for online purchases.
David K.
Not bad, but I couldn't live with it.
Familiarity:

I've used it several times

Fit:

True to size

Size Bought:

medium
I really wanted to like this helmet. It fit me well, and didn't look like a giant mushroom cap perched on my head like some of the other major brands. It vents pretty well, and is easily adjustable. I really liked how you DON'T have to adjust the straps to fit around your ears- they're perfect out of the box.
Unfortunately for me 2 flaws keep me from using it. 1- the retention system at the back of my head did push my sunglasses forward just enough for it to be annoying. I frequently had to push my Oakleys back towards my face. 2nd, and more importantly, the front pads are fairly thick, and soak up a lot of sweat, and I sweat a lot. Not a big deal until they become so saturated that they unleash an waterfall of sweat down my face and directly into my eyes, making it very difficult to see. This was the fatal flaw for me, and ended up getting another helmet.
If you don't sweat a lot, you'll be fine. But for my money, I went with another brand.
Lee R J.
Awesome helmet for small heads!
Familiarity:

I've put it through the wringer
I have a pretty small head (21) and a lot of helmets come down too far or I have to tighten them so much, they hurt my head. The mojito, size small, fits perfectly. It has quality workmanship as you would expect from the Italians and is worth every cent. I live in NC and it is great in the summer. I figure I can wear a cap under it during the winter. The padding inside is very comfortable. If I had a lot of $, I would buy one in almost every color! Best helmet I have worn.
Joanne G.
Great helmet, reasonable price
Familiarity:

I've used it once or twice and have initial impressions

Fit:

True to size

Size Bought:

Large
I was concerned about buying this helmet because of the reviews saying it is not compatible with certain glasses. I needn't have worried. I wear plastic eyeglasses, over-the-glass sunglasses, and Oakley prescription sunglasses. All three are compatible with the helmet with no issues. Phew.

Generally, it's a quality piece. Comfortable and construction quality appears to be top notch. I shopped it against Giro and thought this was better. Although, I would have liked to have it in a MIPS version.

Buy with confidence. PS - If it's good enough for Froome and Team Sky, it's good enough for me! :) PPS: My head circumference indicated I was on the edge between Medium and Large. I got the Large which was definitely the right decision.
Gordon S.
Height:
6'0"
Weight:
175lbs
Kevin K