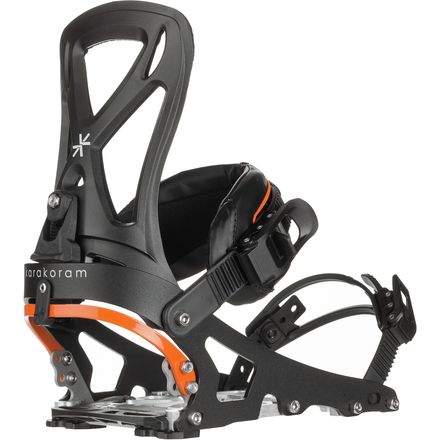 Colors

Detail Images
Stop dreaming and start earning your turns.
Between dealing with the annoying pin systems, frozen fingers, bulky feel, and sub-optimal riding experience, it can be hard to get motivated to go touring when you have a traditional split setup with regular snowboard bindings. Karakoram's Prime1 Split Snowboard Binding changes all that with its easy and quick interface, lightweight feel, and superior riding performance. After trying it, you might just skip the season pass.
More efficient than pin-style split bindings, the Prime Interface uses Karakoram's quick-release touring bracket found on the original Split 30 interface. This quick-release touring bracket and Power-Link activation lever allow for quick-and-easy transitions from touring to riding without taking your foot out of the binding. Total changeover time is roughly two minutes, and that includes taking off your skins and storing everything in your pack. Best of all, the Prime Interface has no moving parts, so you never have to worry about losing parts in the snow.

Softer than Karakoram's carbon-infused offerings, the Prime1 Split Binding has an Airflow highback that's cored out for a bit more lateral flex, as well as an ultralight feel. However, it's still plenty responsive when you're carving at high speeds and slashing through deep powder. This highback features Ride-Stride forward lean that quickly toggles between Ride and Walk Modes with a 1/4-turn of the forward lean adjuster. In Walk mode, the -8 degree forward lean elongates your stride to conserve energy on the long uphill skin. Ride mode delivers 0 to 22 degrees of forward lean (in two-degree increments) for quick-turning response.
Offering a completely solid feel underfoot, this binding uses a Solid Ride four-point attachment to eliminate unnerving seam slop and board chatter, especially when you're riding at high speeds. Four wide, pre-loaded contact points direct energy to the edges for unmatched response on steep, high-consequence backcountry lines.
Ditching traditional climbing wires for a two-height riser that deploys with the simple flick of your pole basket, the Flip-Speed Riser conquers mellow approaches and demanding ascents alike. Engage the shorter riser on long, flatter approaches or flip the taller riser during intimidating climbs. Additionally, there's a heel lock-down feature for skating across flats and side-steeping small hills. This lock-down has a load equivalent to DIN 6.
Splitboard-specific binding for backcountry explorers
Prime interface for superior up and down performance
Quick and easy switch from tour to ride mode
Lightweight and supportive Airflow highback
Open Binding chassis allows board to flex torsionally
Solid Ride design eliminates slop in the seam
Negative forward lean option for walking comfort
Karakoram creates solutions for dedicated splitboarders
Great bindings
Familiarity:

I've put it through the wringer
Karakoram set the bar with the Prime1. The touring mode is smooth and at a natural pivot combined with a negative highback setting makes for long strides.

Newer models come with an improved heel riser which solved some problems I'd had early on with the bindings.

Admittedly not quick or easy to set up but once dialed in they ride amazing! making splitboards feel like solid board

After 2 years of consistant backcountry riding and 20ish volcanoes summited its my opinion these are the best all round splitboard binding out there.

Some are cheaper, some are lighter, some simpler, some stiffer but these hold the bar.

Adding the flex lock made them sidehill like my AT boots and gave a really stiff ride! There is now a "reactive" highback which adds some more stiffness to them. With some improved straps and highback these bindings won't go out dated for a long time.
Reid Pitman
Amazing binding!
Familiarity:

I've put it through the wringer
Having bought these in early 2016, I couldn't wait to get them on my board and out into the backcountry. Making the transition from tour to ride is a big deal for those who love to board, and the components of this binding make it easy. The bindings perform great, and provide a solid connection to the board in both touring and ride mode. One of the things I like the most is how minimal they are. I have taken these bindings all over the cascades and to Japan. If there is one draw back, and it is very minor, is that snow/ice can build up in the connection plates when putting your board back together, though this is more a function of the type of snow. In the cascades with more of a wet snow, it can build-up in the plates, but in nice fresh dry powder, no issues.
Brian Dobry
Decent bnding
Familiarity:

I've used it several times
I enjoy the set up, seems to be just as fast as the other style. Installation took some time, but if you follow the video instruction on their website, it isn't hard. I haven't had any problems with it so far.
Sonya Salansky
Easy to adjust and very comfortable. No complaints.
Harpreet G.
Great Bindings
Familiarity:

I've used it several times
Ive been out a handful of times with these bindings and am really impressed by how easy and quick it is to flip from tour to ride more and back again. I do wish it was a little easier to flip the risers up though
Matthew Lundberg