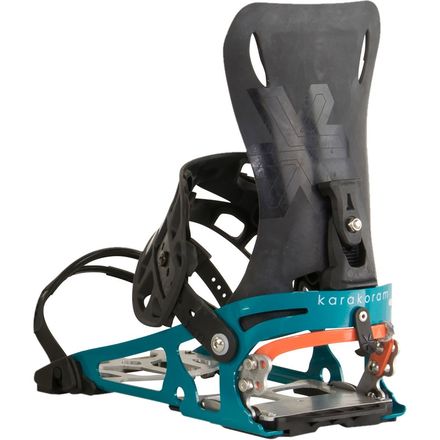 Colors

Detail Images
Primed for perfection.
Elevating the Prime System to the next level, the Karakoram Women's Prime-X Splitboard Binding stands out from the SL by shaving off 85 grams of weight and increasing the stiffness of the chassis. Then, a 7075-T6 aluminum toestay adds flex underfoot to absorb harsh chatter and keep foot fatigue at bay, while a Reaction highback supports, flexes where you need it, and responds insanely fast. This results in a performance that allows you to travel lighter, faster, and longer, and most importantly, ride harder than the rest of your group.
Built with a Reaction highback, the Prime-X's high-quality Dupont Zytel ST highback optimizes its strength-to-weight ratio, and maintains a medium flex for lateral support when you need it most. A stiffer flex is found in the Open Binding chassis for unrivaled response and an uncompromising board feel, while the X-Type Heelcup offers high sidewalls for more support and better power transfer while side-hilling. This heelcup is also made from 7075-T6 aluminum, which is twice as strong as standard aluminum, and is cored out for featherweight performance.
The Prime-X features Dual Ride-Stride forward lean that quickly toggles between Ride and Walk modes with a 1/4-turn of the forward lean adjuster. In Walk mode, the -8 degree forward lean elongates your stride to conserve energy on the long uphill skin. Ride mode delivers 0 to 22 degrees of forward lean (2 degree adjustable increments) for quick-turning response when you're charging steeps. Then, its Solid Ride four-point attachment increases your stance options (-30 to 30 degrees) and improves ergonomics. Four wide preloaded contact points direct energy to the edges for unmatched response and control when you're riding high-consequence terrain.
The Flip-Speed Riser deploys with the simple flick of your pole basket to get you moving upwards with zero hassle, and features different heights for different terrain. Engage the shorter riser on long, flatter approaches or flip the taller riser during intimidating, steeper climbs. The heel lock-down is ideal for skating across flats and side-steeping small hills, while the quick-release touring bracket makes for fast-and-easy transitions from touring to riding without taking your foot out of the binding. Best of all, the Prime Interface has no moving parts, so you never have to worry about losing parts in the snow.
Tough, light, and speedy split binding for demanding BC days
Reaction highback is cored out and offers medium flex
Fast and convenient switch from tour to ride mode
Stiffer open Binding chassis enhances overall response
Solid Ride design eliminates slop in the seam
Dual forward lean option for walking comfort
X-Type heelcup supports for better fit and power transfer
Karakoram creates splitboard solutions in Washington, USA
Hands down the best
Familiarity:

I've put it through the wringer
I've rode split binding models from almost every major brand and the Prime is my personal set up. The board control is the best hands down. Without going into the ride to in-depth, I'd like to cover some of the new upgrades that make this year's editions that much better.
The New Risers
They are amazing, hands down the best on the market. Karakoram fixed the durability issues with the new model and created and easier riser to use in the process. I used almost every proto type during the process of changing the risers and the version that went to production is well worth the effort of going through a testing process. You will be pleased.
Heal Lock in Ski Mode
The next part of the risers that is new is the heal lock for ski mode. SO MUCH BETTER! Before I would pop out of the lock when I would heavily flex the ski but not anymore! The heal lock is solid now. You can stomp, smash and ski!
Heal Lock in Ride Mode
This subtle difference is huge! I love how it pulls the binding down. It helps you not have to clean off as much snow or ice and it creates a tighter lock to the board. This is also part of constant testing by Karakoram. Science at work.
Flex-Lock
This is hands down the greatest advancement in splitboarding over the last few years. Bold statement, I know. Imagine all the advantages of a hard boot for the up and out but the soft boot for the way down. I literally have had the flex lock just sitting in my bin for half of last season. I put them on this year and immediately felt like a dumbass. Skating, skinning, skiing, side stepping, slope testing and about anything else that starts with an s feel immediately more stable. You will fly on long approaches or exits.

Well worth the money!

Kyle