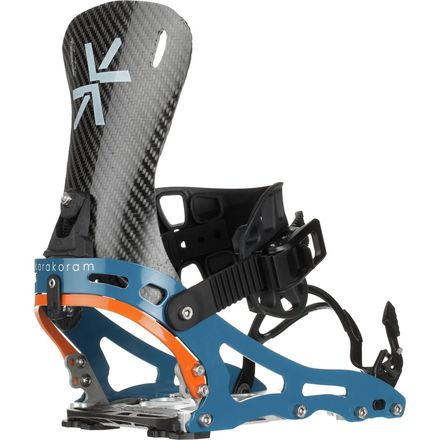 Colors

Detail Images
Power and efficiency coalesce.
The Karakoram Prime Carbon Splitboard Binding delivers ultra-powerful response and maximum touring efficiency for the most demanding lines on the planet. From exposed lines in the Tetons to no-fall zones in Alaska, this is the binding that some of the world's gnarliest shredders rely on when accessing terrain by foot.
Lending an incredibly supportive, powerful, and featherweight feel to this binding is a carbon fiber composite highback. Adding to its ultra-responsive feel is Karakoram's Prime Interface, which ensures a completely solid feel underfoot without unnerving seam slop or chatter at high speeds. Its Solid Ride four-point attachment gives you increased stance options (-30 to 30 degrees) and improved ergonomics. Four wide, pre-loaded contact points direct energy to the edges for unmatched response and control when you're riding steep, high-consequence terrain.
Its Ride-Stride forward lean quickly toggles between Ride and Walk modes with a 1/4-turn of the forward lean adjuster. In Walk mode, the -8 degree forward lean elongates your stride to conserve energy on the long uphill skin. Ride mode delivers 0 to 22 degrees of forward lean ( in two-degree adjustable increments) for quick-turning response when you're charging steeps.
Ditching traditional climbing wires for a two-height riser that deploys with the quick flick of your pole basket, the Flip-Speed Riser conquers mellow approaches and more demanding ascents alike. Engage the shorter riser on long, flatter approaches or flip up the taller riser during intimidating, steeper climbs. Additionally, there's a heel lock-down feature that's ideal for skating across long flats and side-stepping small hills. This lock-down has a load equivalent to DIN 6.
Specializing in efficiency, the Prime Interface uses the tried-and-true Tour Mode used on the original Split 30 interface. A quick-release touring bracket and Power-Link activation lever allow for quick-and-easy transitions from touring to riding without taking your foot out of the binding. Total changeover time is roughly 2 minutes, and that includes taking off your skins and stashing everything in your pack. Best of all, the Prime Interface has no moving parts, so you never have to worry about losing parts in the snow.
The lightest and most powerful splitboard binding available
Carbon highback is insanely light and responsive
Prime interface for superior up and down performance
Quick and easy switch from tour to ride mode
Open Binding chassis allows board to flex torsionally
Solid Ride design eliminates slop in the seam
Negative forward lean option for walking comfort
Karakoram has revolutionized splitboard binding technology
Best binding out
Familiarity:

I've put it through the wringer
I used their prior iteration and before last season bought these bindings. They perform excellent both on the skin track up and ripping down. I also have the strap for skinning that making edging on the inside easier. Their customer service has been outstanding when I've had a question or issue. The interface is rock solid and transition is smooth. If you struggle with the transition you likely don't have your bindings setup correctly. The quiver connectors are also great because you run the same binding on your solid and split.
Brett L.
They always break
Familiarity:

I've put it through the wringer
Over the last 4 years I have over 200 days of backcountry snowboard touring. Some small, some really big days. I've used these bindings extensively. I have also used the previous karakoram set up and a voile setup (and mountain approach). These are the nicest set up out of all of the above but are very fragile.

I have the Burton Tourist boots which tour well and are light and a Jones Carbon Solution split.

The bindings work well and the new design is an improvement over the previous versions. Unfortunately they aren't very bombproof. The heel lockdown mechanism only works half of the time and comes loose frequently; ends up being pretty worthless for touring mode. That aside, they tour nicely and transitions are fast and reliable. The control is good on the decent and I've snowboarded some very steep and very long lines comfortably with them.
My biggest complaint is that nearly every part has broken on these over the years (including the heel risers 4 times). The customer service at Karakoram has always been pleasant but sometimes I don't hear back from them for weeks. That's a long time to be without your splitboard because the bindings failed. I am now in the habit of just buying a bunch of extra parts to have on hand for when the next one fails. I end up carrying a bunch in my backpack because it happens so much and this just adds extra weight. They have failed in the backcountry several times.

For how $$$ they are, I'm not sure I would buy them again.


brockbemis
Worst Binding Ever
Familiarity:

I've used it once or twice and have initial impressions
Unfortunately this i the worst binding I have ever owned. I am a serious backcountry snowboarder. I was up on Red Mountain Pass in February 2017. It was my first time using this binding. They toured great but then when it came time to transition to ride mode the binding failed miserably. First, i could not get the binding to sit flat on the board. After 5 minutes of scraping ice away from the board (and I was lucky, this was a bright sunny day on the mountain), the binding barely sat flush to the board. It seemed like the bindings locked into place so I strapped in and dropped down the line that we had chosen. We started out above treeline and when we descended down into the trees I felt my front foot loose. I stopped adjusted the binding and it felt locked in. As we neared the end of our descent my front binding came completely off the board sending me to the ground. Good thing this was at the end of our descent and not through mile and a half of trees we just boarded through. I will NEVER use these bindings again. As any experienced backcountry skier/boarder knows, trusting your gear is EVERYTHING and there is absolutely no way I could ever trust these bindings again in the backcountry, no way. I have already bought another pair of split board bindings and will NEVER use Karakoram again, for anything.
Mark E.