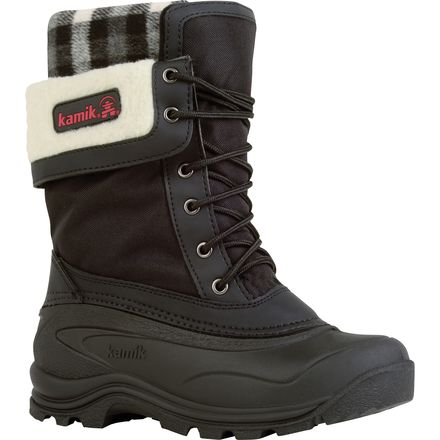 Colors
A slice of warmth and style.
Built for the long winters of Maine, and with style to boot (no pun intended), the Kamik Women's Sugarloaf Boot offers warm, waterproof protection and a look that's sure to turn some heads when winter rolls around. The waterproof nylon upper sheds precipitation, the removable Zylex liner wicks moisture, and the plaid fleece collar keeps things toasty, all coming together for everything you might want in a cold-weather boot. Plus, the waterproof synthetic RubberHe Winter outsole is outfitted with formidable treads to stomp over icy ground.
Waterproof nylon upper
Moisture-wicking removable Zylex liner
Plaid fleece collar lining
Waterproof synthetic RubberHe Winter outsole
Lace closure
Performed Better than Expected!
Familiarity:

I've put it through the wringer
When I moved to Utah last January (2017) I knew I was going to need some more functional clothes to wear -- especially footwear. I wanted a product that was made with the environment in mind, along with being affordable, functional, and good looking. After a bit of research, I came across the Kamik Sugarloaf Boots.

I have to say, Kamik pleasantly surprised me with these. To start, the company itself is based in Canada, where they are pretty familiar with winter. 75% of their products are manufactured in North America. They also value the planet -- their products are manufactured with a Zero Waste Target in mind. Though they are a little bulky, they're not as heavy as they appear and are actually quite light! They are made with 100% recycled rubber (called their RubberHe) that is 50% lighter than traditional rubbers. The Zylex liner is also made with recycled material and a three-layer system which wicks moisture away, traps body heat in and keeps the cold air out.

Aside from those qualities, I do like the appearance of them as well . I ordered in a Dark Chocolate Brown (out of stock at the moment here) and they are a good balance between functional boots and aesthetically pleasing.

Just a few cons and nothing deal breaking: The liner, as warm as it is, tends to pop out when taking the boots off. This could be because of the laces, which are super long and take a bit of extra tugging to get them tight. The tongue is a little awkward//sort of on the baggy side so it can look a little frumpy after getting the laces as tight as you want. Those are the only reason these didn't get 5 stars out of me.

The true test for these was when I went on a 6.6 mile out and back hike with 3,910 feet of elevation gain on Mount Olympus in Utah. The trail was intermittently covered with snow and ice, and I didn't need to put on Yak Tracks until the steepest part of the hike. They were warm and supportive the entire time we were moving (at the Saddle, we stopped to rest and the tips of my toes began to feel a bit of cold at 8,750 foot elevation) and never once felt heavy or cumbersome! They passed the test for me with 5 stars.

Sizing: These are true to size, with a bit of room.

All in all, these are a great versatile winter boot for commuting around town or winter hiking!

(Photos to come soon)
Ana Stamenkovic
Gifted to the girlfriend; true to size & she liked the color (red). Great functionality/bang for your buck.
Ryan Kiel