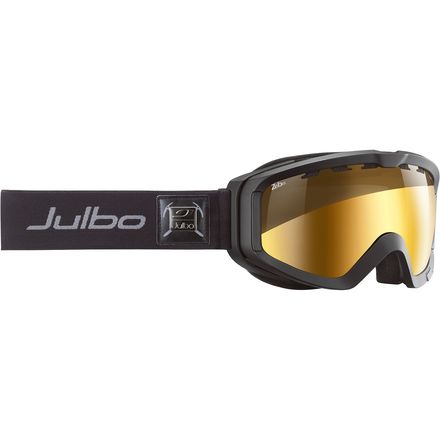 Colors
Self-adapting goggles.
The Julbo Orbiter II Goggle with Zebra Photochromic lenses will adjust to changing light conditions throughout the day, so you won't have to deal with switching out lenses on the chairlift or worry about breaking your spare when you yard sale it off a cat track. Thanks to their photochromic technology, the Orbiter's lens will adjust within a matter of minutes, so after a quick safety meeting, your lenses will be ready to go. In addition to their photochromic capability, the lenses are also NXT spherical, which means they curve horizontally and vertically to reduce distortion, expand peripheral vision, and reduce glare. The lenses are treated with an anti-fog coating, but are also well-ventilated to keep a steady supply of air passing through.
Proposition 65 Warning for California Consumers: This product contains chemicals known to the State of California to cause cancer and/or birth defects or other reproductive harm.
NXT spherical lenses
Photochromic lens technology
Anti-fog coating
Ventilated lens
Medium to large frame size
Full silicone strap
Please see size chart for information on lens options
Unanswered Question
Could I get clarification on what lens these goggles have? The title and description say that this is Julbo's "Zebra" lens, however the detail image on this site shows that it is Julbo's "Zebra Light" lens. So... what is it? Zebra or... Zebra Light? Thanks!
Stephen Odon