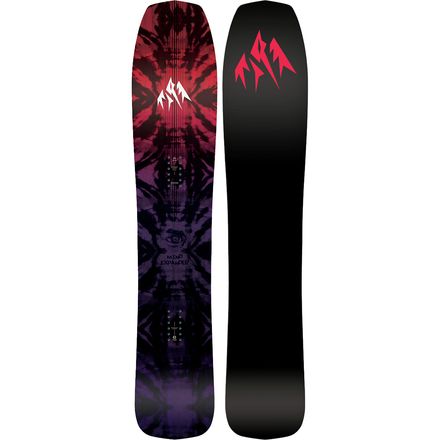 Mind Expander Snowboard
The Jones Snowboards Mind Expander Snowboard is built for riders who like to think outside the box while they surf and carve their way down the hill. This all-mountain board blends freestyle, freeride, and surf styles to create a free flowing directional shape that is maneuverable, stable, and fun.
The directional shape featuring a full length squared off tail and tight turn radius that lets you weave through tight trees and busy groomers as well as stomp big hits normally reserved for directional twin shapes. Working with the directional shape the Christenson Surf Rocker profile features long tail and nose rocker sections to keep you out of snow on even the deepest days and allow for ultimate control over slashes and quick pivoting turns. Finally a beefy construction that is built around a lightweight and durable bamboo core with paulownia stringers provides exceptional energy transfer to the edges for confident control anytime and anywhere.
Forward thinking all-mountain board for the most expressive riders
Christenson Surf rocker provides exceptional float and manuevering
Directional shape makes for easy turn initiation and solid control
Medium flex is easily manipulated and stable at high speeds
Tight Side cut adds maneuverability and control in dicey scenario
Full length paulownia and bamboo core is exceptionally responsive
Webfused carbon in the nose lessens chatter at high speeds
High quality sintered base lets you easily cruise through the flats