Immersion Research

Neoprene Lined Guide Short
Item #IMR000W
Immersion Research
Men's
Dry Tops & Jackets
XS
S
M
L
XL
XXL
3XL
Height

5ft - 5ft 3in

(152.4 - 160cm)

5ft 4in - 5ft 7in

(162.6 - 170.2cm)

5ft 8in - 5ft 10in

(172.7 - 177.8cm)

5ft 11in - 6ft 1in

(180.3 - 185.4cm)

6ft - 6ft 4in

(182.9 - 193cm)

6ft 2in - 6ft 4in

(188 - 193cm)

Weight

100 - 125lb

(45.3 - 56.6kg)

125 - 145lb

(56.6 - 65.7kg)

145 - 165lb

(65.7 - 74.7kg)

165 - 180lb

(74.7 - 81.5kg)

180 - 210lb

(81.5 - 95.1kg)

210 - 230lb

(95.1 - 104.2kg)

230 - 250lb

(104.2 - 113.2kg)

Chest

33 - 35in

(83.8 - 88.9cm)

36 - 38in

(91.4 - 96.5cm)

39 - 41in

(99.1 - 104.1cm)

42 - 44in

(106.7 - 111.8cm)

45 - 48in

(114.3 - 121.9cm)

49 - 53in

(124.5 - 134.6cm)

53 - 57in

(134.6 - 144.8cm)

Dry Suit
S
M
L
XL
XXL
3XL
Height

5ft 4in - 5ft 7in

(162.6 - 170.2cm)

5ft 6in - 5ft 10in

(167.6 - 177.8cm)

5ft 11in - 6ft 1in

(180.3 - 185.4cm)

6ft - 6ft 4in

(182.9 - 193cm)

6ft 2in - 6ft 4in

(188 - 193cm)

Weight

125 - 145lb

(56.6 - 65.7kg)

145 - 165lb

(65.7 - 74.7kg)

165 - 180lb

(74.7 - 81.5kg)

180 - 210lb

(81.5 - 95.1kg)

210 - 230lb

(95.1 - 104.2kg)

230 - 250lb

(104.2 - 113.2kg)

Chest

36 - 38in

(91.4 - 96.5cm)

39 - 41in

(99.1 - 104.1cm)

42 - 44in

(106.7 - 111.8cm)

45 - 48in

(114.3 - 121.9cm)

49 - 53in

(124.5 - 134.6cm)

53 - 57in

(134.6 - 144.8cm)

Inseam

31 - 32in

(78.7 - 81.3cm)

32 - 34in

(81.3 - 86.4cm)

Shoe Size

7 - 8

9 - 10

11 - 12

12 - 13

12 - 13

13 - 14

Paddle Pants
S
M
L
XL
XXL
Inseam

30 - 32in

(76.2 - 81.3cm)

31 - 33in

(78.7 - 83.8cm)

32 - 34in

(81.3 - 86.4cm)

Waist

28 - 31in

(71.1 - 78.7cm)

31 - 33in

(78.7 - 83.8cm)

33 - 36in

(83.8 - 91.4cm)

36 - 40in

(91.4 - 101.6cm)

40 - 44in

(101.6 - 111.8cm)

Apparel & Layering
S
M
L
XL
XXL
Height

5ft 4in - 5ft 7in

(162.6 - 170.2cm)

5ft 8in - 5ft 10in

(172.7 - 177.8cm)

5ft 11in - 6ft 1in

(180.3 - 185.4cm)

6ft - 6ft 3in

(182.9 - 190.5cm)

6ft 2in - 6ft 4in

(188 - 193cm)

Weight

125 - 150lb

(56.6 - 67.9kg)

150 - 165lb

(67.9 - 74.7kg)

165 - 180lb

(74.7 - 81.5kg)

180 - 210lb

(81.5 - 95.1kg)

210 - 230lb

(95.1 - 104.2kg)

Chest

36 - 38in

(91.4 - 96.5cm)

39 - 41in

(99.1 - 104.1cm)

42 - 44in

(106.7 - 111.8cm)

45 - 48in

(114.3 - 121.9cm)

49 - 53in

(124.5 - 134.6cm)

Inseam

28 - 30in

(71.1 - 76.2cm)

30 - 32in

(76.2 - 81.3cm)

32 - 34in

(81.3 - 86.4cm)

33 - 34in

(83.8 - 86.4cm)

Waist

28 - 30in

(71.1 - 76.2cm)

30 - 33in

(76.2 - 81.3cm)

33 - 35in

(83.8 - 88.9cm)

35 - 39in

(88.9 - 99.1cm)

39 - 43in

(99.1 - 109.2cm)
How to Measure:

For best results, take measurements over your underwear.

Chest:

Measure under your arms, around the fullest part of your chest.

Natural Waist:

Measure around your natural waistline, keeping the tape a bit loose.

Inseam:

Using pants that fit well, measure the crotch seam to the bottom of the leg.
Select style & size:
Select options
Select options

Black, 30

Sale:$95.16

Black, 32

Sale:$95.16

Black, 34

Sale:$95.16

Black, 36

Sale:$95.16

Black, 38

Sale:$95.16
Tech Specs
Material:
[outer short] polyester, [inner short] neoprene
Manufacturer Warranty:
lifetime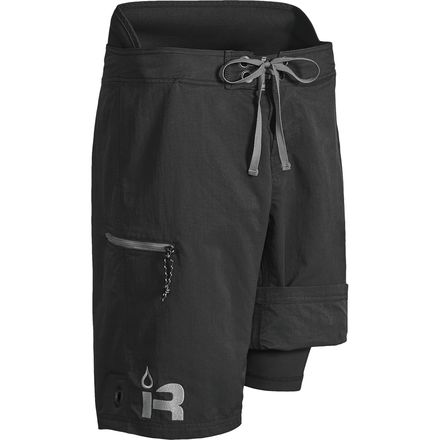 Colors
The comfort of neoprene with the style of board shorts.
Your butt can get cold pretty quick if you're sitting in water all day, which is why Immersion Research lined its classic IRS Guide Shorts with a 1mm neoprene inner short. The result is a perfect combo of comfortable style and insulation to keep you happily stomping and spinning all day long.

Polyester outer short
Inner neoprene short
Regular fit
Drawstring waist
Hand pockets
Frequently purchased together