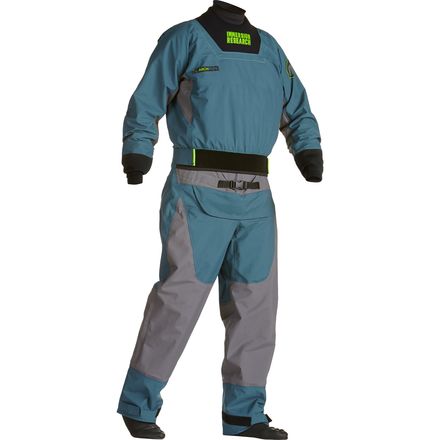 Dress appropriately for church.
It's super fun to splash around and get wet when the sun's shining and the consequences are low, but when the clouds roll in, temps drop, and things tend towards the stout, getting wet and cold can have serious repercussions. Like Mom always said, you've got to dress up before you go to church. In this case, your Sunday best is Immersion Research's Arch Rival Men's Drysuit, which is burly enough to keep you dry, breathable enough to keep you comfortable, and cost-effective enough that you won't blow the last of your lunch money.
The result of two years of intensive testing, the Arch Rival is made of heavy-duty 410D pack cloth and 70D taffeta, finished off with a WhiteOut waterproof and breathable membrane that's designed to repel the hellacious conditions outside while preventing inside conditions from become hellacious as well; after all, there's not much point in waterproof clothing if you end up swimming in puddles of your own sweat. For durability and easy repair, the Arch Rival's booties are made of latex, which you can fix in the field using simple waterproofing agents and seam sealers.
If you've ever tried to get out of a rear-zip drysuit, you know that it can be tough to do unless you have 13 close friends to help you out. Luckily, the Arch Rival has a waterproof double front zipper to seal water out and make getting your suit off a one-man job. The double-zip also prevents water from leaking in through the skirt tunnel, which has traditionally been an issue with front-zip suits. There's an even a waterproof front relief zipper, so you can, you know, get some relief when you get all nervous thinking about the huge waterfall you're about to tee up.
WhiteOut laminate
Fully taped nylon taslan 3-layer shell
TiZip front entry with relief zipper
Latex neck, wrists, and socks
Neoprene neck cover
Webbing waist belt
Hook-and-loop tabs at wrists, ankles, and waist