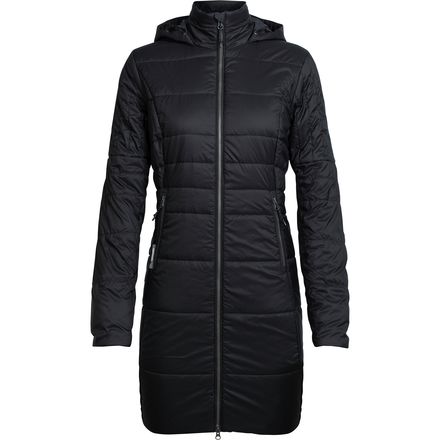 The warmth of wool packet into a modern winter style.
If you're a fan of being warm in the winter, chances of you not loving Icebreaker's Stratus X 3/4 Hooded Jacket are pretty slim. It's insulated with the merino wool you can't get enough of, and it covers you all the way down to your knees. It brings high-lofting warmth into your everyday adventures.
A jacket filled with the warmth of wool in a modern mountain style
Partially recycled merino wool blend insulation keeps your core temp just right
Water resistant finish fends off misty rains and flurries
Extra length gives you more protection from cold than traditional winter jackets
Is the Harmony/Jet color green? The same product on other sites looks more grey than green. But here it looks pretty clearly green. Please advise. Thank you!
Stephanie C.
Hey there Stephanie!

I would call this a dark seaweedy green! The photo we have on our site if pretty accurate! I wouldn't say it has a gray or hazy look to it!
Brooklynn Hall