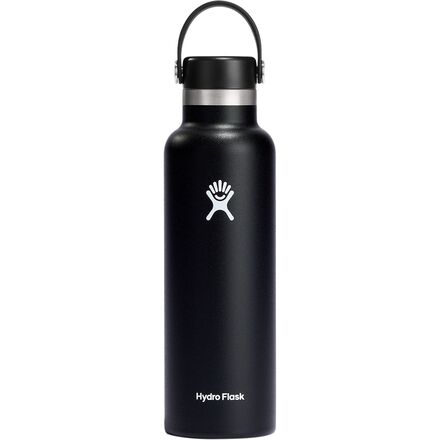 Colors
A Daily Driver.
With the Hydro Flask 21oz Standard Mouth Water Bottle, you're able to stay hydrated throughout the course of your work day. The 21oz easily fits in the side pocket of your backpack, shoulder bag, and your car cup holder, while the 18/8 stainless steel construction keeps your hot beverages hot up to 12 hours and your cold beverages cold up to 24 hours.
Stay hydrated throughout the day with this water bottle
Stainless steel construction is highly durable
BPA-Free and phthalate-free for your convenience
Keeps beverages hot up to 12 hours
Keeps beverages cold up to 24 hours
Awesome for hot yoga!
Familiarity:

I've put it through the wringer
I was unprepared for just how much I would love this bottle. I got the sport lid to go with it, all specifically for hot yoga, and this thing does not disappoint. I can fill it with ice and water, take it into a 92-degree room for 75 minutes, and at the end of it all there is still ice water in that bottle, and no puddle on the studio floor. I also love the bright yellow color, it's like it is happily reminding me to hydrate. Highly recommend!
Kate Cronin
i love this hydroflask. I have a lot of the rounder ones so i wanted to switch it up with this one. Fits in my center console so its perfect for on the go!
Michele V
Perfect Slim HF
Familiarity:

I've used it several times
I love this hydro flask when I am tight on space in my bag. It's nice and tall but perfectly slim. Hydro flask never fails!
Jackson Smith
Ice Cold
Familiarity:

I've put it through the wringer
These are awesome from keeping coffee hot or water cold its a must have and will last a lifetime.


Brandon Orloski
w00t w00t
Familiarity:

I've put it through the wringer
Friggin' A this is A1 for my cocoa.
Logan R.
Perfect size for your everyday needs. Keeps your water cold for hours and super durable.
Brandon H.
Perfect
Familiarity:

I've used it once or twice and have initial impressions
I have several different styles of Hydro Flask bottles. This is a perfect fit for your hand due to its slim design. Great for water (or whatever you prefer) on the go. Durable with bright colors.
Angela M
Essential for anyone that drinks liquids
This water bottle is great! It is slightly heavy and would not necessarily recommend this to someone who will be backpacking due to its weight but if they want their colds to stay cold, and their warms to stay warm then this will do it. I have owned several Hydroflasks in the past and have to say this is my favorite size. It fits really nicely in my Subaru Outback's cup holder but is tall enough to be able to store my daily fluids. I would say that I do not think the new lids are quite as good in terms of insulation as their last models.
I have yet to test the insinuating properties in Utah's summer but have high hopes that my fluids will remain at a perfect temperature throughout my entire day.
Sean Arruabarrena
Great Bottle
Familiarity:

I've put it through the wringer
This is my 2nd hydro flask bottle. Slightly bigger than my previous one. No complaints.
Yan
Hydro-RAD
Familiarity:

I've put it through the wringer
These are my go-to gifts this year. I pretend like I'm Oprah, because EVERYBODY gets a hydroflask! I got this one for my 10 year old niece who keeps her water bottle in her backpack which, naturally, gets banged around. The durability on these things is unmatched. Added bonus: I once had a lid that leaked and reached out to Hydroflask and they sent a replacement within a day!
Jen C
Great bottle
Familiarity:

I've put it through the wringer
I have several hydro flasks that are used. Like the others, this is great at keeping things warm or cold. The coated finish is pretty durable, but can be chipped, dented or scratched if you really treat it harsh.
-kris
All The Insulation
Familiarity:

I've put it through the wringer
I have been hoarding insulated water bottles as of late. I love taking a sip of ice-cold water toward the end of a tough hike. These are pretty slender and fit into the external pockets of most bags with ease. They don't leak when closed and can take quite a beating. They will show battle damage over time, but I feel like that adds to the character.
Forrest
Keeps Ice on hot days
Familiarity:

I've used it several times
Great water bottle that comes in fun colors
Charles Denney
Great Gift size!
Familiarity:

I've put it through the wringer
I got 11 of these to give out at the family christmas party, upgraded white elephant gifts. The Blue is Sooo pretty. The worst thing is trying to decide a color. Keeps hot hot, cold cold. for better performance, cool or heat the inside with the tap before final filling. you can have ice all day and the next, but I just put my drinks in cold and it keep them good. even in the sun or over a heater. I love the loop, super handy that it fits in cup holders.

I do enjoy the ease of access to clean on the larger wide mouths more. but I do how easy this fits into a pack or cup holder. 20oz with the additional loop lid is a great option, also go the straw lid.
Rich Turnbow
Great Flask
Familiarity:

I gave it as a gift but have feedback to share
Got this as a gift and the person has loved it so far. Keeps cold drinks cold and hot drinks hot.
Andrew Dickinson
the classic hidroflask. i have all different sizes. i got thgis one for my kid and he loves it
Rolando H.
Unbelievable!
Familiarity:

I've put it through the wringer
What is there to say about Hydro Flask that people don't already know?! It keeps beverages cold for hours, the look of the bottle is trendy and it's basically indestructible.

I'll take this bottle on a hike and leave it in the car to come out to an ice cold drink with the ice still in there! You can literally never gone wrong with any of Hydro Flask products!
Taylor Wojick
So far, real good
Familiarity:

I've put it through the wringer
I've had the Hydro Flask 21oz water bottle for a month now and love it. It keeps drinks hot or cold for hours, closes tightly and has a convenient handle on the top. Highly recommended.
Rob Wykoff
Keeps Bevs Cold for days
Familiarity:

I've put it through the wringer
If not in direct sunlight, ice lasts in this bottle for over a day sometimes, and even when the ice melts, it stays cold for a long time afterwards. Easy to pack and very durable. It seals nicely as well.
CJ Brish
Drink Water Feel Good
Familiarity:

I've put it through the wringer
This water bottle is awesome. It always amazes me when I leave ice in the bottle and wake up the next morning to still find ice in my water! Couldn't ask for any more, hydro flask does not disappoint
Charlie Lewis