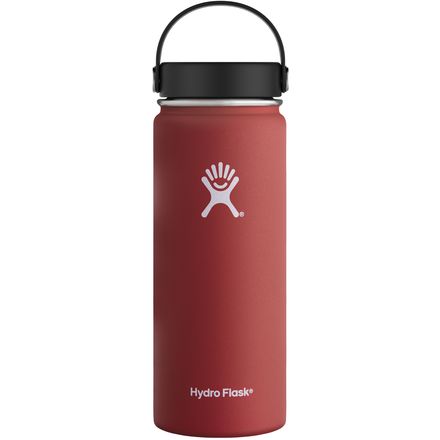 Colors
18oz Wide Mouth Water Bottle
Hydro Flask's insulated, stainless steel 18oz Wide Mouth Water Bottle is ideal for anything from warm hikes to cold ski tours, and especially hot yoga classes. TempShield technology keeps water ice-cold for up to twenty four hours, and it keeps hot drinks toasty for up to six hours. Hydro Flask updated this year's model with a flexible loop on the wide mouth cap for long-lasting convenience.
Pro grade stainless steel
TempShield double insulation
Flex cap
BPA-free
GREAT!!!
Familiarity:

I gave it as a gift but have feedback to share
It is great it keeps things nicely chilled all day long.
kirk orton
Hot/Cold
Familiarity:

I've put it through the wringer
Keeps soup hot and lemonade chilly. Absolutely love it.
Derek Fox
Best Gift
Familiarity:

I've put it through the wringer
I love my Hydro Flask and use it every day! I gave several of these out during the holidays knowing that my family would love them as much as I do!
Jonathan Jones
I purchased 3 of these for the kids in my family for Christmas. They fit perfectly into their backpacks and encourage them to keep hydrated throughout the day because the water stays cools and you can add the flip top straw. This is a must have for any school aged kid.
Asa P.
Best water bottle
Familiarity:

I gave it as a gift but have feedback to share
I have grown to love hydroflask containers over the years. I have quite a few pint glasses, rocks glasses, a growler, and a few of these 18oz bottles. Each one is amazing and does not dissapoint. Your cold beverages stay cold, ice takes longer to melt, and your hot drinks will stay warm for you to take your time to sip and enjoy.
William Adjemian
Perfect size water bottle for your constant hydration, or sipping coffee on the go. Fits anywhere you wanna stash it and Isn't as clunky as the larger sizes
Raeben davis
This is a great gift for almost anyone in your family. I've got multiple hydro flasks and I can say that the wide mouth is easily one of my favorites.

I will say I spill ice all the time when its filled to the brim but there's no way to go around that besides getting a straw cap. The only downfall might be that I can't fit the bottle in my car holder, but again this is understandable because of the wide mouth lid.
Jennifer Luu
It can take a beating and still keep your coffee hot.
Cosa Walsingham
Love these!
Familiarity:

I've put it through the wringer
I own several in different colors - they are great for keeping drinks hot or cold - summer car travel, tea while skiing...and very sturdy and dependable. When I throw a water bottle into my bag or pack I need to know it won't leak! These come through with flying colors :)
Emily D.
Lasts forever
Familiarity:

I've put it through the wringer
Great for travel and can keep your drinks hot or cold for a whole day with no problem.
Cosa Walsingham
Works as described. Keeps liquids cold or hot for hours.
Chad Cordell
I've got a handful now, so I must like them.
CorenS
Another one
Familiarity:

I've used it several times
Had to get yet another size in the Hydroflask. This one is perfect for my water at work and awesome for taking the dog out for a hike.
Andrew Oaks
Great Bottle
Familiarity:

I've put it through the wringer
I have a few of these in different colors and just like most reviews on this, they just work. Excellent choice for drinks on the go and are very durable.
Chad Mingie
I bought this one for my wife and turned around and bought another one for the kid. They both like the flip up straw lid and I prefer the flip top. Any of the wide mouth lids will work with it.
Kjell J.
These just work, no complaints, use this size for travel.
Jason True
super
Familiarity:

I've put it through the wringer
es el mejor thermo que he comprado en mi vida!
oly
So Many Fun Colors!
Familiarity:

I've put it through the wringer
I gave this as a gift to a friend. Here's what he has to say:

"Having a water bottle that is durable, keeps things cold or hot all day long and doesn't sweat is very important in the medical field. Hydro Flask is that water bottle. I can put ice in it at 6AM and by middle of the afternoon I'm only refilling water and not the ice. I've been able to keep coffee hot a for 12 hours. It's truly the most versatile water bottle and it also comes in all sorts of fun colors."
Aaron Blasdel
Pure Awesomeness!
Familiarity:

I've put it through the wringer
We use these for everything! I think we are going to replace all the cups/ drinkware in the house with hydro flasks.

-Glass of warm milk on the go.. sure grab the Hydro flask!
-Beer? What's in here ice cool PBR or Hoptimus Prime? It doesn't matter when it's in Hydro flask duh...
-Mixed drinks? johnny walker on the rocks? homemade potato vodka? And even Mimosas... Yep whatever bro it's going in the hydro flask.
-Coffee? 3 day old by the camp fire brewed dirty engine oil black MJB that tastes almost certainly as if it was filtered with a dirty old sock, or your Grande, iced, sugar-free, vanilla Latte with soy milk and caramel drizzle? Yeah man put it in the Hydro flask.

EWWW GROSS!! What is that clear stuff he is drinking? Some sort of energy drinking or something? Yep just the best energy drink on the planet... Did you know that you can even put water in these things?!? It's fantastic!

Yep I can see it now; I will have all the kitchen cabinets full of them soon. You know you can even eat soup and ramen noodles from these.

Jeffrey Wilson
Only The Best
Familiarity:

I've put it through the wringer
Perfect for car travel to social hangouts, great for everyday use! Its nice to drive a few hours reach for a drink and still have something Ice Ice Cold!
Josh R