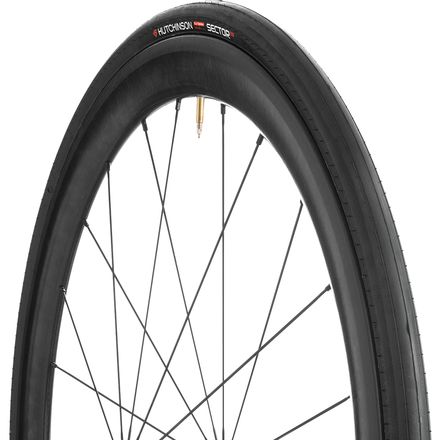 Colors
Ride over anything.
While your weekend may not consist of riding the storied cobblestones of France for a chance to win the Queen of the Classics, you can still take on the bumpiest chipseal roads you encounter with the confidence of a pro racing Roubaix with Hutchinson's Sector 28 Tubeless tire.
The French manufacturer developed the Sector 28 in honor of a cobblestone-filled race on its home turf, but the tire can handle more than just centuries-old stones. Using dual-compound rubber and 127tpi casing, Hutchinson created a tire that resists flatting and is dependable on rough roads, gravel, and dirt, maintains a supple ride and easy handling. The center tread is slightly firmer to encourage low rolling resistance, with softer rubber on the sides and subtle grooves in the sidewall to provide grip while cornering.
Relax while riding on summer's torn-up construction zone roads without having to worry about squinting for stray nails or staples — Hutchinson includes a thin barrier to reinforce the center tread that manages to avoid making the Sector 28s feel clunky.
Take on rugged cobbles with these supple tubeless tires
127-TPI casing is supple and dependable on rough roads
Firm center tread is firm for reducing rolling resistance
Soft rubber sides boost grip in the corners
Stand up to punctures without bulk thanks to thin barrier
Tubeless setup helps reduce flats on gravel and cobbles
I'm done with road tubeless for now
I have had good experience with tubeless on my mountain and 'cross bikes, so thought I'd try these on some spare tubeless ready wheels (cheap Bontrager) I could use for road training on the cross 'bike. After about 2 hrs trying to mount the first one I went to LBS, who spent about 30 min and used 2 large steel levers to mount (scratched rim too.) I brought home and pumped to about 70psi with compressor and tire basically exploded, ruining bead at less than max pressure. I suspect the bead must have gotten damaged with all the tools, but not sure.
Clearly tubeless road tires must be pretty "wheel-sensitive" (see below), but I've spent less time (and now $) with tubulars!
Mark E.
Supple and easy to mount tire !
Familiarity:

I've used it several times
If you can get this tire at deep discount it's even better, goes on by hand on Easton EA90SL rims, will seal with floor pump if you put in a tube first so one side gets attached and then remove it, needs 2-3 oz of sealant to stay airtight, ride quality is very nice, i have been avoiding tubeless so far but this tire did the trick, no mess and easy to put on and off. Great for broken pavement, rails to trails and few cobble rides
Michal K.
Too Many Failures
Familiarity:

I've put it through the wringer
I got a pair of these tires for my first foray into road tubeless. I have been tubeless on my mountain bike for years, so I am well versed into the process. Initially they were great, supple riding, fast and comfortable, but after about 500 miles one of the tires split on a seam in the tire. I fixed it temporarily with a tube and some patch work to get home, but then while limping back the other tire got a bubble on the tread. Both tires failed on the same ride. I contacted Hutchinson and their support was great. They sent me 2 new tires within the week. Unfortunately after about 200 miles one of those new tires blew with another split on the seam. Luckily I wasn't going fast or it could have been really bad. Maybe it's justly my bad luck, but I can't ride a tire I don't trust and I don't trust these tires. Hutchinson support was great, otherwise this would be 1 star review, but I am moving on to another tire brand.
James
So far so good
Familiarity:

I've used it several times
I have put about 12 rides on these tires. It was a big leap for me to go tubeless. I normally run GatorSkins. We have lousy roads here and flats are a fact of life. So far so good. They mounted easy on my HED rims and sealed on first try. I used Stans sealant and followed the YouTube recommendations. I do have a compressor so I know that helped. I can go 4-5 days without topping the pressure. I started out at 90psi but have been riding 80psi on my short morning training rides if I am riding more than 25 miles I will up the pressure. I have steep down hills and I have never felt so confident on the curves. They are grippy and take some of the chatter out of the road. They feel good on wet surfaces. I will wait until I have a 1000 miles on them before I give a final review but so far so good.
Timothy A.
Will work for winter - won't buy again
Familiarity:

I've used it several times
These tires are pretty nice on the road considering that they are heavy and bullet proof. They feel smooth although you never forget that you are pushing around thick, rigid bricks of rubber. That sounds like a contradiction, but that's how these Sector 28's roll.

I bought them for flat-free winter riding and didn't expect them to disappear under the bike. So that isn't where they disappoint.

Where these fall short is in the tubeless setup. As with anything tubeless, this might be rim specific - I installed these on DT Swiss R460 rims. For me, with these rims and a good compressor, I couldn't get the tires to seat without sealant. This was a first for me. I usually install the tire, seat without sealant, add sealant through the valve, reinflate with floor pump (or hand pump or compressor). This approach saves me the mess of sealant leaking/spraying everywhere while the bead snaps into place.

The Hutchinson Sector 28's did not seat without sealant. They didn't even come close. To get the tires to seat I had to add sealant, spin/twist/finesse the wheel while inflating with compressor. Before the bead started to snap into the rim, sealant was everywhere.

Since so much of the sealant was on my hands, the sidewalls of the tires and the floor, the tires went soft overnight. I had to add more sealant and reinflate. Though the second round of sealant has held, I am concerned that I had to use the compressor to reinflate after topping off the sealant. My worry is that if I get a puncture, even if the sealant stops the leak, the tire bead my become unseated and the advantage of tubeless will be lost. I also have no idea how much sealant is sloshing around in the tire - which might contribute to the ok/not great ride they give.

I'll keep these on for the winter - unless they come unseated on a ride and I'm stuck on the side of the road in freezing weather adding a tube to a tire full of messy sealant - and get rid of them as soon as possible in the spring.
Lissa W.
Great all around road tubeless
Familiarity:

I've put it through the wringer
I've gone through several sets of these tires commuting / quick road rides / gravel / etc. Average about 5k miles before I replace them. Mount easily on Stan's Grail rims (hands only). Initial seat is easy with track pump. Sometimes re-mounting after several thousand miles has taken a compressor. I have used Hutchinson, Stan's and Orange Seal. All work but I like the Orange Seal the best. I have fixed larger cuts with a traditional vulcanizing tube patch (clean with rubbing alcohol). I've gotten the loose threads around the rim. It looks like a reinforcing fabric. I snip the threads and keep rolling, no issues. I'm 180-185# and run around 60psi.
Che H.
Really, really good
Familiarity:

I've put it through the wringer
I'm writing this review to hopefully encourage other to take the tubeless leap. These ties are very good - supple, wide, grippy, durable. I'm able to ride at lower pressures and (mostly) without fear of flats.

I have 3500 miles on a set of these so far this year. Until yesterday, I've had zero flats. First flat was yesterday, it was a sidewall hole that happened on a sharp rock on Unpaved road. I've ridden these on smooth roads and really nasty Unpaved and gravel with great success. I'm not going to let one rock (out of many, many rocks) sway me tho - i am a total tubeless convert based on this experience!

Mounting was easy. I will definitely purchase again, but - I'm hopeful that more tubeless options come to market and that this technology catches on with more riders.
masshoff
best
Familiarity:

I've put it through the wringer
I have been running this tire since it came out a few years ago. I live in boulder county, CO and ride pavement and dirt in the pains and mountains. on an open pro rim, this tire does just barely fit in a specialized tarmac.
pros : good ride
easy enough tubeless setup
long wearing
cons: prone to failure- of the 7 or 8 of these tires I've had, I've had to toss 2 or 3 of them w small cuts that just wouldn't stay sealed at adequate riding pressures (say > 75psi). given the cost, a bit frustrating. the scwalbe one rides just as well, or better, and is far more durable, but is much heavier.

I continue to run these, but eagerly await another road tubeless tire that is plump, light and a bit tougher
jeffrey C.
Comfortable grippy ride; fussy install
Familiarity:

I've put it through the wringer
Good:
A. Handle well and smooth the ride over uneven and loose surfaces.

B. Grippy and stable in the corners on fast descents or whenever brakes are applied. Confidence building.

C. Good overall ride quality (once they are mounted).

D. Reasonably fast given their size (rolling resistance) and at lower pressures. (I ride mostly 90-95psi to protect rims from rock damage).

Not Good:
1. Difficult to get the bead to seat and for the seal to hold. Air compressor is essential as is REQUIRED Hutchinson tire sealant. Contrary to other reviews I've read, I was able to mount and unmount the tires using just my fingers. Brushing some soapy water along the inside of tire rim before mounting does help seat the bead. It can take more than one try. You shouldn't ride them for 24hrs after mounting.

2. Quality is uneven. My first pair wouldn't seat and hold air (see picture of a simple water test and sealant leaking around the rim). My second pair is developing troubling tears along the sidewall where threads from the fabric are pulling loose.

3. Durable but vulnerable to puncture and damage anywhere off the center of the tread (two tires damaged on the road).

4. At times, they can feel like your wheels are stuck in chewing gum when climbing.

I went through 2 pairs of these tires over the summer. The first pair wouldn't mount and seal on the rims properly no matter what I tried to do. The bead would never seat and the sealant would never fully seal the ongoing moderate leak. The picture shows the sealant bubbling out around the rim several days after mounting (and a few short rides) when tested by a quick soak in the sink. Tires were losing pressure 10-20psi per day or per ride.

I wanted wide low pressure tubeless 28mm tires tough enough for bad surfaces and training miles, but light and low friction too. There aren't many tubeless options. These sort of work but they've not taken me very far for time and money invested. I can't see buying them again.

It is possible that my first pair are defective. It is also possible that I was unlucky hitting just the wrong sort of road debris. But even the tires that worked seem not to be holding up.

Three stars because they seem like a good tire when they work and your mileage might be better.

[Wheels used: Shimano WH-6800 Tubeless wheelset.]
James B.