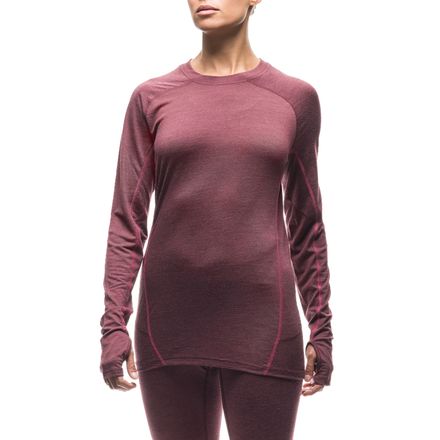 Colors

Detail Images
A must-have for winter.
Made with organic, renewable, and biodegradable merino wool fibers, the Houdini Women's Airborn Crew Top takes your breath away.
Breathable, moisture-wicking, quick-drying fabric keeps you comfortable when you hike, ski, skate, or tour
Its naturally antibacterial fabric keeps your funk at bay, while the Airborn's anti-static properties help prevent you from shocking everyone you touch
Extended sleeves with thumbholes block out the cold while you're skiing and ensure the Airborn stays in place when you layer beneath your shell
The drop hem in back prevents the top from riding up when you lean over
Alpha seams for comfort and a perfect fit
Merino + silk = 2 super fabrics that beat any other merinos out there
I have a few pieces of Houdini's stuff, and have always been impressed. Their design is usually distinguished w/ high quality and cool colors. This shirt is no different. Ponderosa is a really nice pink shade. The picture here shows it more red, but it's really more pink, not hot pink, but a peachy shade of pink. I'm not a pink person, but I love it and have gotten compliments from quite a few "fashion critics". The weave of super thin merino produces a subtle sheen.

The sheen reminds me of Ibex Echo shirts - actually in terms of weight, I would say the fabric weight of this is a tad thinner than the Ibex Echo's and Icebreaker's superfine lite. I can't speak of durability yet, but the silk, which is as strong as steel of the same gauge, definitely adds to the durability. This reminds me of Patagonia merino tops - Pati added quite a bit of synthetic to the fabric to keep it strong, but synthetic really compromises the anti-odor quality, as well as the soft hand feel of the merino.

The Houdini shirt is one of the softest merino shirts I've own, and I have a lot of Icebreaker and Ibex shirts. Performance-wise, it's like my other merino shirts, keep you warm when it's needed, and since material is thin, it's not too hot in the 70's weather. I've worn it for multiple days straight, and haven't had any issues with smell. Even though it's underwear, it can definitely be worn out by itself. The length is long, but not too long that's characteristic of long undies.

Yes it's expensive, but it's made in the European Union, rather than China. Be warned though, once you get 1 Houdini, you will want to go back for more.
catiecoo