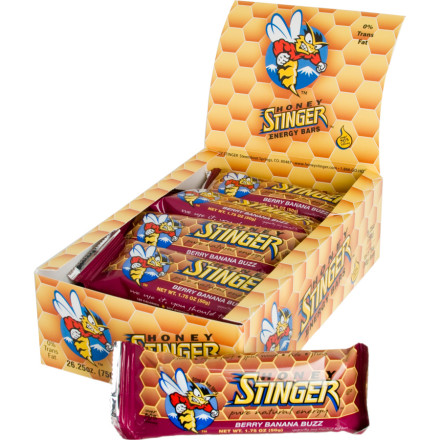 Colors

Detail Images
Vitamins, protein, and energy—plus the delicious taste of honey.
If you've ever done a 12 hour bike race or a long adventure race, you'd know that gels can only remain appetizing for so long. After a half day of slurping down semi-liquid nutrition products, you'll crave something that you can chew. Honey Stinger Energy Bars "feel" more like normal food, but they offer all of the easy-to-digest attributes of Honey Stinger Energy Gel.
Honey is nature's energy food. The bees that produce it have done the difficult work of transforming it into a just right blend of simple sugars that are easily and quickly digestible for us. This blend of glucose and fructose is 1:1 in honey and is the same as the fruit we eat. That's why honey is such a great endurance nutrition product -- it won't upset your stomach as you eat and continue on with your exertion.
Honey Stinger Energy Bars are made of at least 30% honey and offer 20% of your Daily allowance of protein along with 22 vitamins and minerals, calcium, and antioxidants. They come in a box of 15 bars and are available in four flavors -- Apple Cinammon, Berry Banana Buzz, Peanut Butter 'n Honey, and Rocket Chocolate.
Great taste
Familiarity:

I've used it once or twice and have initial impressions
Love all of the Honey Stinger products so got these for a trip to Kings Peak and they didn't disappoint. Still prefer the waffles, but these were great for a longer trek.
Nick Cowin
Sweet and Satisfying
Familiarity:

I've used it once or twice and have initial impressions
You can really taste the honey in these bars. They're a great on-the-go grab for hiking and camping.
Brandi Barker
Taste good and provide some quick energy. I was training the other day and felt the dreaded bonk coming on. I at the bar and in about 10 minutes I was hitting the intervals hard again. The texture is a little odd but I really like it. Not too fibrous like some bars can be. The taste is spot on and taste exactly how you would imagine honey and peanut butter. Enjoy
Ian Gonder
Great taste texture and energy
Familiarity:

I've put it through the wringer
These bars are some of the best I've had over the years. Worked fantastic for a backpacking quick break snack. No strong bite in the throat, went down very easily. Seemed to metabolize really well with no bad after effects.
Jack L
Healthy tastes good and great energy
Familiarity:

I've used it several times
Used this product (honey/peanut butter) and was pleased with he extra energy it gave me on my bike ride and that it is 30% honey so healthy and tasty as well. Two of these bars plus a Clif protein bar kept me going a total of 75 miles!
David G.
Super tasty
Familiarity:

I've put it through the wringer
I keep a few boxes of these around the house at all times. Throw a few in your pack before a hike, or just have one for breakfast on the way to work. Really tasty and good for you. Awesome company.
Andrew Mark
Delicious!! But...
Familiarity:

I've used it once or twice and have initial impressions
...why oh why the yogurt coating?! Don't get me wrong, the coating and the bar are delicious. But the yogurt coating melts instantly upon placing in a jersey pocket. So when I open the bar while riding my hands get covered in goo. Yummy goo, but messy! I've only tried the berry banana flavor but all of the flavors appear to have a meltable coating. Like the waffles which are entirely too crumbly to be opened and eaten on the fly, honey stinger makes a delicious and vaguely nutritious (at least all natural?) energy product that misses a key detail: to compete with the likes of Powerbar or Clif, the product can't make a mess when I'm on the bike. Please take a cue from M&M's (melts in your mouth, not in your hand/pocket) or remove the coating entirely.
Stephen H.
great taste
Familiarity:

I've used it several times
these are great bars to help you maintain your ride. the taste is great.
Bryce Galloway
pretty fly (for a power bar)
Familiarity:

I've put it through the wringer
Personally, I dread opening power bars. They are no substitute for a real meal, and often turn into "lunch" when my friends and I don't want to stop for longer than a few minutes. This being said, these are as good as power bars ever will be. There are many bars that will cause me to instantly vomit, but these are tasty and can hold me off until I can get my hands on some legit food.
Grant Burton
Too Good
Familiarity:

I've put it through the wringer
Well, Honey Stinger gone off and done it again with an energy product that tastes so good you'll have a hard time saving these for exercise. It's like having a box of candy bars at the ready, so good luck not snacking on them all the time.



When I actually manage to save a few to take on rides with me, they taste great all the same, digest quickly (as long as you stay hydrated) and provide long term sustainable energy on the go. Highly recommend Peanut Butter N' Honey, classic taste!
Trevor J
Honey Stinger Energy Bars
Backcountry Video
Bomb Blueberry Bar
Familiarity:

I've used it several times
I have been sporting these bars instead of Clif bars for a few weeks and find that they are easier to chew up and swallow with a few swigs of water and digest easier than a Clif bar, more focused on providing energy instantly via honey that is used in the bar itself. Very tasty
Robert L
taste great
Familiarity:

I've put it through the wringer
I like these as an all natural energy pick up. They taste great and provide quick,ample energy. I would eat them with plenty of water though as they do tend to be a little dry.
Wesley B.
hard to swallow
Familiarity:

I've used it several times
This review will only be for the apple cinnamon flavor, as I trust other reviewers in saying that the other flavors are pretty good. Honey Stinger usually makes pretty good products, I've been impressed with the waffles, protein bars, and chews, but these are another story. I was excited, as apple cinnamon really sounds great, but these aren't good. They're dry, overly dense, don't taste that great, hard to chew and swallow, and they're EXPENSIVE. I can almost get ProBars (taste amazing, tons of nutrition) for as much as these cost, not to mention I could almost get 2X the ClifBars for this price, and they taste better. Not impressed with these, but they do provide energy, albeit not very much. One of my problems with Honey Stinger is that all of their products that are touted as 'energy' products, contain fewer than 200 calories. The calorie is a unit of energy. So put more calories in it. These are meant to sustain you and provide the energy you need to keep at it, not a small snack for in between meals while you watch tv.

Not impressed with these bars, and they even look like an ugly grey brick when you open the package.
gilipollas
Tasty
Familiarity:

I've used it several times
Never really been a big fan of bars. Typically a tough chew to consume. These are a nice consistency, the yogurt bottom helps. I drink a generous amount with all energy products.
f
Berry banana buzz!
Familiarity:

I've put it through the wringer
Getting a natural "sting" of energy (see what i did there :)) is the best way while outdoors! You can't beat the delicious flavors of these. They are super compact and pack a great deal of energy to get you feeling good and replenished to get your ass up that mountain or down depending on what your doing! Get after it with these delicious snacks!
Greg Adams
Great bar for running. It provides nutrients needed and energy to keep you going. It is bulkier than chews so I would go with chews.
Jeff
Great Bars
Familiarity:

I've put it through the wringer
I now grab these over Cliff Bars because I find them easier to eat and for some reason they keep me from getting hungry longer. I've used them rock climbing, mtb'ing, and hunting and they definitely do the job.
Patrick Mulligan
Bowhunting and ultra running...
Familiarity:

I've used it several times
I've used these as an "inbetweener" when chasing elk in the mountains. Good combo of protein and carbs in the PB'nH flav. Also use them along with a recovery drink immediately after an ultra. Good stuff!
Jonathan F.