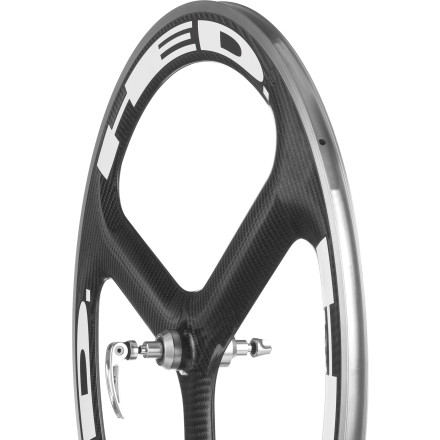 Get fast, get a HED.
Top-quality race wheels tend to be tubular, but what you would say to a clincher wheel that can provide the same level of smoothness and speed? That's what we thought. HED's managed to make it happen, and its H3 FR Carbon Clincher Road Wheel will blow your mind with its combination of lateral and torsional stiffness, aerodynamic awesomeness, and unreal stability.
As with any carbon race wheel, the priorities of the H3 are, in no particular order, speed, speed, and speed. The carbon-fiber layup keeps the rim feathery light, and the 53mm rim depth and 19mm width help you zip through the air like it's not even there. Three airfoil spokes reduce friction as you put the hammer down, and HED managed to design the H3 to be equally efficient and stable in headwinds and crosswinds. Topping it all off is HED's Stability Control Technology, which is so secret that the company won't even share what it actually is—suffice it to say that feeling like a wobbly sail in serious crosswinds will be a thing of the past.
HED used top-secret carbon-fiber orientations, hush-hush resins, and a layup that's so advanced it doesn't technically exist to make the H3 as stiff as they come. The bead locks on to clincher wheels with no noticeable loss of smoothness comparable to tubular setups, but with the obvious advantage of easier replacement. An alloy brake track provides reliable stopping power, and FR Sonic hubs keep you whirring like a podium-topping machine. The front hub uses a convenient quick-release design, and the included titanium skewers keep your wheels locked solidly on your frame, so you have one less thing to worry about.
Carbon rim
Alloy brake track
Stability Control Technology
19mm rim width and 54mm rim depth
FR Sonic hubs
Quick-release front hub
Titanium skewers
Shimano/SRAM 9/10/11- and Campangolo 11-speed compatibility