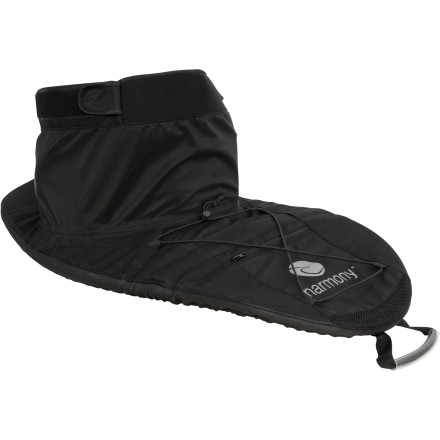 Colors
Keep the water out.
You could bail out your boat every time you hit a wave but, in a fast-moving river, you'll be doing more bailing than paddling. Reach for the Harmony Synthesis Spray Skirt instead and seal up your cockpit. Waterproof breathable fabric, a tough, reinforced construction, and adjustable fit ensure that that you'll stay dry during your creeking or whitewater adventures.
Waterproof breathable fabric means you stay dry without feeling sweaty and stifled beneath this skirt
Reinforced deck and high-wear areas create superior durability
Double stitching and seam sealing improve overall weatherproofing
Implosion bar prevents the top of this skirt from folding into the cockpit when it's hit with a powerful blast of surf or water
Four deck tie-off loops and a one-size-fits-all neoprene band keep your skirt securely attached to your boat
Unanswered Question
I got an Expression 11.5 and am looking to get a skirt incase I want to take ever into rougher waters. The dimensions are 36" long by 20.25" wide. I don't know whether to go for the 36/19 or go up in size and try to tighten it to the right size. If anybody has any thoughts or input that would be great.
Chris Rosecrans
Got one of these for each boat.
Familiarity:

I've used it several times
I had originally bought two of these as this product was recommended by a Back Country gear head. After using the skirts several times doing some river running with my son I can tell you that it is the easiest skirt to install and remove. Portages have been no problem either as the skirt is quite easy to reinstall. The great thing about this skirt is that it keeps the inside of the boat dry and bug free without making you too hot. It also allows you to still have access to the boat through the hatch without detaching the lip. The velcro waistband can be easily undone to fit an arm inside the boat to grab your water bottle and get a drink or whatever else you need. You can then replace the bottle and reattach the velcro without missing too many paddle strokes. I had bought other skirts for a couple of my boats, but ended up returning them and buying this type as it is just so convenient. I haven't tried rolling with this skirt yet, but I have to believe that this product will not keep out water as well as the neoprene type of skirt. I will say that this product is a great touring skirt. I usually do type 2 white water and below, so this skirt works very well for my purposes.
Kent O.
Seemed a bit loose, but works just fine.
Familiarity:

I've used it once or twice and have initial impressions
This is the second Harmony spray skirt I have purchased. The first was a different model for a different kayak, a Harmony Gripper Ultralite spray skirt, size 39x19.



I ordered this Harmony Synthesis in size 42x23 for my Current Designs Kestrel 140 kayak. Second day delivered just as promised, no problems there.



When I fitted the spray skirt to the kayak, I noticed it was a bit loose. Cinching up the elastic drawstring knot a bit, I was able to tighten it up a little, but still at the front of the sprayskirt it comes loose a little too easily. The Gripper Ultralite sprayskirt fits perfectly, though being a little bit smaller might have something to do with it.



In use, however, the spray skirt did just fine. With a little bit of use, the fabric gets broken in a bit and fits better.



It does keep water out, which is what it is designed to do. Works just fine.



Personally, I remove the little bungee cord on top of all my spray skirts. I would rather have unobstructed access to the zippered pocket than have the ability to lash a small object to the sprayskirt. I keep a small drybox in the pocket with my gps or cell phone, for ready access.
AD
Good Spray skirt nice and dry
I used this in the spring for some late winter early spring trips and day trips. What I liked is the material is waterproof so it keeps the cockpit dry and the webbing on the front is great fro keeping a bottle or bailout right there. There is also a pocket for important equipment on the front of the spray deck which is convenient. What I don't like is that this does not have shoulder straps which I prefer. I feel strapless tend to scoot down over time and you have to play the pull up game. Other than that this is fully adjustable and within slated size ranges and offers great cockpit protection so you stay nice and dry on the inside of the compartment. I am 5'10" about 165 and go with the 38/20 which fits me perfect.
JP Rambo