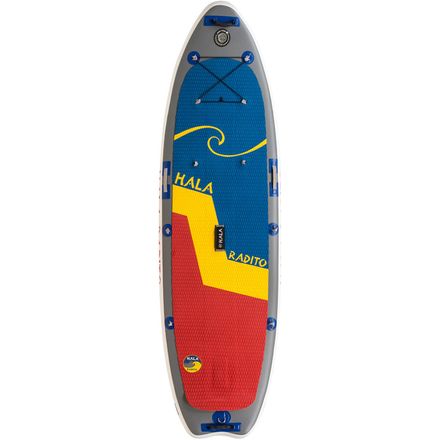 Colors
Hop on and start your adventure.
In the same family as the Rado, the Hala Radito Inflatable Stand-Up Paddleboard is the solution for slightly smaller paddlers who want to hit burly water. Its fully rockered design makes it dynamic and maneuverable while still having a burly shape that punches holes in big water, so you can dance in and out of tighter pockets. The swallow tail increases stability by doubling your balance points in the back, while the raised, EVA foot index ensures you can plant your foot in the center of the board without turning to look. A raised stomp pad gives you the leverage to maneuver the board, and the Diamond Groove deck pad provides traction and comfort while you paddle. Four low-profile fins help the board track and have exceptional durability, and the StompBox center fin retracts on contact with an unexpected rock so you can paddle with peace of mind. Knowing you'd want to take the board out immediately, Hala included a hand pump, car pump, repair kit, and travel bag so you can hit the road with everything you need.
Inflatable paddle board for adventures on the river
Full rocker for improved maneuverability
EVA deck pad absorbs impact and provides traction
Stomp pad allows for greater control of the board
Swallowtail increases stability
StompBox fin retracts to avoid rocks
Four low-profile side fins for tracking
Hand pump, car pump, repair kit, and travel bag included
Versatility And Durability
Familiarity:

I've put it through the wringer
this board is really a jack of all trades. it's at home in any scenario and takes a beating like you wouldn't believe. i've abused this board on all types of WW but it paddles just as efficiently on a lake with a cooler. with the 10' length, i know a lot of taller paddlers that have really embraced this for hard WW. the fin setup is crazy simple, but exactly what you need. fixed flexy side bites and a center stompbox fit most paddling conditions with no concern of lost or broken fins. i also really like this board for longer river trips where smooth paddling on class I-II just just as prevalent as rough classIII-IV. you can really cover distance w/o wearing yourself out.
Andy O.
best all around board!
Familiarity:

I've used it several times
I love this board! It is by far my favorite board that I have ever paddled. It is really responsive and I feel like I have great control when paddling either on flat water or down the river. I got this board after the spring peak flows and the rivers in my area have been exceptionally low during the drought, so I've spent most of my time on small ponds and reservoirs near my home but I defnitely enjoyed the couple of river floats I got to run. I also teach SUP yoga and have used this board many times for class. I feel just as stable on this board as I do on other yoga-specific boards and I love the material of the deck. All those handles are great for pulling myself up after I fall in too! I plan on using this board for some upcoming overnight trips so I am stoked on all of the extra rigging points too. I have way too many hobbies and interests on the water and I love that this board can keep up with whatever I want to do that day, whether it be doing some headstands and down dogs, surfing in the river or cruising on early morning glass. The quality of the construction of this board is very apparent and even the bag it comes in is really nice. It is a solid board all around!
Heather Ireland
Great stable platform, does it all.
Familiarity:

I've used it several times
The Rado can pretty much do anything. It excels in the river, ocean, lake, anywhere you take it. It's super durable and surprisingly maneuverable for its size. The rocker profile alows you paddle up and over waves rather than smashing through them. Rolling bag and pump are solid and convenient.
Alex
Wickedly Surprising!
Familiarity:

I've used it several times
I first rode the Radito during the Montrose FUNCfest at the end of July. I was able to test it both on flat water as well as in the whitewater park. After my first run through a few of the smaller waves, I was blown away by how stable the Radito is! I've ridden a variety of other boards through the Montrose Water Sports Park and have always had a heck of a time staying on my feet. With the Radito, it felt like we had been riding together for years! I was sold and had to order a Radito right away!

I haven't had many river trips on the Radito due to getting it so late in the season, but I managed to get a little whitewater action by squeezing in a trip to Moab to run "The Daily" at the end of October. New Rapid and Rocky Rapid tend to be the most challenging for me and where other boards tend to punch right into the large waves, generally lurching me forward and I fall off, the Radito rode right up and over every wave with water crashing in every direction and I stayed standing through every rapid! Boom! I knew right then and there, we were going to be BFFs!

Most of my experience with the Radito so far has been on flat water. At 10 feet x 34 inches, it isn't the fasted thing on the water, but it's also not unstable and doesn't feel like a tugboat either. With it's more crossover rocker profile and it's 5 fin setup, it handles choppy water and paddles relatively straight without too much fancy paddle work. It is very stable on bigger waves and cruises flawlessly on glass as well!

It stomps whitewater, cruises flat water and it surfs! The Radito is the perfect do-it-aller and my all-time favorite board!
COloRADic
The One Board that does it All!
Familiarity:

I've put it through the wringer
If you only wanted one board with wicked graphics, this would be the choice. This board should be named the Colorado State board. Last year I was privileged enough to paddle with Adrift Adventures down 72 Miles of the Yampa as well as 52 miles in the spectacular Gates of Lodore. It is perfect for huge hits, stability, SUP Yoga and long paddles. This board comes with gummy fins as well as the famous stompbox construction. It is burly and ready for anything.
Trinity W.
The quiver killer!
Familiarity:

I've put it through the wringer
This board has singlehandedly and unilaterally changed my ideas about what one board can do. I expected at 10'x34" that it would be a jack of all trades. I never could have predicted that it would be a master of them all! It's side profile is sleek enough for glide and generous enough for stability. The rocker is gentle enough for flatwater paddling and pronounced enough to destroy whitewater! I paddled this board for 90% of my 2017 season and found no situation where it wasn't at home. If you want to paddle rivers, oceans and lakes and can only have one board, look no further. This is the SUP you have been waiting for.
Matthew B.
great board
Familiarity:

I've put it through the wringer
After teaching white water sup for for seasons this is the best white water board for beginner paddlers. It is also a really good board for the supper advanced paddler trying to make the leap from class III the class IV and above paddling. If you are planing on buying a white water paddle board that will work for beginners all the way threw the most advanced paddling this is the board for you. This board is very quick edge to edge stable and fast making it ideal for challenging runs. The only down side is this board at 10ft long can be a little slow to turn.
Woo111331773