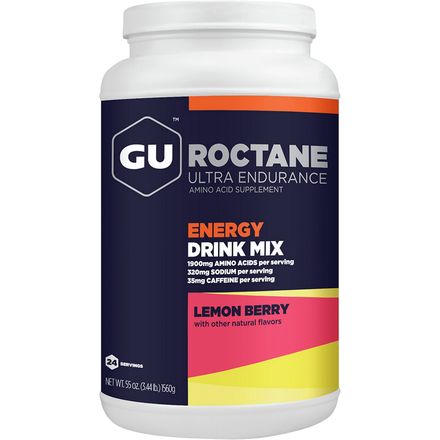 Colors

Detail Images
Train harder and recover faster
The GU Roctane Energy Drink offers you a calorically dense boost to power you through long, intensive workouts. The Roctane formula features even more carbohydrates and electrolytes than GU's Hydration mix, and also delivers amino acids that refuel your muscles and prevent fatigue.
The 250-calorie serving contains carbohydrates and electrolytes
Taurine combats heart and skeletal muscle fatigue
Beta-Alanine and Histidine prevent lactic acid build-up
Amino acids prevent muscle damage and aid with recovery
Caffeine (in all flavors except grape)
Product Works for me
Familiarity:

I've put it through the wringer
It has become my endurance training fuel for events over 2 hours. I have tried other products and have settled on this. I had been a Hammer Perpetum user and for some reason my stomach started to react after five years. Made the switch and now days of 2-4 hours on the bike are full of energy. The test will be can it be consumed over a 5-12 hour day, multiple discipline day.



Also works for BC skiing/long hard days.
Glenn B.
My go to energy drink
Familiarity:

I've put it through the wringer
I stumbled across this product at my local bike shop prior to doing a 40 mile ride (my 1st 40 miler). I am diabetic and always concerned that I'd be on a long ride and my glucose levels would tank leaving me in a very bad situation - if you are diabetic then you know what I mean (similar to bonking as the term is used in cycling) but probably a bit more serious. Because of the diabetes, I would not take my medicine before my rides (I typically ride very early mornings) because of my concern of low levels, but with this product, I no longer have those concerns. I wanted something light (don't like heavy meals when riding, don't like milky type drinks or overly sweet tasting drinks when riding either) that would keep me going once I got out on the road and this was just the ticket. I use it as a supplement to my one pack of oatmeal meal before a ride along with a honey stinger organic waffle and banana; it keeps the energy levels up and includes ingredients to keep your electrolytes in order, too - not too bad, huh. During those long rides is a time when I as a diabetic welcome loads of carbs and bit of caffeine don't hurt either. It mixes well and the taste is very very light, too; I like the tropical fruit flavor. At first I thought it was something wrong because the taste was so light, but later read that that's how it is. I carry 2 water bottles on all my rides and this energy drink will definitely be one of the two drinks that go with me on my rides. Before buying a jug, you can try one of the single packs to see if you like it and which flavor you like best; they actually taste pretty good. I would not recommend this to those that are couch potatoes though, especially diabetic couch potatoes.
Methodical