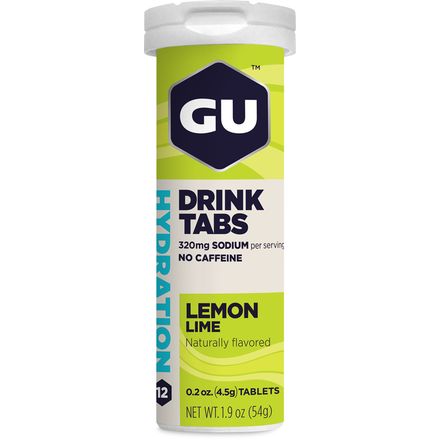 Colors

Detail Images
On-the-go hydration tablets.
The GU Hydration Drink Tabs 8 Tube Pack is an ideal solution for athletes on-the-go, increasing hydration before, during, and after workouts. Each tube contains 12 tablets, with 96 individual servings total for the 8-Tube Pack. Simply drop one tab into 16-ounces of water, watch it fizz, and you're ready to bike, run, or hit the gym with increased hydration.
Ideal for warm-weather workouts and intense efforts alike, each tab has 320-milligrams of sodium to replenish precious electrolytes lost during perspiration. Reformulated with xylitol sweetener to reduce GI distress (when compared with supplements using sorbitol), these tabs are gentle on the stomach when you're working out. They also use all-natural Stevia, which is a plant-based sweetener.
Money
Familiarity:

I've put it through the wringer
These tabs are $$$. I've used several brands, but these are def my go too. I def notice these can prevent cramping for me on long hot trekking days. On my most difficult days, I make sure to pack a few tabs.
David Tucker
Electrolytes
Familiarity:

I've put it through the wringer
These tablets are great for replacing your electrolytes. I generally try to avoid drinks with sugar and these tablets fit the bill. The taste is tolerable. I used these during the Carson City Off Road and they worked well. I'll definitely be sticking with these.
Shawn Craig
Hydration Drink Tabs can be dropped into water to add essential electrolytes, great flavor, and light effervescence to your water to keep you hydrating.
Zach Branson
Kyle Cherry
Don't do the Mighty 5 without them
Familiarity:

I've used it several times
While in Utah we tried both Nuun and GU drink tabs, with the full intention of determining which we liked better and which we would buy in the future. When all was said and done there was no clear victor, they both accomplish their aim. With each bottle weighing in at under 2 ounces there's no real draw back to taking more than you need along with you. On our descent from Delicate Arch we met a retired couple struggling to make it to the top. We topped off their water bottles and gave them a single container of GU hydration tabs, along with a brief introductory lesson on their use. We wished them luck and they proceeded, determined to take in the view that lay ahead. As evening closed in we sat near a stream beneath petroglyphs and marveled at both the bright green frogs in the stream bed as well as the preservation of the hunting scene depicted on the red rock walls behind us. Before returning to the car park we spotted our recent acquaintances seeming in much better spirits then when we last spoke. We called out to them asking if they made it, with awe in their voices they said they had indeed. They thanked us for our assistance and we parted company, content in the knowledge that we helped someone enjoy the grandeur that is our National Park System.
Kyle Cherry