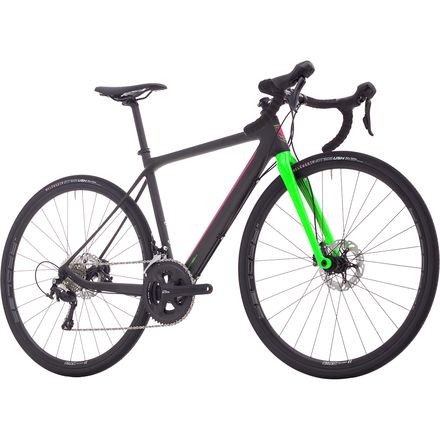 Colors

Detail Images
Adventure calls.
GT may categorize its 2017 Grade Carbon 105 Complete Road Bike as "enduroad", but we're going to go ahead and classify it as fun. Clipping into a Grade Carbon opens up nearly limitless route potential and licence to spontaneously explore those intriguing side paths that would have a traditional road bike quaking in its spokes. Pairing Shimano's legendary workhorse 105 drivetrain, powerful hydraulic brakes, and Stan's NoTubes wheels wrapped in Clement's lightly treaded Strada USH tires, this Grade is ready to shepherd you through your next all-road adventure.
The Grade features GT's All-Day geometry, designed for comfort over long miles on roads less traveled. It manifests as a longer wheelbase for extra confidence and stability, with a taller head tube that sits at a slacker angle than traditional road bikes that further boosts the feeling of stability and confident control.
GT shapes the Grade Carbon frame and fork using with its Enduroad carbon, which is reinforced with a glass matrix for equal parts vibration-damping and stiffness to reduce fatigue and wasted watts over long rides. This construction paired with its relaxed geometry makes the Grade Carbon perfect for riding a fondo or heading out on a leisurely spin to soak in scenery, while maintaining its ability to keep up in a road race or competitive group ride. The Grade Carbon also features a slightly more compact rear triangle than other similar frames, owed to GT's Triple Triangle, which is designed to add stiffness and rigidity to the frame using tighter angles and reinforced seatstays.
The fork features longer, narrower blades than a traditional road bike, creating extra clearance for the front tire and better compliance over bumps. You'll remain stable on fast descents with the tapered head tube and retain efficient power transfer as you pedal out of the saddle over dirt, gravel, or tarmac.
A road bike built for the paths less traveled
Endurance geometry blends speed and comfort
Glass-reinforced carbon soaks up road vibrations
Shimano's workhorse 105 componentry delivers precise gear shifts
Hydraulic disc brakes provide powerful stopping
Lightly treaded tires balance traction and low rolling resistance