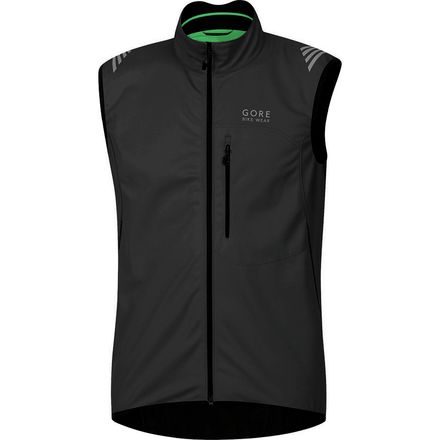 Colors

Detail Images
Prepare for all conditions.
All cyclists eventually face the dilemma of how to dress for the volatile weather of the transitional seasons. It may rain, it may be windy, and the temperature may change by 10 degrees in the space of an hour. With this in mind, Gore Bike Wear offers the Element Windstopper Soft Shell Vest to deal with the maybes of the cooler months. You can stow it in a pocket, then put it on for rain, wind, or descents, letting you enjoy fall, spring, or even winter riding without worrying about over- or under-dressing.
As with all Gore clothing, the star of this vest is the fabric. It incorporates three layers in a build more akin to a 2.5-layer construction: an outer shell, a Windstopper membrane, and a lining. In this cycling sandwich, the two pieces of bread protect the Windstopper so that it can protect you, keeping you warm, breathing to transfer moisture and prevent overheating, and fending-off the elements.
The Element line's Soft Shell construction is a touch heavier than Gore's similar Active Shell fabric, owing to a difference in lining. Active Shell uses a thin, mesh-like scrim for wind protection without adding undue warmth and weight while the Soft Shell incorporates a plush, soft lining that's thicker for insulation in cold weather and means less wear on mid-layers.
Gore describes the fit as "comfort," but this doesn't translate into a parachute of gear. Rather, it allows for layering a base layer and a midlayer underneath it so you can dial in your own perfect balance of thermal insulation and wind resistance. The vest has a rear pocket and a zippered Napoleon pocket, a flap under the full-length front zipper, a collar that accommodates a riding position, and reflective elements spread throughout to help keep you visible in low-light conditions.
The Gore Bike Wear Element Windstopper Soft Shell Vest - Men's is available in five sizes ranging from Small to XX-Large in the colors Black, Fresh Green, Neon Yellow/black, Red, and Splash Blue.
The photo of the product shows a black vest with white slashes on each side, visible from the front. The actual product does not have any white on it.
William L.
I really wanted a vest that didn't breathe in back, it serves well when off the bike & you need to stay warm in the wind. Love the bright colors too. My only beef with Gore is that, with their high prices and claim of excellence all around, why the parsimonious 1-year guarantee?! We deserve better.

Robert R.
dumb design from people who dont ride
Familiarity:

I've put it through the wringer
the back is not breathable. the front zipper doesnt have a garage at the top...why not? so it can catch my beard and pull it?

i dont need a Napoleon pocket, esp not one thats zippered!! i do need three year paockets of the sort that has evolved for cycling over 159 years!!

and the stupid reflective bits? pleeeze. they have zero science to back them up. get good lights, a sam browne belt, etc., if your worried about being seen at dark.



gore, as usual, and in this reagrd they must be talking with pearl izumi, have added a bunch of features no one needs or asked for only to be able to raise the price...which is ludicrous for a vest.



and, lastly...what is it with the clown color schemes and stripes for cycling wear? i ride at least 12,000 miles a year in all weather, and have done so for 30 years (this year my 30 year anniversary). cycling clothing has never been functionally stupider, more ridiculously overpriced, all the while making 99 percent of the riders wearing it look like imbeciles.


Jon Michael R.