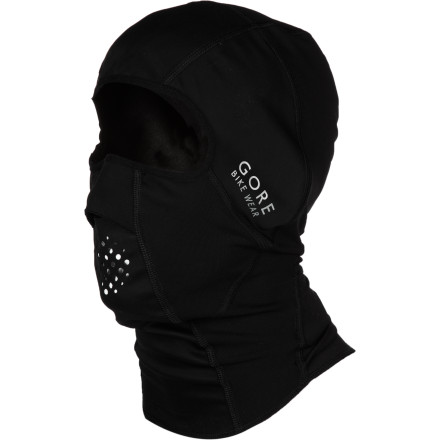 Colors
Your new riding nickname: Sub-Zero.
Yes, the Gore Bike Wear Universal Balaclava looks like the fire-retardant layer for a race car driver, but, as with motor sports, there is good reason to pull this thing on over your noggin. Gore uses Windstopper Soft Shell fabric around the brow, the ears, and at the front of the neck to keep those body parts warm.
Gore uses thermo-stretch fabric for the rest of the top to give both great fit and maximum warmth while allowing vapor to quickly escape. And it uses flatlock seams to minimize the possibility of chafing. Naturally, it is designed to fit under a helmet and under the top of your winter jacket.
The mouth is protected by a thermo-stretch panel that has been meshed to make it easier for hot air to pass out without it freezing to the material. The nose is covered yet there is space for the nostrils to do their thing. The Gore Bike Wear Balaclava mask is black and is available in one size only.
Very good one
Familiarity:

I've used it several times
I have several balaclavas and I like this one too. It is quite thin but it does the job with a wind stopper fabric. The fitting is not as tight as I would like but it is certainly not too loose. It does not have a hinged face mask so it cannot be pulled down to the chin. It does have an opening for the nose and some small holes around the mouth area. I cut a big hole around the mouth area which greatly improved the breathability of it. The small holes were already there as a guide so it was pretty easy to cut a big hole around the area. The cap comes down my forehead just at the right height, and the same for the face mask height wise. I do not have a visibility problem by wearing a pair of clear safety glasses. I have ridden it in the 40s degree F and it felt great. I am not sure if it will be good for a much colder temp though. The overall material feel is nice as usual with Gore stuff. To improve it, I would like to have a thicker material and a tighter fit. Thanks.
Vincent L
The importance of using some kind of full-face protection (balaclava or wool buff) while riding at speed in sub-45/40° weather (especially under cloudy, low-light, or drizzly skies) cannot be overstated. Under these conditions, constant cold wind will put some serious sting & hurt on the exposed skin of your face and ears -especially when descending or turning into a headwind.

A balaclava can solve these problems, but traditional ones present two problems of their own when worn over the mouth or nose: (1) Breathing through fabric doesn't work well. And through wind-stopper textile, forget about it. (2) Wearing a balaclava over your mouth or nose often causes fogging of your glasses.

Gore has addressed both of these issues with this balaclava.

#1. Gore has drilled about 20, 1/8" breathing holes in the mouth area. They generally work very well for me. This B/C also provides coverage over the bridge of your nose; yet a breathing area underneath. Two huge advantages. In sum, this B/C provides critical protection for sub-40° riding, yet you can breathe through both your mouth and your nose.

#2. Yes, your glasses may fog some while standing still with this B/C on in the winter (for ex, at a stoplight). However, once rolling my glasses clear-up quickly and have not fogged-up while using this B/C (except briefly when dipping my head down and back to check my rear cassette). I use good cycling glasses by Tifosi or Oakley. This may help.

Other pros: (3) This B/C is super-thin. You'll be surprised. Therefore, it fits well under your helmet. (4) High quality item in general. For ex: 100% flat-lock sewing at the seams, the quality of textiles, and the molded tailoring around the head and neck. No excess material bunching-up around your neck.

Bravo Gore! This is a brilliant piece of kit.

Fit: I'm 5'10" and have a 57 cm helmet size (medium/large in Giro). This B/C fits me like a glove. This B/C may not fit a person with a larger head or lots of hair (unless the material stretches).
Jonny Heinken
wind protection was good, the functionality of the hose and mouth piece were terrible, The standard gore balaclava is much better
David K.
Maybe Not
Familiarity:

I returned this product before using it
Let me start by saying I love just about everything Gore makes however I returned this item before wearing it. The eye section was very small and I felt my vision would be hindered once I put on my eye wear. In addition, the inside tag was very annoying. I kept it on for about two minutes before deciding that there was no way I would be able to ride with the inside tag rubbing on my head and neck.
Mimi
Great item!
Familiarity:

I've used it once or twice and have initial impressions
I got me a traditional balaclava and couldn't breath. This one designed to breath without pulling it down below my chin. Great product must have for cold windy condition.
giangnguy3n
Has issues...
Familiarity:

I've put it through the wringer
I like it because it seems to give the best ws coverage , possibly more than Castelli. The breathing is a little difficult, but I found I just got used to it-- compare to the review of the Castelli where the guy could not breath at all or his nose gets frost bite. Its also quite snug, so pulling it down for a drink (although I gave up carrying water as it just freezes...will try salt this winter) is something you have to stop and do (and then your glasses fog/freeze up!). My glasses do fit under. But these all seem to be expected trade-offs. What bugs me is that the eye hole is too small. It is impossible to look down and check what gear I am in, or if ice/mud is building up. This sucks!!!! In other words, the coverage is max (and good in this sense) for only riding in the hooks and looking straight forward. Period. If you look down, you have to pull the balaclava down to see--good luck trying to do that w/lobster mitts, in traffic, on a busted up road, in the wind...!!!!



All that said, not so sure I want to try Castelli, somebody should write up the craft ws.
DanL
Better for recreational use
Familiarity:

I've used it several times
I bought this to deal with sub zero on my road bike. The vent holes are too restrictive for hard climbing. You're better off with a neck gator that you can pull down on the climbs.
Aaron Martin
I bought this in hopes of using it on cold morning rides, but ended up returning it because the fit was a tad bit snug. I'd call it more like "uncomfortably snug". Being a female with a good amount of thick hair, it was rather difficult getting this thing onto my head. I pulled my hair into a ponytail, and it was still pretty tough to get it on. Once it was on, I found the face opening to be too small for my liking. Also with no slits on the sides, it makes wearing sunglasses a challenge as well. I was really hoping this balaclava would work for me, because I have several other Gore pieces that I am completely happy with. I think I'll stick to using my Smartwool balaclava for now.
Linda