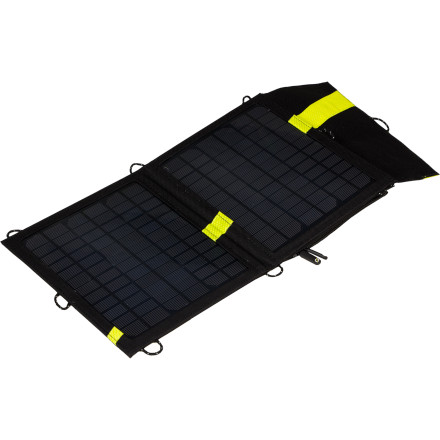 Colors

Detail Images
Off-the-grid power for cave or camp.
You love the wild outdoors, but there's no need to go full-caveman: mount the lightweight, tough-as-nails Goal Zero Nomad 13 Solar Panel onto your backpack, hang it in your car window, or position it anywhere at camp for clean, portable power and civilized fun. Charge up your cellphone, GPS, lights, or laptop for the ultimate in camp comfort and safe off-the-grid travel. Because while some people see the primitive appeal of sitting in the dark and cooking food you can't see in silence, most campers revel in turning power from the sun into sight, capability, and good times.
State-of-the-art monocrystalline technology delivers more power per square inch than any other solar technology available
Includes two extremely durable panels in a weather-resistant, impact-resistant folding envelope made of high-denier textile
Reflective nylon loops make it easy to hang the panel from your backpack or in car window when you're on the go, or in any convenient spot in camp
Built-in pocket protects your device as it charges
Includes USB, mini-solar, and solar ports to charge your electronics directly or the Sherpa 50 Recharger (not included)
Can be daisy-chained with up to three more Nomad 13 units to boost available power
Optimal operating temperatures: 0° to 140°F (-17° to 48°C)
Please note: will not store power for charging after dark; Sherpa 50 Recharger (sold separately) required for this
I wish I could like it
Familiarity:

I've used it several times
Even in direct sunlight my phone won't charge for more than a minute or two. I've tried different USB cords too thinking maybe that was the issue but it wasn't. I read great reviews of the product and am super disappointed in it 🙁.
Monica C.
Works as Described
Familiarity:

I've used it once or twice and have initial impressions
This product charged my iPhone while in Moab so I could keep my music going nonstop. I left it on the dash of the car in 100 degree heat and when I picked it up, it felt much hotter but it still worked without issue.
Alexander Teemsma
Awesome for the trail! Super lightweight and is pretty accurate to what the description describes.
Will Oborn
Great for charging your electronics on the trail. Gear loops allow you to attach the whole panel onto your backpack for mobile charging. Combine with other panels, power packs, and loads of accessories.
Wes Fonbuena
Less power than my two Kickr IV's
Familiarity:

I've put it through the wringer
Compared to my two 6 watt Kickr IV panels by EnerP!ex the Nomad 13 panel produces less voltage and amperage. The weight overall with cords is the same. The Nomad 13 is also made of glass whereas the Kickr IV's are lightweight and flexible because it's CIGS solar on plastic technology. I don't like the fact the Nomad 13 is made with glass because I have to be way more careful with it. The EnerPlex Kickr IV's seem to be more rugged than the Nomad 13 and it doesn't produce as much energy.
Chad Lawrence
Amazing for Small Electronics in the BC
Familiarity:

I've used it several times
This things is perfect for your small electronics, like your phone, GoPro, or things like that! It is super easy to just hang this thing from a tree branch, and just leave it. The unit has a nice mesh pouch on the back of the unit where you can still the battery unit, as well as your phone or whatever else that is small. Overall, I would recommend this small a size to anyone who wants a good power solution for light backpacking! However, if you are going on a longer trip, you may want the 20 size, or even bigger just to charge faster!
Zak Ricklefs
Power!
Familiarity:

I've used it several times
Great for keeping your electronics going.
Greg
Unanswered Question
Will this charge any portable battery chargers that can connect via USB - or is the recharger the only way to "store" power ?
Michelle
Power Anywhere
Familiarity:

I've put it through the wringer
I recently took this panel with me on a ski trip to Norway where we were camping for weeks without power. This little guy saved the trip. Being able to charge our phones, cameras, ect. was awesome. I paired this panel with the sherpa 50 to store power for using at night and I would HIGHLY recommend that combo. The panel has never let me down to this day, despite sitting in the snow for weeks, and just general wear and tear.
Andrew Meehan
Stellar Solar Panel
Familiarity:

I've put it through the wringer
I recently took this sweet panel with me out to Grand Staircase-Escalante National Monument for a month long field study. I soon realized that not only could I charge my phone and iPod in entirety, but I could also charge the phones of friends and coworkers around camp (results were best on cloudless days). Needless to say, it was a big hit. While it cannot store power on it's own, I pair my Nomad 13 with Sherpa 50 Recharger, and it works fantastically. I can recharge my iPhone to full about 15 times before really needing to suck up more solar rays.



Durability wise this really top-notch product. It's well constructed and tolerated being dropped on multiple occasions. To suck up rays, I attached a few carabiners on the provided loops and would hook it on to my pack, or a nearby tree and it worked like a dream. One think to keep in mind is where you're storing your electronic device when you're soaking up sun – avoid placing anything in the back behind the panel or it may overheat.



I prefer not to have technology when I'm out in the wild, but it was awesome being able to keep my USB cord headlamp at full, get the occasional email when a bar or two could be found, and keep my iPod blastin' beats.


Cory D
what does it mean that you cant charge...
what does it mean that you cant charge after dark? why do i need additional recharger kit? what are the benefits or drawbacks of just buying the solar panel?
Richard M.
Best Answer
This is a solar panel, which will power directly to a device, phone, mp3 player, etc, or to a recharger. A recharger is essentially a battery pack that can use a solar panel for charge during the day and then charge devices when the panel has no source of sunlight, at night.

I have the Nomad 7 panel and the Guide 10 Plus Recharger. Having the Recharger is nice because I can collect charge with it during the day if my devices are already fully charged, and use it charge those devices at other times.

The rechargers can also be charged using a USB port at home to give devices a quick recharge and then charged with a panel.
Steven Jones
Nomad 13.... the SOLUTION!!!
This is my first year trying out the Goal Zero products and I am so glad that I decided to try them. All of the products have helped me carry on in the backcountry, without worry of ever running out of battery. This past April, the Nomad 13 kept our expedition charged up for 30 days in the great north of Alaska, allowing us to document the trip without any problems. Couldn't be happier!!!!
Ian Provo