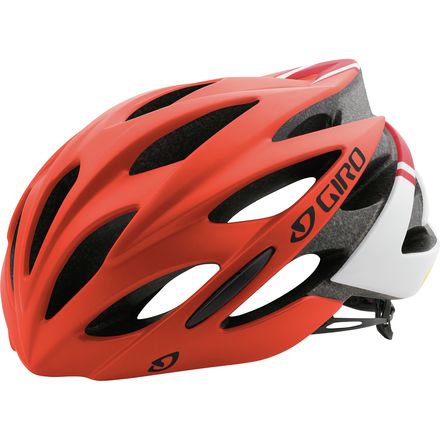 Colors

Detail Images
Protect every great thought you have.
There is no guarantee you'll never crash. But wearing a helmet designed with the utmost attention to detail is a way to fight back against impacts. And speaking of fighting, the Giro Savant was developed using head impact studies from boxing to inform its design.
A collaboration between Giro and MIPS, the Savant is designed to work with your body's natural defense system. The protective layers of your head are able to move laterally to absorb and diffuse impact. In a similar manner, the shell of the Savant doesn't just absorb impact energy, it is able to slide and redirect the force across a larger area. It works much like the sliding action of tectonic plates.
The Savant uses Giro's In-mold construction, which fuses a layer of polycarbonate to the EPS foam body, keeping the helmet light on your head. Twenty-five vents and internal air channels allow airflow throughout the helmet to keep your head cool. To secure the Savant to your head, Giro uses the Roc Loc 5 with a ratcheting dial and both fore and aft adjustability
Designed with input from MIPS
Polycarbonate shell with EPS foam
25 vents and internal air channels
Roc Loc 5 retention system
Good helmet
Familiarity:

I've used it several times
I upgraded to the Giro Savant MIPS from a lower-end Giro helmet that I had worn for about 6 years. Compared to the cheaper one, this one is definitely sleeker and less bulky. The size dial also allows for more fine-tuned adjustments to get the fit just right. Then there's the obvious benefit that this one meets the MIPS safety requirements rather than just the standard legal ones.

The only downside is that my [long] hair keeps getting caught in one of the little plastic screws that holds the inner "cage" of the helmet to the outer foam part. It happens far less if I have my hair in a very tight ponytail so I imagine this would be the worst for people with hair that's several inches long, but not long enough to tie back.
hannahemartin1@gmail.com
Maintains the Giro reputation for quality and a precise fit. If you're between the MIPS and non MIPS, spend the extra dough. Your head is worth it.
Andrew Wike
Keeping a cool head
Familiarity:

I've used it once or twice and have initial impressions

Fit:

True to size
Found the helmet to be true to size. My head stayed cool on a 6 hour Tour de Cure Gran Fondo ride
Michael K.
Bulky buckle system
Familiarity:

I've used it several times

Fit:

True to size
Fair price for a decent helmet, but you get what you pay for. Buckle system is a bit bulkier than others in similar price range. Strap adjustments also aren't quite on par with other helmets, but it gets the job done.
Clint E.
Fit adjustment dial is fragile
This helmet's fit adjustment dial broke off on my helmet. The helmet now can't be securely tightened onto my head. Can I replace the part without requiring a new helmet?
Jeffrey J.
Great price for MIPS
Familiarity:

I've put it through the wringer
I purchased this helmet because it was at a great price point and came with MIPS. As someone who has suffered multiple concussions I wanted the most protection per dollar and I think I found it with this helmet.
Casey
Its a very wide helmet and looks particularly goofy in my opinion. I returned the one I bought and decided to stick with my old one.
Shane A.
This helmet has just about everything you could ask for these days. Comfortable pads, well ventilated, MIPS, looks "fast" and relatively inexpensive. My Pivlocks fit easily and securely in the vents, though they are a little higher than my old helmet. I think the only draw back is that the pads are a little thicker than what I'm used to (which is nice because they're comfortable) but I sweat so much that every once in a while I have to squeeze the helmet against my head to let them drain out. Otherwise it drips down on my glasses. Fit is as expected.
Chase Skidmore
Adjust all straps for your dome...
Familiarity:

I've used it several times
I bought this for my husband, he puts in anywhere from 100-150 miles a week on his road bike. I was eager to get him into a helmet with MIPS technology. Here's what my husband, Diego had to say: "My wife got this helmet for me to replace my trusty old Bell. She said an awful lot about MIPS helmets and how they are the best at protecting brains against TBIs. She also says the acronym TBI a lot, wives/mothers seem to be obsessed with preventing TBIs. I must say that I have yet to crash in this helmet... so I can't review its' effectiveness. Yet. I will say that it looks cool, and fits me well. At first I had trouble with the rear strap, it was digging into the back of my head in certain positions (it's not padded or thicker, like other helmets I have used), but I eventually found out how(my wife showed me) to adjust the strap. I've ridden several times with this helmet and I seemed to have solved the issue. All in all I am happy with this helmet."
Nicky Rosado
Might work for you but not for me
Familiarity:

I've used it once or twice and have initial impressions
Giro makes great stuff, but this helmet was not for me. For one, it constantly pulled out my hair when pulling the helmet off.

Also, there was too much play on my head (not because of the MIPS system), but this might be a function of my head shape. There was enough play (on my head) that I was concerned that the helmet might get knocked too far off if I hit the deck.

Lots of people love this helmet, but if you are hard to fit, try a Lazer. If you love Giro helmets, have short hair, and want MIPS at an economical price, then buy this helmet.


Tyler S.
Looks good
Fit:

True to size

Size Bought:

Large
Bought it on sale so i got a good deal. Fits the shape of my head OK. The only thing i dont like about this helmet is the angle of the straps exiting the helmet.....they do not seem to lay comfortably on my face.
John J.
Exactly what I expected
Familiarity:

I've put it through the wringer

Size Bought:

Medium
It's great! It's affordable, comfortable and safe. What more could you ask for in a helmet? I've always liked the way Giro fits and the fit adjustment seems to suck the helmet down onto my head evenly, keeping the helmet in a safe position. When I tuck down into my drops, I don't feel there's any obstruction of my view and I don't feel any pressure on the back of my head/upper neck. The ventilation is adequate and the straps are comfortable. With all of that being said, this is a relatively "affordable" helmet. So, there are certainly lighter helmets with greater ventilation and performance. However, for the price, I highly recommend this helmet.
Kody Gubler
Height:
5'9"
Weight:
155lbs
Love this...
Familiarity:

I've put it through the wringer

Fit:

True to size

Size Bought:

XLarge
This is my first road bike helmet and I am very impressed. I have a larger head and have always found it difficult to find a descent fitting helmet that still looks streamlined. The adjustments on the Savant are better than anything I have tried before. Excellent fit and the straps don't pinch my ears and glasses. Very happy with this purchase.
MICHAEL G.
Height:
5'10"
Weight:
170lbs
Cool Helmet
Familiarity:

I've used it once or twice and have initial impressions
This is a very comfortable helmet. Lightweight and the retention system rocks, hardly notice it's on my head.
Matt Dombrowski
Nice helmet
Familiarity:

I've put it through the wringer

Fit:

True to size
It is light and ventilated, and looks good.
Carlos M
Great Helmet
Familiarity:

I gave it as a gift but have feedback to share
I gave this to my husband, who is quite pleased with it. It's nice and light, and comfortable on long rides. He has a pretty small head and the small fits great -- the adjustment dial works really well.
Catherine Greenwald
Great
Familiarity:

I've used it several times

Fit:

True to size

Size Bought:

Large
The helmet fits better than any helmet I've owned. Color is great!
Michael G.
Height:
5'10"
Weight:
184lbs
Not Bad Could Be Improved
Familiarity:

I've used it several times

Fit:

True to size
The helmet is nice, not heavy at all, much more comfortable and fit better than the Mavic I had been using. The medium Giro had a broader range that the Mavic, with the Mavic I had to be adjusted nearly to the end of the systems reach, not so with the Giro.
One drawback is the helmet retaining straps. Because of the design the straps do not lay flat to the side of your head, they have a distracting twist to them. The retaining clasp/webbing is made from two pieces of webbing material where one would have sufficed, adding unnecessary bulk under your chin. I would have given 3.5 stars but can't, it is better than a 3 though.
Jeffrey C T.
Mom Approved!
Familiarity:

I gave it as a gift but have feedback to share
My Mother is an avid cyclist, but she was still rocking her helmet from like 10 years ago. It was time to upgrade and the Giro Savant totally fit the bill. She has an incredibly small head and the helmet is easy to adjust and fits wonderfully. Great safety ratings and attention to design.
mbr
Helmets in general could be the biggest factor between life and death, whether your on the road or trail. A family member of mine used this helmet and request another after their crash. They said it's well ventilated, size fits perfectly on their head and no feed back from their hearing aids.
Paul Holden