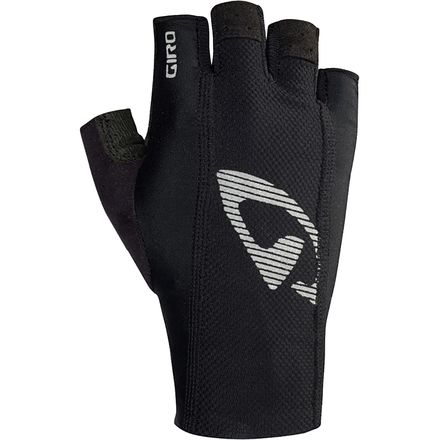 Colors
Streamlined.
Giro's New Road LTZ II Gloves' minimalist design provides the extra cushioning and grip you need on demanding rides. The LTZ II uses four-way-stretch Lycra on the back to deliver you a smooth feel with excellent ventilation, and Giro's perforated Cool Skin synthetic palm not only adds breathability, it pulls moisture away from your skin. Giro's three-panel design for the palm gives you a natural and comfortable grip. The LTZ II also has a sweat-wiping area on the thumb, extended cuffs, and pull-on tabs.
Four-way-stretch Lycra
Giro's Cool Skin synthetic palm
Anatomical three-panel palm design
Sweat-wiping area on thumb
Extended cuffs and pull-on tabs
Benchmark Summer gloves
Familiarity:

I've put it through the wringer

Fit:

Runs small
Listen to Robert Smallman (below) who races and other experienced riders.

You do NOT want pads in your cycling gloves. Pads create pressure points on your palm while riding and reduce bar feel and bar grip.

If you use cork or gel tape on your handlebars you do not need gloves with pads. Padded gloves are a relic from the 70s & 80s when handlebars were wrapped in (hard) plastic Bennoto tape -which offered zero shock absorption.

Pros: Thin, second-skin like fit. The ultimate in bar feel, comfort, and control. Well ventilated. Very good looking -especially in the white/blk (great job here by Giro). No velcro to snag your jersey or shorts.

Note: Take off carefully to preserve seams and longevity of the glove.

Sizing: Size up +1 here. For example (in gloves): Pearl Izumi = L. Giro = XL. Castelli = XL.
Jonny Heinken
nice
Familiarity:

I've used it once or twice and have initial impressions

Fit:

Runs small

Size Bought:

xl
never used gloves tried yesterday took the numbness out of my hands wish I'd have done this sooner I wear size large work glove but need xl for these
Nick L.
Height:
6'1"
Weight:
240lbs
Best gloves with no padding
Familiarity:

I've put it through the wringer

Fit:

True to size

Size Bought:

Medium
I don't like to wear gloves, but want protection in case of a fall. These fit the bill perfectly. They are lightweight and just work. Best of all is that these have held up incredibly well. I have 2 pairs just to switch between. The first pair I had for a year with no problems at all. When I saw they were being discontinued, i ordered another pair. Hopefully Giro replaces these with another great glove.
CW Gatz
Height:
5'10"
Weight:
145lbs
Awesome gloves
Familiarity:

I've used it several times

Fit:

True to size

Size Bought:

Large
First pair of gloves with no padding. Wow! They are so comfortable. I immediately ordered a second pair! Somehow the glove extending a little down the wrist is just really comfortable for me...I immediately loved these. I usually wear a Large glove, and I bought a Large. It seemed a little small at first, but that was just the opening that has no velcro closure (I hate those velco closures). The Large is a perfect fit.
Jerry J
Rode the USA Masters Nationals road Crit
Familiarity:

I've used it several times

Fit:

Runs small

Size Bought:

XL
Runs small. Used other reviews to base my size. Used the gloves for State championships and USA Masters Nat's. Nice fit. I was thinking of using them for Crits only. But will use for all types of riding. Remember select one size up than normal.
Charles S.
I hate gloves, but I can do these
Familiarity:

I've used it several times

Fit:

Runs small
I have always dreaded gloves, but I know if I go down, I don't want to be picking road grit out of my hands. Part of the problem with most gloves is the padding, which is always in the wrong place. These don't have padding, which is great. The are slightly tight, but I don't know if I would say they run too small. They do run up on the wrist some. This does not bother me, but something to be aware of. The quality and durability seem to be there.

Bottom line: If you hate padding, buy these gloves. You will not be disappointed.
STRANDY!
Giro LTZ II
Familiarity:

I've put it through the wringer

Fit:

Runs small

Size Bought:

xxl
Excellent glove. Minimal padding snug fit. Almost forget it's there.

I despise gloves with padding. They make me want to ride bare handed, but that's not really a great idea. Picking gravel out of hands after a crash is a major drag.

These will protect your hand in the event of a crash, yet not annoy the daylights out of you throughout your ride.

My first LTZ I did come apart at seams, but only after quite a few rides and washes. These LTZ II seem a bit more durable.

Get the white. They are so pimp, especially with my white Sidis. I'm totally pimping the Euro Trash look.

Definitely run small. I'm 6'4" and I won't comment on hand size since we all know where that will go. I got the XXL and they fit perfectly.
Jon S.
Height:
6'4"
Weight:
195lbs
Sizing completely off
Fit:

Runs small

Size Bought:

Medium
This looks like a good glove and probably is a good glove but the sizing was soo off I never got to even wear it. My hands fit the Giro LX glove in a small but for this glove I couldnt even get a medium over my knuckles.
Betzalel L.
Height:
5'11"
Weight:
150lbs
Perfect Crit Glove
Familiarity:

I've put it through the wringer
Tight fit+no padding+sleek look and feel = perfect crit glove
Trevor J
Great glove and good fit.
Familiarity:

I've used it several times

Fit:

True to size

Size Bought:

medium
This glove has worked out perfectly! Its a little longer down the wrist than most, but the fit was perfect. Not too tight and not loose. A good snug fit is how I would describe it. Not to hard to get off either:) I have worn size medium gloves in the past and stuck with that on this pair. The padding is minimal compared to most. Just FYI if your looking for extra padding. Another good buy from Back Country.
Kelly C.
Height:
5'10"
Weight:
150lbs
Good, but a touch hot on the wrists
Familiarity:

I've used it several times
I love these gloves, they fixed all my problems I had with padded gloves, my hands no longer get hot spots, and these remain comfortable for really extended rides, my only problem is my left wrist gets a touch hot on 100F degree days due to where my roadID sits on the glove.
George O.
Quality aero gloves
Familiarity:

I've put it through the wringer
I'm a huge fan of everything aero, I've looked and tried many gloves and these are by far superior. First off, they cost less than the majority of aero gloves if not all, but they perform better than other gloves. Secondly, the stitching is high quality and haven't had and loose threads or anything fall off. The inside is extremely comfortable and the outside flexes to allow you to get into different positions. Grip is excellent and ventilation is great in the 90 degree weather of California. What I find to be the best attribute is the feel. It's thin enough for minimalists to enjoy yet gives you padding and the sweat pad is great. I have a pair in white and black, superb gloves.
Hayden Shieh
Great summer gloves
Familiarity:

I've used it several times
Super light and great feel. Perfect for those hot summer days.
Patrick T.
Surprisingly crash-resistant!
Familiarity:

I've put it through the wringer
I, like others am not a big fan of overly padded gloves. Or gloves with straps, or gloves that feel like a bag of wet plaster on each hand once you start sweating in them. I do however like as much coverage as possible while maintaining comfort. The New Road LTZ II is doing a great job of all of the above so far! The fit is impressive in that un-like other strapless gloves I've used, the cuff does not feel like a tourniquet, cutting off much needed blood flow to your bar gripper/brake actuators (aka: hands). In short, they fit like a summer weight glove should. Light and secure. The vented palm has just enough thickness in the thumb yoke and hand-heel area to give subtle padding , provide positive grip and most likely increase durability. The micro-suede on the back of the thumb is a nice touch and works well for wiping away sweat and.....whatever....else you need to vanquish.

As for durability, after having gone through one somewhat nasty race crash already I was happy to see that they came through with surprisingly little damage (mush less than my arm above them). +1 for that! The highlight yellow looks sharp with the black and provides a nice amount of up-front visibility as well when riding through the mean streets. Will definitely buy some more!
Ed Kilbourn
favorite race glove
Familiarity:

I've put it through the wringer
I hate padding, i used gloves in case of crashes to protect my hands. I love this glove. Very little padding, awesome ventilation, no weight. Great product.
Robert Smallman
White is pro
Familiarity:

I've put it through the wringer
I get frustrated with most gloves because they're usually slightly too small in a medium or slightly too big in a large. These fit just right...like a glove should! They look and feel great, and hold up better than previous Giro gloves I've purchased (Monaco). The description says for the "hottest of days," but in Arizona that means I can wear these comfortably just about every day. I just bought a second pair with both pairs in white. White is pro.
Jonathan M.