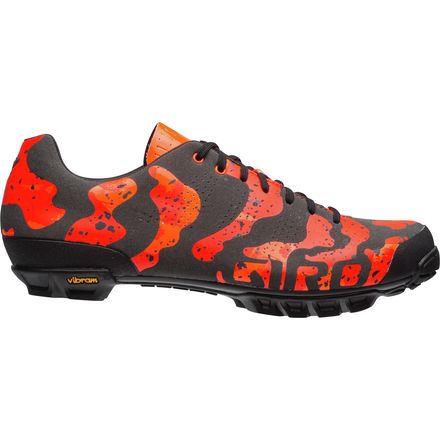 Colors

Detail Images
Unlimited.
Giro's Empire VR90 Limited Edition Cycling Shoes have us tripping. Not because of the pro-level carbon soles, the signature lace-up closure, or even the special edition colorway, which Giro credits to the influence of a dorm room lava lamp. The really trippy part of these shoes is that, in low-light situations, the black field of the camo transforms into a brightly reflective surface, adding an additional eye-catching element to the already loud orange. Though the shoes are more about getting down on gravel and XC races, the added element of safety is always appreciated when traversing B roads at dusk.
Despite the reimagined aesthetics, the functional aspects of the Limited Edition remain unchanged from the standard VR90. Underfoot—and most importantly—Giro incorporates the same Easton EC90 carbon fiber sole featured on the Empire's road race version. It's got a low, 6.5mm stack height that reduces the amount of intervening material between engine and pedal for fast, efficient power transfer regardless of terrain.
Hardcore 'cross traditionalists may balk at that stiffness as it historically made running a difficult endeavor, but rest assured that Giro is on it. The Vibram Mont rubber lugged outsole is rockered to facilitate easy walkability and a natural running feel, so the sole won't make you literally trip. This lets you harness the watts of that super stiff sole while punching off the line and out of corners without sacrificing speed or comfort when you're shouldering the bike. In our book, that makes the VR90 a little bit of a unicorn.
In addition to its rockering, the lugged sole provides grippy purchase for hard-packed dismounts, quad-searing run-ups, and rocky trail scrambles. If you do happen to miss a clip-in, Giro's added a Mid-Foot Scuff Guard with a grippy, rubber surface to rest against your pedal so you can keep moving forward and stay with your group. Each shoe also includes fittings for two toe spikes for extra traction when you really need to dig in.
In addition to the soles, these shoes pack all the features we've grown to love about Giro's laced offerings, including that standout lace-up closure system for seven points of adjustability and a comfy, near-custom fit. The VR90s also include Giro's SuperNatural Fit Kit, a series of three arch support options that lets you further fine tune the feel. In a small, yet important showing of Giro's attention to detail, an integrated lace keeper holds lace ends securely in place to assuage worries of an inopportune bottle cage grab or crankset encounter.
Giro finishes the shoes with a one-piece upper made from soft, breathable Evofiber with perforations for extra cooling ventilation when the mercury rises. This material is malleable enough to shape to your foot for an exceptionally comfortable fit while resisting excess stretch and loss of shape over time. In this regard, we might liken them to a favorite pair of well-worn slippers—if, that is, those slippers were high-tech, durable, and ridiculously low-weight.
Each pair of Giro Empire VR90 Cycling Shoes comes packaged with two sets of laces, four steel toe spikes, cleat mounting hardware, and a zippered Giro shoe bag for easy storage and transport.
Cycling shoes for the adventurous gravel and XC racer
Limited edition camo shouts louder than tired legs
Stiff sole keeps weight low and stiffness high
Engineered for flex during run-ups
External lugs provide traction while shouldering the bike
Toe spike mounts for the sloppiest slop
Synthetic upper breaks in rather than breaking down
Lace-up closure proves cycling's future is its past
Really want these, not sure about sizing. I wear a 46 in the 2013-2014 Giro Factor and the (2015?) Giro Factor ACC road shoes, and they fit great (I actually like them better than Sidis, gasp!) But I've read that the Empires run small, not sure what size I should get. I am told that I have a narrow foot. Any guidance?
Michael B.
Hey Michael - I noticed you pulled the trigger on these in a size 46.0 so let me know how they fit. If you need to exchange them then I can help.
Kyle Livingston
So I ordered the 46, because someone else took the 46.5's that I was considering the day before. In comparison to the Giro Factors, I feel like these run a bit narrower in the forefoot and are perhaps just a tad bit shorter - but only barely. I think the 46.5 would have worked, but the 46 is a good fit and I don't think they are too small - but they are definitely smaller than the Factors. I like the shoes, they met my high expectations. I took them out for 3.5 hours today on the first ride. And my cycling buddies were blown away by the colors, which actually matches my Cannondale Slate LOL. Laces will take some getting used to get the fit dialed in just right, but that will come with time. 2 thumbs up.
Michael B.