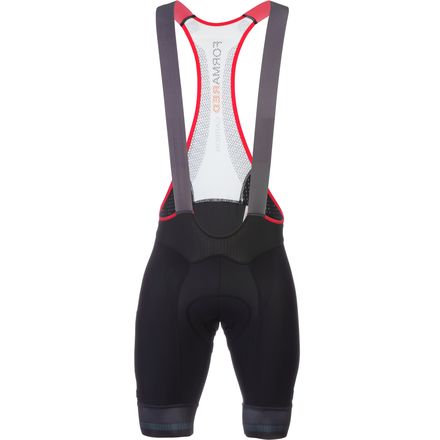 Colors

Detail Images
Long-ride specialists.
Giordana bibs are among the favorites around the office, and the FormaRed Bib Shorts are no exception. For this season, the shorts stick to the same basic formula: compressive fabrics in most places, less-compressive fabrics where comfort reigns, but the compressive fabrics have gotten slightly more compressive than previous iterations. This translates to better support of your muscles while you're riding, and ideally, less fatigue at the end of a ride.
At the core of the FormaRed Shorts, though, is the Cirro Omniform chamois. It's a great, low-profile chamois that still supports well on really lengthy rides. Additionally, it's treated with aloe vera to reduce skin irritation, though we still recommend the use of chamois cream. In addition, the bib straps are laser-cut, and lay flat against your body with no hem on either side to cause irritation or bunching under a jersey.
Compressive, supportive fit
Cirro Omniform chamois
Laser-cut bib straps and cuffs
Abrasion-resistant fabric in thighs and seat
Sizing
Fit:

Runs small

Size Bought:

Large
I thought Castilli ran small, these take it to a new plateau. Order minimum one size larger if ur on the cusp order two larger
Gerry M.
Height:
5'10"
Weight:
172lbs
Clam diggers?
Familiarity:

I've put it through the wringer
What is with Giordana? I used to love their bibs, but I'm 5'7.5", not 6'11". Their leg lengths are beyond ridiculous. The gripper material cuts across mid-knee, making for diaper rash at the back. I don't want to return to Eddy Merckx short-shorts, but this trend to cycling clam-diggers (capris) and goofy redneck Christmas-stocking socks (18" long) is both funny and pathetic.

Mark C.
Awesome Bib's
Familiarity:

I've used it once or twice and have initial impressions

Fit:

True to size

Size Bought:

Medium
I have owned lot's of bike shorts with 30 years of riding and counting. Performance, Sugoi, Pearl Izumi, Assos and now Giordana. While I like my Assos NeoPro's, after my first 40 mile ride with the FormaRed, I am a FormaRed fan and I am already planning on buying another pair. I like them that much. They have great compression, the straps are not too tight and the banding around the legs fit snug and stay put. I know a lot of people said that the shorts run small, but no one person's physique is the same and I am not a 6 foot 180 pound rider, so these really work for me.

As I put more miles on them, I may update my review, but based on the build quality, fit and look, I am guessing I will not be...

Bruce A.
Height:
5'8"
Weight:
145lbs
The size, "5cm" in the drop down menu is referring to the length of the short being 5cm shorter than their normal short length. Presumably for those with shorter femurs who don't want the bibs to go down to their knees. Hope this helps!
Sarah Edwards
Beautiful Design, But -5cm = Hot Pants!
Familiarity:

I returned this product before using it

Fit:

Runs small
I love Giordana's blend of technical features and quality construction, so I've wanted to own one of their bibs for several years now. However, their fit (both leg circumference and length) varies greatly between models. This has been a challenge for me as a small person (5'5", 125lbs., 29"waist) with a leg length of a 5'2" person. Unfortunately the "hot pants" fit of these FR-C's with a 5cm shorter leg length has led me to give up on Giordana for now. But first some background.

BACKGROUND: In my search to find a Giordana bib that might fit without breaking the bank I previously tried on two other models in a sz. Small. First the Laser a couple of years ago, but this was too loose especially at the chamois area & at the leg bands which came down to the narrow part of my quad just above my knee caps. I then recently tried on the Fusion since the Giordana "inseam" chart shows that it's the shortest bib @ a 10" inseam (1" shorter than the Laser) but it was even looser fitting than the Laser (larger than a sz. Medium Castelli) and, because of this, they fit as long & with even looser leg bands than the Fusion.

Finally I decided to try the FR-C's since they supposedly have a tighter fit than most other Giordana models. However, the feedback indicated that the supposed 11" inseam runs long which meant that they would once again end at my knee caps with leg bands flapping in the breeze. Competitive Cyclist recommended that I try the 5cm shorter (i.e., 2") model which should've been close to perfect (that's how much shorter the Laser & Fusion needed to be so that the leg bands could fit more snugly around a wider part of my lower quads).

CONCLUSION: The FR-C's are definitely a much tighter "race fit" than the Fusion or Laser...not quite as tight as Castelli Free Aero's but close enough. However the leg length on the 5cm shorter model was 1-2" shorter than expected such that the leg bands ended well above my tan line and close to "hot pants" in look. I confirmed this surprise when I measured the inseam at 8" (not the expected 9"). Based on this they should be called "7.5cm shorter" - what gives? Otherwise these are beautifully designed bibs in every aspect (closer to perfect vs. the likes of Assos Equipe's and Castelli Free Aero's), but I am tired of returning Giordana bibs due to their fit suprises….

NOTE TO GIORDANA – Please make your fit more consistent between models or at least clearly identify those that are "race-fit" vs. "comfort-fit". And why not make a race-fit bib (or one available in sz. XS) with an inseam closer to that found on most other brands (i.e., 9"-10") rather than giving me the choice between capri pant leg lengths (with leg bands that are too loose) and that of hot pants?
ira.goldsc1527338
What does the 5cm in some of the sizes represent?
sa_2823425
The inseam is 5cm (i.e., 2") shorter which should make the inseam ~9" (vs. the 11" for the standard FR-C). The Giordana website shows these shorter bibs as a separate item called "FR-C Bib Short 5cm Shorter". I just ordered a pair since I have short legs and this is probably the only Giordana bibs that won't come down to my knee caps.
ira.goldsc1527338
Still the best
Familiarity:

I've used it several times

Fit:

Runs small

Size Bought:

Large
I finally had to replace the FRC shorts I bought in 2012, and was a little worried about replacing them with the new ones, based on earlier reviews. Fortunately, I went ahead. These seem to be every bit as good as the older ones. Still a great chamois and a great fit. And the straps really do lie flat. The comments about them being a bit tight are correct (but I have skinny legs, so it's fine). Yes, the marketing hype is a bit silly, but they really are great shorts,
John S.
Height:
6'3"
Weight:
170lbs
Superior
Familiarity:

I've used it several times

Fit:

Runs small
Just as described in the company product review, the FR-C Pro is a tremendous improvement from the standard FR-C bibs. The most noticeable improvements are the softness of the lycra and the omission of tightness and puckering in the cuffs.

I always dreamed of a bib that combined the upper-body FR-C (straps and stomach support) and the lower-body of my Assos-Equipe.

At last, my wish has been met. These bibs are my go-to bibs for my rides, typically, 3-hours in length. The FR-C Pro is definitely worth the cost, which by the way, is lower at this time than the regular FR-C!

ROBERT C.
Bib Short Comparo
Familiarity:

I've used it several times

Fit:

Runs small

Size Bought:

xl
I bought these along with a pair of Craft and Castelli in a similar price range (they were slightly less) to do a comparison. The Giordana shorts are head and bibs above the others. The comfort and fit is unequaled. Well worth the extra money.
tom M.
Height:
5'10"
Weight:
190lbs
good gear
Familiarity:

I've used it once or twice and have initial impressions

Fit:

True to size

Size Bought:

xl
good compression, met all of my expectations
steve L.
Height:
6'0"
Weight:
182lbs
The Best I've worn so far
Fit:

Runs small

Size Bought:

Large
The size runs a bit small, I wear med in Assos and Voler and these fit like a second skin. I have 3 pair and they have become the go to long ride bibs, the fit is perfect, the straps very comfortable and theres enough stretch in front when relief time occurs!
Ron R.
Height:
6'1"
Weight:
175lbs
Overall Solid Bibs for the money
Familiarity:

I've used it several times

Fit:

Runs small

Size Bought:

Medium
Giordana did a great job on these bibs overall. Solid, comfortable construction, and overall high-quality. The chamois was a little big in the front for me personally, but may work better for others. I am 5'11" and a M fit very snug/race fit style. I liked them enough to buy another pair to match another Giordana jersey I had.
Todd
Height:
5'11"
Weight:
164lbs
Poor build quality
Familiarity:

I've put it through the wringer
As others have mentioned the build quality on these is extremely disappointing. After just a few washes the seam around the chamois has completely come apart in two different places and I see other seams on the legs that are looking ragged. I've seen much better durability with far cheaper bibs. Likely to be my last Giordana purchase.
Andrew J.
Righty-Tighty
Familiarity:

I've put it through the wringer

Fit:

True to size

Size Bought:

Medium
Excellent compression with padding in all the right places. Most weekends, I will do at least one ride of 65-80 miles or more. These are the bibs I usually wear since they perform so well on a longer ride. The top line Assos bibs may be slightly better, but cost more. So, these are a top choice. We will see how they wear over a long time, but for now these are showing no signs of wear or losing compression in the fabric. I am 61 years old, ride almost every day, I commute, ride road, [fast, 20+] and mountain bike whenever possible. So, I have tried a few different shorts over my 70,000+ miles of riding. These are at or near the top of that list.
Eric B.
Height:
5'8"
Weight:
145lbs
THE Best
Familiarity:

I've put it through the wringer

Fit:

True to size

Size Bought:

large
Understanding that what's perfect for one person isn't for the next, I'm simply registering my complete satisfaction with these bibs. The fit is perfect. The compression is perfect. The feel.... well if feeling like you've got nothing on is perfect, then it's perfect. For the biggest events of the year, these are my choice. Bravo!
Johnny T.
Height:
6'0"
Weight:
176lbs
Poor quality control
Familiarity:

I've used it several times

Fit:

Runs small

Size Bought:

Medium
I own several pairs of the golden FRC 2013 bibs. I read the bad reviews from 2014-15 so I waited until now for an upgrade. Another disappointment from Giordana. All the negatives mentioned by another reviewer apply.

The compression is way too much, making them feel much tighter. They are not the same size as previous FRC.

In addition, the mesh on the back of the bibs is far less breathable than on my 2013s. The result is that they stay a lot wetter than they need to be.

In my case, after using and washing them several times, the stitching started coming loose in 3 places. They are falling apart after ~10 uses. I expect far more from $250 bibs and I hope Giordana realizes they can't coast forever on the FRC brand with this kind of products.
Daniel R.
Height:
5'10"
Weight:
180lbs
Excellent Quality 5cm
Familiarity:

I've used it several times

Fit:

True to size

Size Bought:

Large
I believe the compression factor of the bib, tends to make one think they run small. Therefore, don't size down, buy the size you normally go with. The compression on the thighs assist with fatigue. Where I'm not completely convinced, is not using chamois cream with these bibs. I still think it would be prudent to lather up some. Other than this, I think they're a great pair of bibs.
Carlos G.
Height:
5'7"
Weight:
160lbs
Not so "improved".
Fit:

Runs small

Size Bought:

Large
I love my 2013 and '15 FRC bib shorts. These are almost, but not quite the same, and for all the wrong reasons. True to the description they have more compression than previous models, bordering on too much. There is a seam around the top of the torso that just doesn't need to be there - the previous models didn't have it, and it started annoying me after 2 hours. Finally, the leg gripper material is less than ideal. This seems to be a trend. The '13 model had a great leg gripper, the '15 a little less, and now this. The shoulder straps are the same as before (awesome) but now they're sewn on to the bib instead of integral, and I have to wonder if this won't be a failure point down the road.
Overall good workmanship, and great chamois, which is why it gets 3 stars. 2 stars deducted for messing around with a good endurance design and adding stitching for no decent reason.
Hanky
Perfect fit! Best Bib Shorts!
Familiarity:

I've put it through the wringer

Fit:

True to size

Size Bought:

medium
Typically, I wear Castelli, but I thought I would give these Giordana a chance. I have ridden several 60 miles rides and the chamois is the best I have ever worn. No saddle numbness. The shorts run a tad long to my liking, but I really like the compression feel on my legs. I would highly recommend these bib shorts for long days in the saddle. I selected a medium bib short. I'm 5 feet 11 inch tall, 151 lbs, and waist is 32. True to size for me.
Gary
Height:
5'11"
Weight:
151lbs