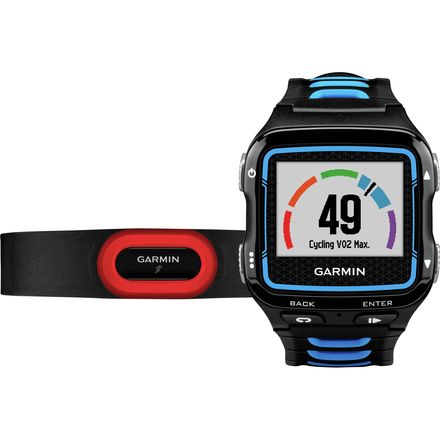 Colors

Detail Images
When you need all the info, all the time.
Designed to be fully compatible with a heartrate monitor and power meter, the 920XT is just as impressive when used as a standalone training partner. It measures sleep and calories burned, so you can calculate your base metabolic needs. Added to that, it counts swim strokes, drills, and distance for laps. It even features a metronome that helps you to keep your stroke or cadence at your optimal speed, for those days when your mom isn't following you blowing a whistle.
When paired with the included HRM-Run heartrate monitor and/or an optional power meter, the 920XT jumps to the next level of "wow." Not only will it estimate VO2, it even has the ability to know how long your feet stay on the ground during your run to assist with running form metrics. If that isn't smart, what is? Using any of Garmin's ANT+ power meters, you're able to receive the full list of power metrics through the 920XT. The Garmin 920XT also has smart alerts for emails and texts so you can seem like you're working when you're really getting in that second run.
The 920XT weights a mere 61 grams, and given all the features, we think that's pretty impressive. The battery lasts up to 24 hours in training mode and 40 in UltraTrac mode. And of course, it also has a standard watch mode.
Outside of all the features you can possible use in training, Garmin also is a part of the virtual world of Garmin Connect. The 920XT connects via a smartphone app, computer or even wirelessly. It uploads your workout files and allows you to track your training and compare data with friends. It also is compatible with the Russian GLONASS system so you won't get lost if you're ever on a long run in Siberia.
Altimeter, heartrate monitor, speedometer, odometer, time, cadence, run metrics, sleep metrics, email, and text alerts
ANT+ Compatible for heartrate and power meters
GPS, GLONASS
Works with Garmin Connect
Helpful workout friend
Familiarity:

I've put it through the wringer
I purchased this to train for a long-distance triathlon. Works as advertised. HRM works great. You can adjust info fields and create new activities fairly easily.
The lack of a touch screen is a bit frustrating. The button are clunky, which makes managing settings a bit of a pain. Definitely not sleek or stylish.
That said, it's a workhorse. Syncs with Garmin Connect and a bluetooth device (in this case, my phone) without problem. HRM doesn't work for swimming, if you're wondering.
David J.
Does it all
Familiarity:

I've put it through the wringer

Fit:

True to size
For those of us that want to do all the activities, this is THE best watch for anything your heart desires. It has so many modes it is sometimes overwhelming. From tracking my mileage on a backpacking trip to XC skiing to swimming to trail running to road cycling, this watch truly does it all. Simple, accurate and easy to set up/ customize, you can track all kinds of data across all activities. Easily paired with your garmin connect account allows you to obsessively pour over all your data on your smartphone. I also like the feature on the garmin connect app that allows you to change the watch face screens to display exactly what you want. I have used this watch through thick and thin, racing, training and every day life and loved it every set of the way. I loved it so much the wrist band wore out and I had to get a new one! Alas the watch keeps on trucking through all my adventures. If you have any questions or concerns, I would be happy to help! One of my favorite Garmin products for sure.

Reach out with questions! sedwards@backcountry.com
Sarah Edwards
The watch don't lie
Familiarity:

I've put it through the wringer
Easy to operate, very intuitive and meets all my goals.. Synchronize with Strava and your home wifi and the beta uploads automatically. Slick.. At 45 I compared my self to 20 year olds on the result page. At 50 I now look at age groups. This watch help u keep it honest/real.
Anonymous
Definalty has made training easier compared to the apple watch. No need to charge the garmin everyday, and pairs great with an iphone 6s. Overall I'm a big fan of garmin products and will continue to reccomend.
Ross Hayes
Jason Pond
Hey Jason - The bundle includes the Forerunner 920XT, HRM-Run heartrate monitor, charging/data cradle and manuals. Feel free to contact me directly with any additional questions.

- Kyle L. - Expert Gearhead
Kyle Livingston
Maya S.
Wear it Every Day
Familiarity:

I've put it through the wringer

Fit:

True to size
I've worn this watch every day since Christmas '14 - to work (professional job), casually, to bed, and for exercise. It has held up well with no scratches or visible wear fatigue. Likewise, the battery remains robust without rapid drain/fatigue - I will usually charge once a week, which is also stupid fast. This is my first Garmin, having previously owned Polar products for the past 13 years. Each evolution has been an improvement and this one is the best yet.
Activity/exercise use: I've used it for running (up to 26.2), biking (road and trail up to 4hrs), swimming (open water and pool), hiking (backcountry, primitive up to 3d), and kayaking.
The Good: accurate GPS for everything but the kayaking (odd - not sure why the difference). Easy wireless download of the activity automatically via garmin app on iPhone. My wife can keep up with my whereabouts via 'LiveTrack' using the same app - this means I need to have my phone with me, but I always do anyway. Comfortable. Easy to navigate and somewhat customizable display screens.

The Cool: step counter, sleep tracker, and triathlon mode.

The annoying: no user configurable modes other than the triathlon-specific ones included (though they do work well). I would like a mode for hiking, kayaking, fitness training, etc. Also, the pool mode for swimming is limited to a pool length of 18 yards - less than ideal for my pool that is 15 yards long. Also, no accomodation for swimming with a current generator. The band strap frequently comes loose and flaps, especially with swimming. Occasionally, the bluetooth pairing with my phone is lost (usually after charging) and it takes awhile to reconnect. When changing time zones, there is lag in reflecting the current time of the zone I am in - this is usually corrected by starting an activity (run/bike/swim) with the phone paired.

This is a brief review of my use of the 920XT for the past 11 months. As with any device, you will quickly find its limits as I have with this one. Overall though, I love it and still wear it every day.
Ty W.
Height:
5'8"
Weight:
145lbs
What's included in the "BUNDLE"? Just the Heart Rate strap?
David W.
Best Answer
Forerunner 920XT, HRM-Run, Charging/data cradle, Manuals
Travis Tzioumis
I want to buy Garmin Forerunner 920XT Bundle, Red/White (item#: GRM0030). The problem is that a small number of Forerunner 920XT devices had reduced water resistance and or battery performance issues. These issues affect Forerunner 920XT watches within the serial number ranges indicated in the link below.



https://forums.garmin.com/showthread.php?163284-Forerunner-920XT-Replacement-Program



Is any of the 920XT in your inventory within the serial number ranges?
DY
Best Answer
DY,

We currently have the red color way in stock.

After confirming with Garmin none of our inventory was the affected serial number range. Feel free to reach out and we will get you taken care of.

sales@competitivecyclist.com

Cheers!
Katie Stewart