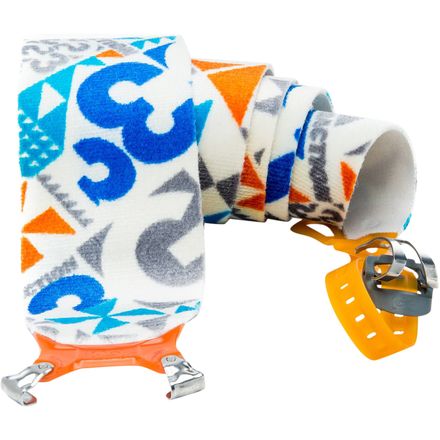 Attach to ascend.
It's always a good rule of thumb to keep your angles low when skinning to save on energy and increase travel efficiency, but sometimes the nature of the terrain demands a steep, switchbacked skintrack. In situations like these, you'll be glad you have the G3 Alpinist High Traction Climbing skins, because their aggressive Premium Plush nylon has 10-20% more traction than G3's other Alpinist Skins, making them well-suited for steep skintracks and backcountry areas that tend see a lot of traffic. Like all of G3's Alpinist skins, the High Tractions got a few features re-worked to make them that much more capable in the backcountry. Their tail clip can now be adjusted a full 16cm for more length adjustability, while their hydrophobic treatment helps prevent icing from occurring out there.
Premium Plush nylon
Ultra Glide finish
Low profile stainless steel tip attachment
Length-adjustable, camming tail clip (16 cm)
Removable RipStrip
Hydrophobic treatment
Trim tool included
Skin wallet included
Made in Canada
Worst Glue Ever, Review No. 3
10 months + 5 uses = trash can. The glue has liquefied and become viscous. I'm anal about drying and storing in cool temps and the glue has still become a nightmare sticking to my skis, plastic mesh storage separators and furry part of the skins. Don't buy G3 skins until they figure out how to manufacture better glues.
Ross H.
Had these for about a year before the glue decided that it preferred sticking to my skis, instead of the skin. Most of the glue is gone on the tail, and I have to bring a rag soaked with goo gone on every tour.

G3 won't even return my e-mails. Again, this happened after only one season of use. Awful. Reglueing my skins tonight and I will never buy G3 skins again.

Oh, and their traction isn't much better than the black diamond skins, but their glide is worse.
Tom Grummon
I purchased these for my father to put on his new JJ's and he is beyond stoked with the quality of these. The tail clip is a must have and the high traction hooks up on variable skin tracks nicely. Killer set of skins for anyone who doesn't enjoy sliding backwards on the skin track, and wants the tail of their skin to stay in position.
amber nelson
Great Skin with a Traction Upgrade
I love G3 skins. I purchased these to give me more confidence on steeper terrain. These definitely do just that. These are great for climbing but have noticeably less glide than the regular traction. Easy to line up and attach, the included trim tool rocks. Mine came with some sweet skin savers and a handy storage pouch. I think they also look pretty sweet on my BD Boundary Skis!
Lisa Edlund
WORST glue EVER!
Familiarity:

I've used it several times
So I stored the skins in a cool dry place for the summer with a skin saver between them, the same way i have treated my Black Diamond skins for a decade... then I went to use these skins for the first time and the glue was a NASTY mess. Super sticky to the touch. Nasty sticky glue came off on EVERYTHING it touched, hands, pants, jacket, gloves, AND all over my board (which made it so it did not slide! I had to use wax remover and rewax the board!). This exact same thing happened to my girlfriend and my best friend. They both bought their skins new from Backcountry, so they got a warranty (still a pain in the butt), but since I bought mine from eBay (like new!) I attempted to "renew" them with an iron and paper bag. This did nothing, so I spent 4 hours with an iron and brown paper bags removing the G3 glue then applying Black Diamond Gold Label glue ($50). MAJOR pain in the butt, but at least I now have awesome BD glue on my skins.

What made me finally write a bad review is I just went to use the skin saver/ cheat sheet that came with the skins and they were covered in nasty sticky glue that got all over me. I just spent 30 minutes with an iron and newspaper removing the excess glue from the darned skins savers!

Worst Skin glue EVER. Whatever you do, don't buy G3 skins! Get the Voile!!!

Having said all that, the G3 skin trimming tool is pure genius. Props there.
Calef L.
Skin Cutting Made Easy with G3 Tool
Cutting made simple: Center the skin the best you can on your ski. It does not have to be perfect but, dont throw it on there from across the room. Once you feel like its as centered as you can get it, pull out the skin cutting tool.



Its a little counter intuitive so I decided to post a picture. The skin tool says "Ski Base" and that means it goes under the skin and actually on the base of the ski. You can see one of the prongs sticking out and that's just for the picture, both prongs should be on the base of the ski, under the skin.



Then just run the tool down the length of the ski on both sides. The tool automatically off sets the cut to make sure the edges are exposed.

Set the tail clip and bam your done. The tail strap will stretch a little bit after the first day out so be aware that might need some adjustment.



If you have any questions regarding sizing of your skin please feel free to reach out via email and or my direct line. I would be happy to help you pick the right skin length for your ski and answer any questions you may have!

http://www.backcountry.com/g3-trim-tool
William P.
Years ago I took a very long course on how to expedition camp and ski mountaineer on a glacier. A learned a bunch but, something that I use on a weekly basis in the winter is folding my skins. Most people start glue to glue and try to match it up. Almost impossible in the wind. I learned that if you hang the skins in your hand carpet to carpet, fold in the middle then go glue to glue you get a better fold almost every time.

So drape them over your arm carpet side down. Line up the two ends best you can. Then make a fold in the middle and work your hands up until the entire skin is folded and stuck to the other half. I actually make a small mark on the middle non glue part of the skin where I need to start folding to remove some of the guess work.

If you have any questions regarding sizing of your skin please feel free to reach out via email and or my direct line. I would be happy to help you pick the right skin length for your ski and answer any questions you may have!
William P.